Becoming a HARDSCAPE HERO is all about conscientious design, talent, and a willingness to try something new. Trey Watford, November's HARDSCAPE HERO, took such a chance by incorporating pavers and wall materials he'd never used before into his stunning project.
"There were a lot of firsts for me on this project. We used Chatham Natural in Potomac, a color I'd never worked with before, and Brisa Freestanding and Retaining walls, which I'd never used. It was imperative that the colors on this project meshed. Having so many choices from Eagle Bay definitely made designing this project easier," says Watford.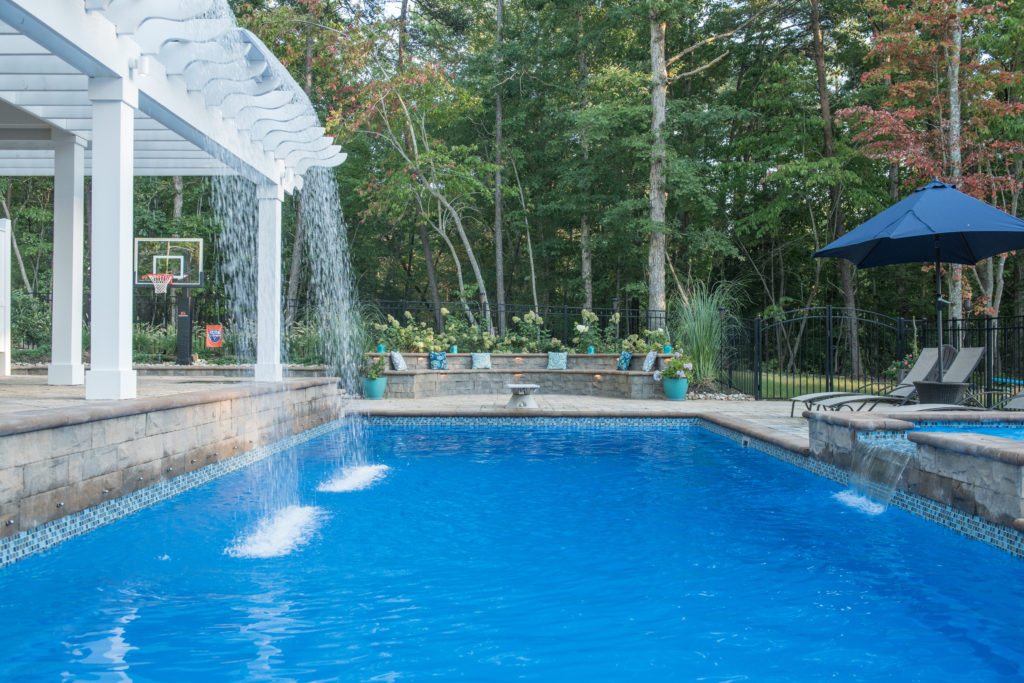 The stunning, intricate project includes a custom pool, a patio, an outdoor shower, a cabana with a free-standing half bathroom, and a fire pit area. Before installation, the homeowner's yard was almost unusable.
"The yard was on a massive hill. After meeting with the homeowners, we agreed we wanted the space to flow as freely as possible and not be hindered by lots of railings or steps. So we terraced the bottom part of the hill and used retaining walls to level it out," explains Watford.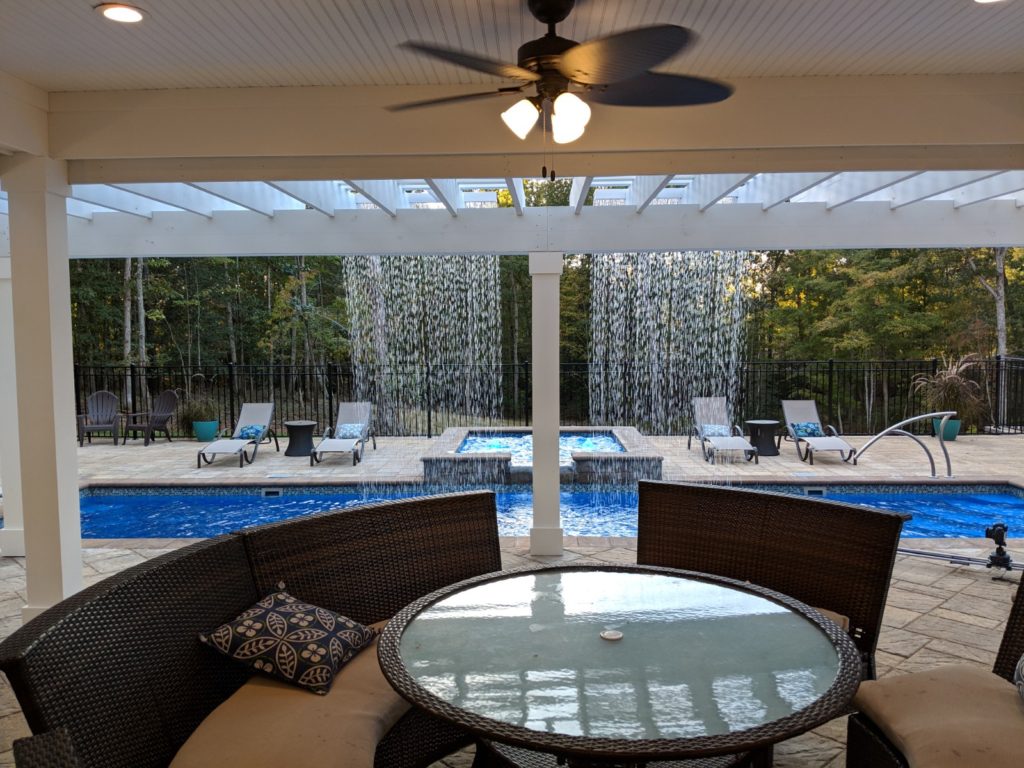 Before the patio and cabana could be installed, Watford and his team had to route custom plumbing for the pool, outdoor shower, and bathroom. To consolidate drainage and simplify the design, Watford created a main drainage basin under the elevated area of the patio.
"We had to run a pump to the cabana to increase the water pressure, so rather than create two separate drain systems, we ran everything into one basin to reduce future maintenance and simplify the plumbing system," says Watford.
With so many integrated water features, Watford's team had to very carefully plan the installation. Plumbing was run in stages based on the grade of the yard and which feature was being connected to the main water lines. By the time it was done, the project boasted a hot tub, pool, waterfall, outdoor shower, and half bath, making it a water lover's dream.
"The homeowners love their new space," says Watford. "I created a 3D rendering for them during the planning phases, but nothing comes close to seeing it in person."
This winning project was completed using Brisa Wall, Chatham Natural, Coping Stone, and CottageStone Textured.
Want to be a HARDSCAPE HERO? Submit your project here. Follow us on Facebook and Instagram to see more beautiful photos from winning HARDSCAPE HERO jobs.