A great patio design can help you escape the stress of life. 2016 HARDSCAPE HERO of the YEAR Donald Sherbeyn's most recent winning project is no different. Through thoughtful design, Sherbeyn incorporated all his client's requests while helping them escape an overgrown backyard with a battered deck.
"The homeowners knew exactly what they wanted. The site had overgrown landscaping and a cookie-cutter back deck. The backyard was so underused they even had backdoors in their house boarded up because they never went out back," says Sherbeyn.
After meeting with the homeowners, Sherbeyn set out to design a functional outdoor living space full of features. The homeowners requested an outdoor bar, a fire pit, a fireplace, and a water feature. In addition, Sherbeyn installed trails and other landscape elements that led around the yard from feature to feature.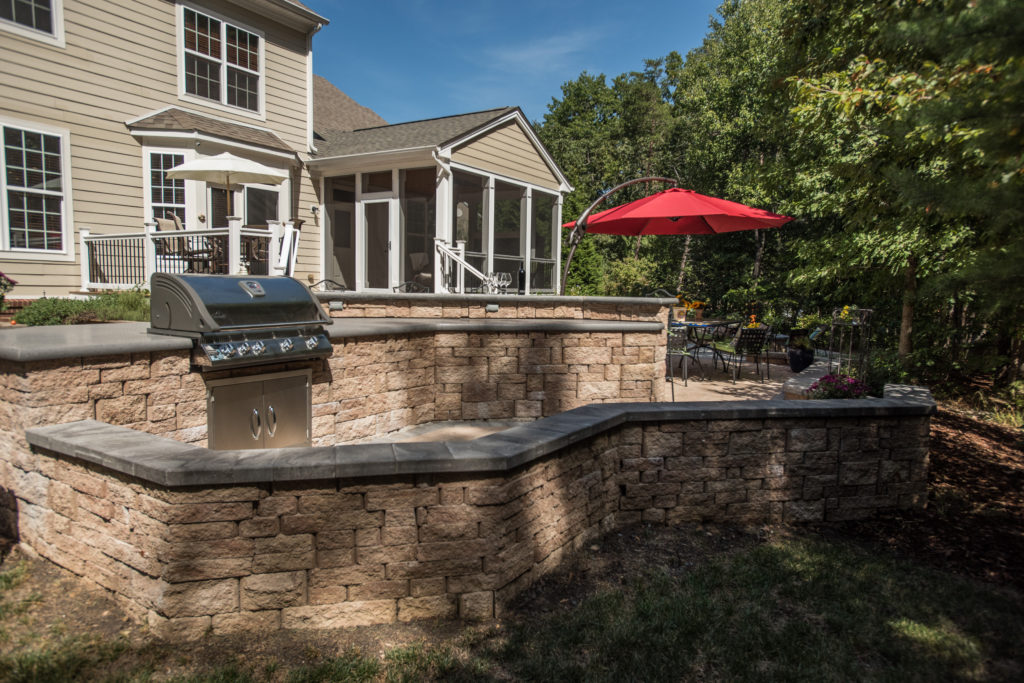 "It was tricky to make everything fit. It's a lot of features for the space, so I designed everything in an octagonal pattern. There are octagons within octagons throughout the whole patio. This shape allows traffic to flow better and gave me the room I needed to fit all of the features," he explains.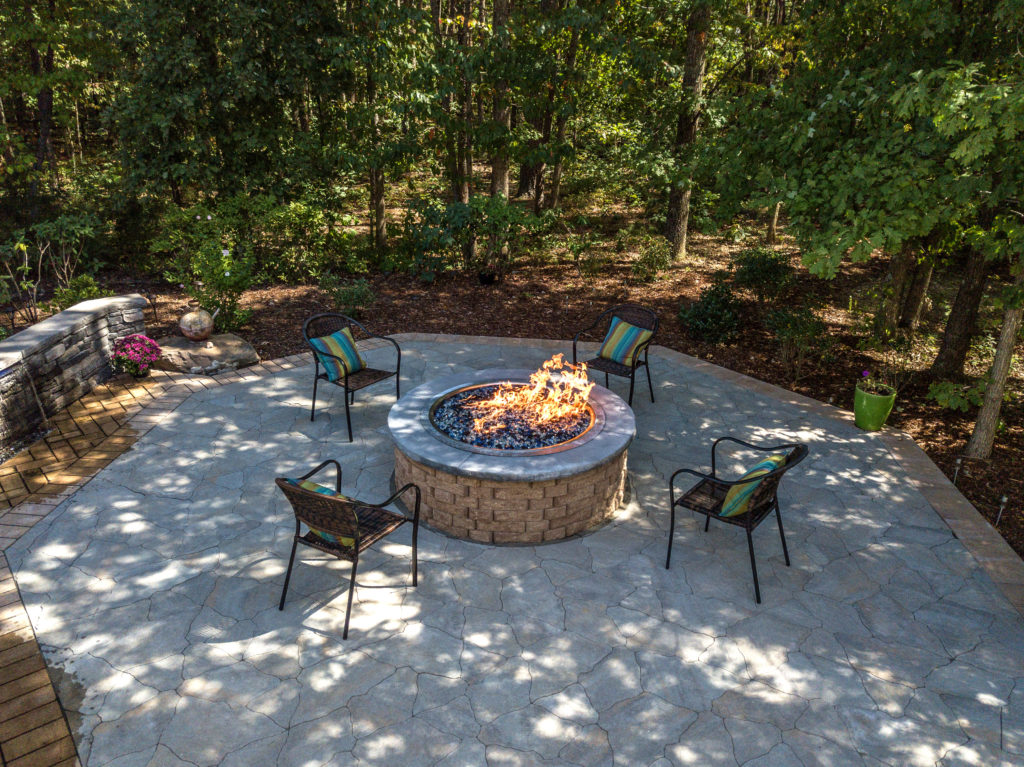 His attention to detail shines throughout the design. Every line and pathway leads perfectly into the next.
"After we finalized the design, we worked on adding custom features. We started with a customized Eagle Bay Water Feature. To save space, we removed the basin and instead installed Eco Bay permeable pavers to create a walk-up water wall. Underneath the installation sits a 35' gravel-filled basin to filter the water naturally," says Sherbeyn.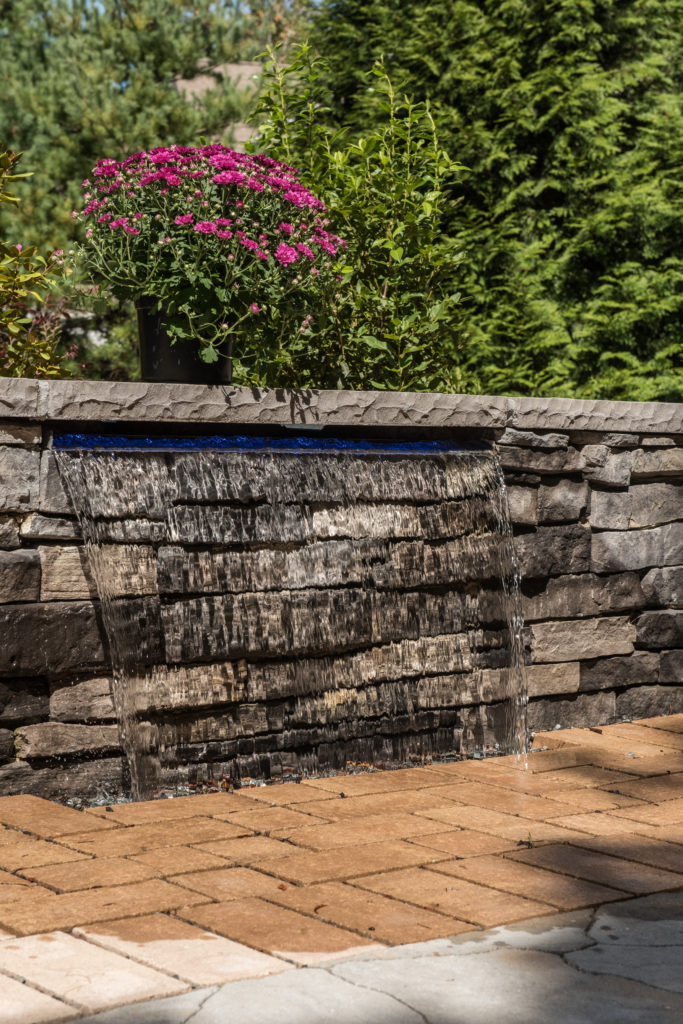 The customized water feature was just the start, however. Sherbeyn also custom cut Highland Stone to support an acid-etched bar top as well as sitting and boundary walls throughout the outdoor living space. By combining these elements with the Essex Stone patio, he created even more flow throughout the area and gave the whole space a relaxed feel despite having so many features.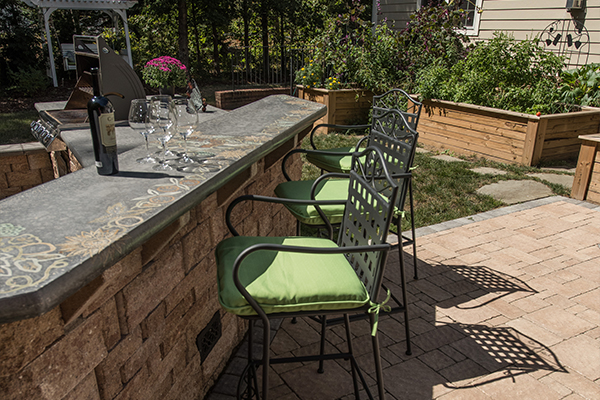 "It was rewarding to see this project come together. It's not often that we get asked to do this much in such a limited space. Plus, we were able to turn what was essentially an unusable backyard into an incredibly functional outdoor living space. The homeowners were ecstatic," he says.
With over 20 years of experience in the industry, Sherbeyn knows that with thorough planning and great communication, you can create something truly amazing. "It's a mentality I try to pass on to our crews as well. All our foremen go through a roughly five-year apprenticeship working directly with me before they can run a crew. To us, it's about doing things the right way every time," he explains.
HARDSCAPE HEROES are masters of their craft, and it's easy to see why Donald Sherbeyn's most recent project won the title of HARDSCAPE HERO.
This winning project was completed using Essex Stone, Highland Fire Pit Kit, Coping Stone, GrandCay Cobbled, Highland Stone Freestanding, Eco Bay and an Eagle Bay Water Feature.
Want to be a HARDSCAPE HERO? Submit your project here. Follow us on Facebook and Instagram to see more beautiful photos from winning HARDSCAPE HERO jobs.