The secret to creating the perfect patio is the willingness to collaborate. That was precisely the case with December's HARDSCAPE Hero winner, Taylor Adams of Dominion Pavers. Their winning project was an ensemble of influence from his designer, Chris Rupp; the homeowner; an electrician; and his crew.
The finished patio includes a refurbished pool deck, water slide, outdoor kitchen with fridge, grill, fireplace, TV, and pergola, and a creative patio full of grade changes and perfectly designed flow.
"The client was buying a lot of the kitchen components himself. He has experience with carpentry and contracting, but we still needed to be able to make small adjustments to make sure everything fit perfectly," says Adams. These on-the-fly design changes meant that the Dominion Pavers team was required to do some pretty fancy cutting to incorporate the kitchenware.
"Overall, everything came out great. Our focus through the whole project was good communication. We made it a point to stay in touch with the client and the other crews working so that we could time installations and make sure that the added elements were being properly integrated," he explains.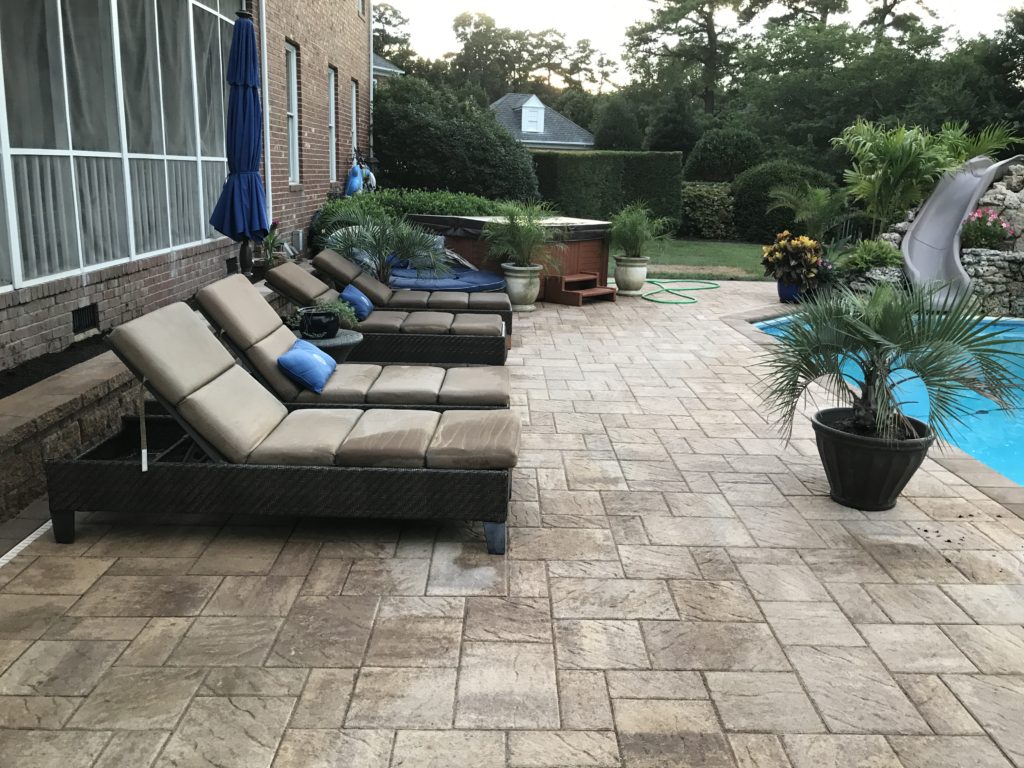 Adams says his favorite part of the hardscaping process is the technical side of installation and that it came in handy with this project. "I make it a point to know all of the technical specifications of the pavers we use. That way, I'm confident in what a certain paver can do, and we can use that to solve problems and push the boundaries," he says.
His knowledge allowed the team to install a custom fireplace in the kitchen, including an integrated TV. "We had to do a few custom cuts to install the TV and run the electrical, but it was pretty cool—the electrician provided a special heat-resistant conduit to run the wire and the homeowner actually bought a heat shield to protect the TV from the fireplace. It's the perfect example of how collaboration can make a project really click," Adams says.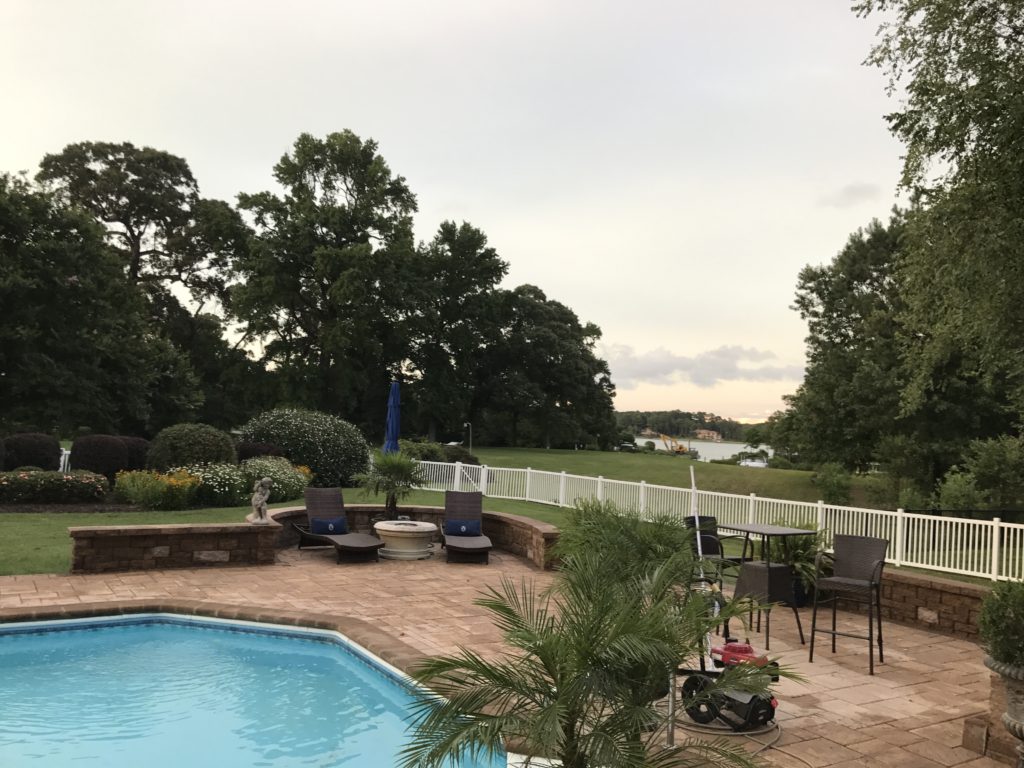 Beyond the kitchen, the Dominion Pavers team was afforded some opportunities to do some creative things with elevation changes around the pool. "The original pool deck was concrete. When we were brought in we could decide what concrete to keep and what to get rid of, and that allowed us to create some interesting grades leading down to the patio," explains Adams.
Once the negotiations concluded and the installation was complete, the homeowner was left with a beautiful new pool deck, outdoor kitchen, and fire pit area. The winning project goes to show that communication is key and a little bit of flexibility can go a long way when creating something beautiful. Here are some additional tips when working with a contractor.
This project was completed using Chatham Natural and Textured, Highland Stone Wall, and CopingStone.
Want to be a HARDSCAPE HERO? Submit your project here.