Planning any patio project requires strong attention to detail and the ability to turn a customer's vision into a reality. Planning a patio with integrated water features, gas lines, and changes in grade takes precision and patience. November's HARDSCAPE HERO Patrick McGrath of Virginia Beach Patios was excited when faced with such a tough project and proved he had exactly what it took to make it a success.
McGrath, who's been in the hardscaping industry for 16 years and is the owner of Virginia Beach Patios, says they approach most of their projects the same way. "We focus on a balance between practicality and giving the customer what they want. Our goal is to capitalize on our customer's original vision and see where we can take it," says McGrath.
"When we started the project, we went through a few different designs," says McGrath. "Eventually, we decided to complete the project in two phases, beginning with the covered kitchen and then installing the pool."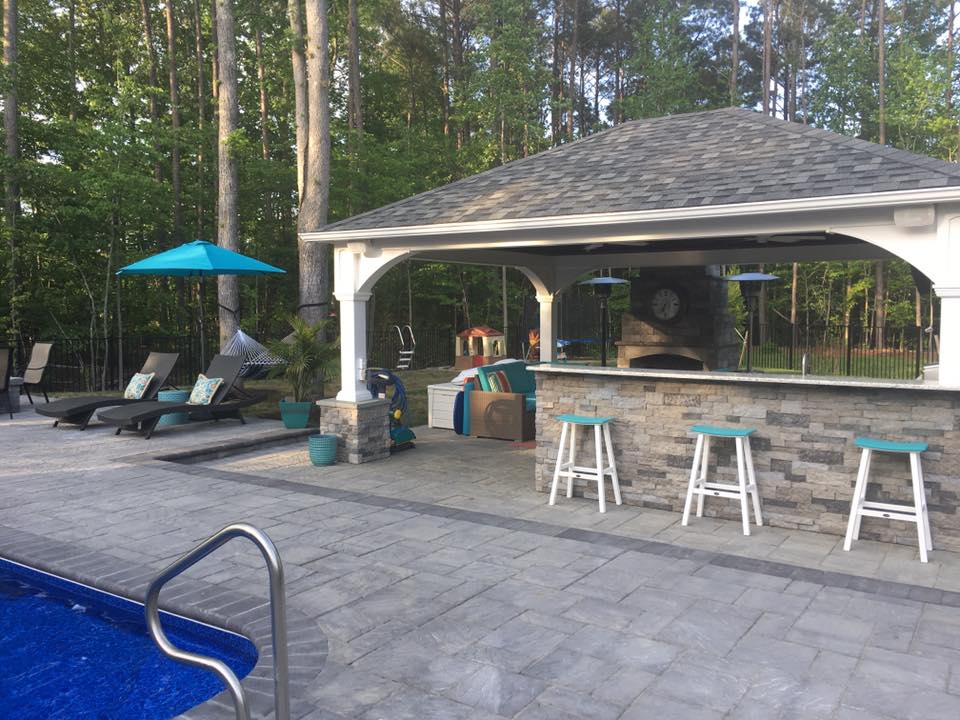 The team at Virginia Beach Patios chose the two-phase method to help them tackle a few different problems. The size of the project made a single-phase install a daunting task for both the homeowner and McGrath. The varied grades in the space required McGrath and his team to come up with some creative ways to make the different sections of the patio flow into one another.
"The hardest part of the project was the different elevations. The pool had to be at a certain height. After consulting with the homeowner and presenting a few different options, we agreed that adding a step down to the pavilion was the best option," he explains.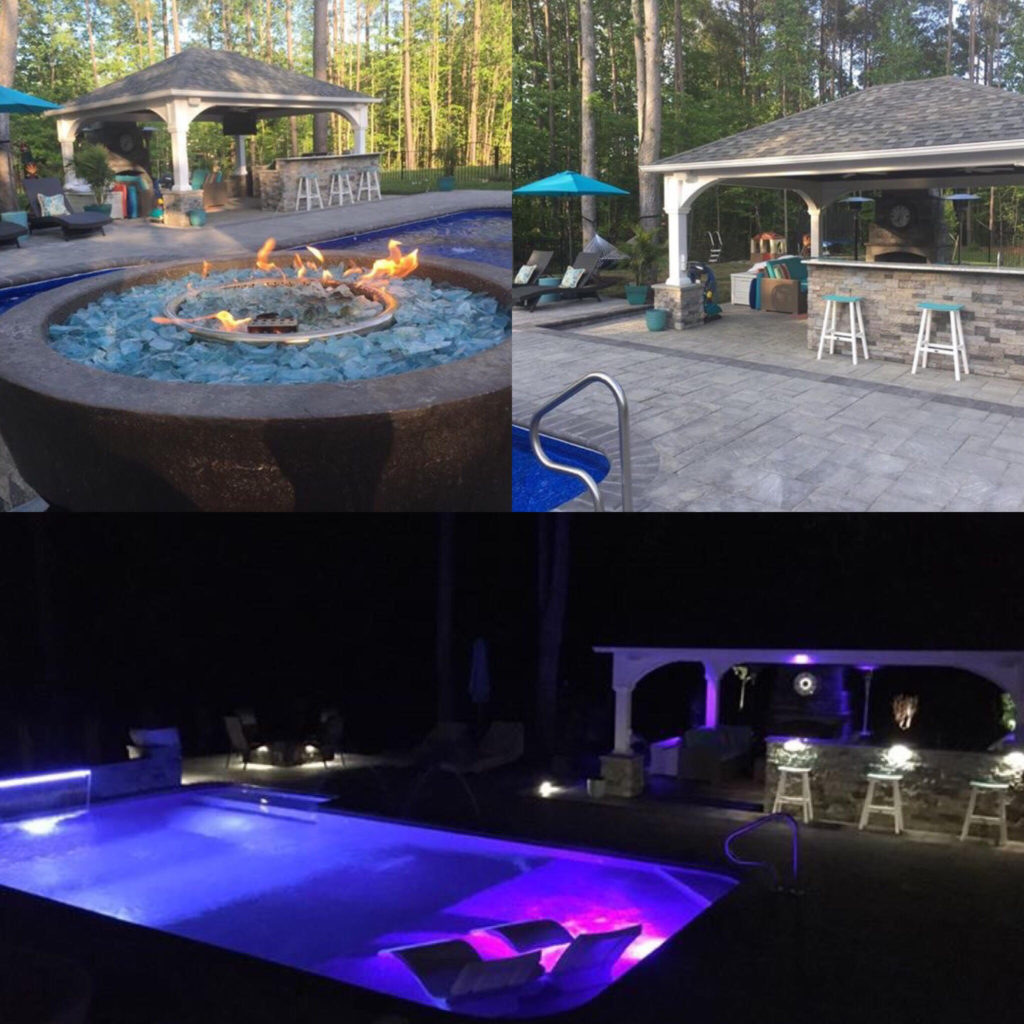 The project had another interesting component to it as well—the homeowner is a former contractor with experience in hardscaping. "They had a really great vision. They knew everything they wanted and had a budget in mind," says McGrath. He explained that a customer's desires and their budget often don't match, but in this case, the homeowner knew what such an extravagant outdoor living space would cost and had clear expectations.
"Their hardscaping knowledge made working on this project really fun. I could talk shop a little more and we really got into a pattern of bouncing ideas off one another. As we iterated, the space just became better and better," says McGrath.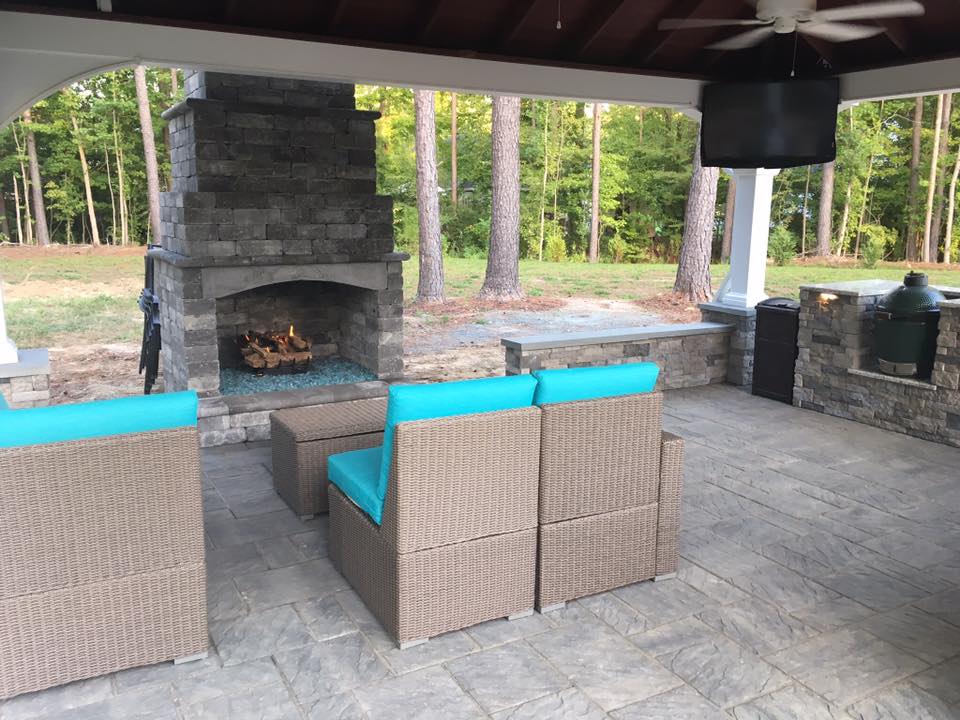 When asked what the single most difficult feature of the space was, McGrath is quick to answer. "The waterfall and fire columns were tough. We had to work hard to make everything fit and we had to be considerate of how we ran the gas lines. They were tough to work on but are also an incredibly unique feature, and they really tie the space together," he says.
A beautiful final product is only as good as its infrastructure. McGrath's winning project shows that planning and attention to detail result in an outdoor living space that's as beautiful as it is functional.
This project was completed using a Dublin Traditional Fireplace, a Dublin Square Fire Pit, Chatham Natural, CottageStone, and CopingStone.
Want to be a HARDSCAPE HERO? Submit your project here.