Add dimension and definition to an outdoor living design with our new Melville Wall system. The smooth texture and subtle chamfer of the block create modern, clean lines, while the matching cap completes the seamless aesthetic.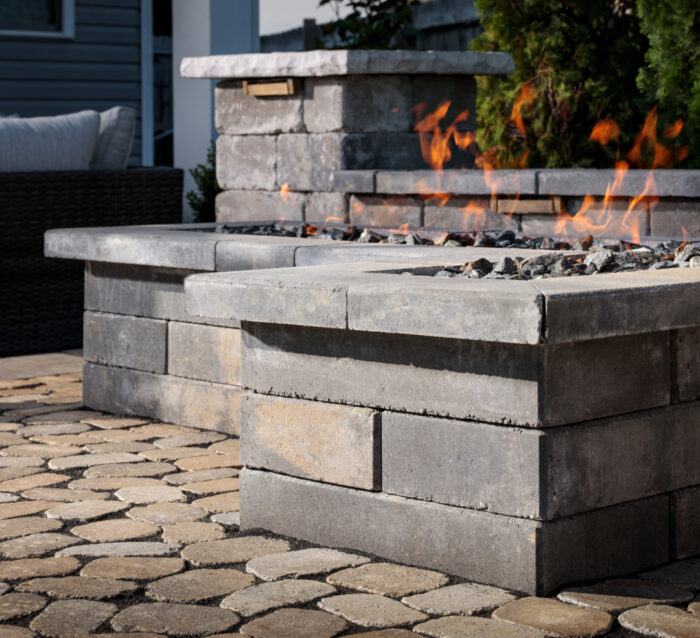 These new products are a welcome addition to the Belgard collection of walls, pavers and caps. Belgard Mid-Atlantic Sales Representative Cole Lineberry says "the Melville Wall adds a contemporary freestanding wall to our Metropolitan Collection that we didn't previously have available in the Mid-Atlantic market," adding that "the smooth face wall provides clean lines with a 4-inch wall block and a 2-inch cap."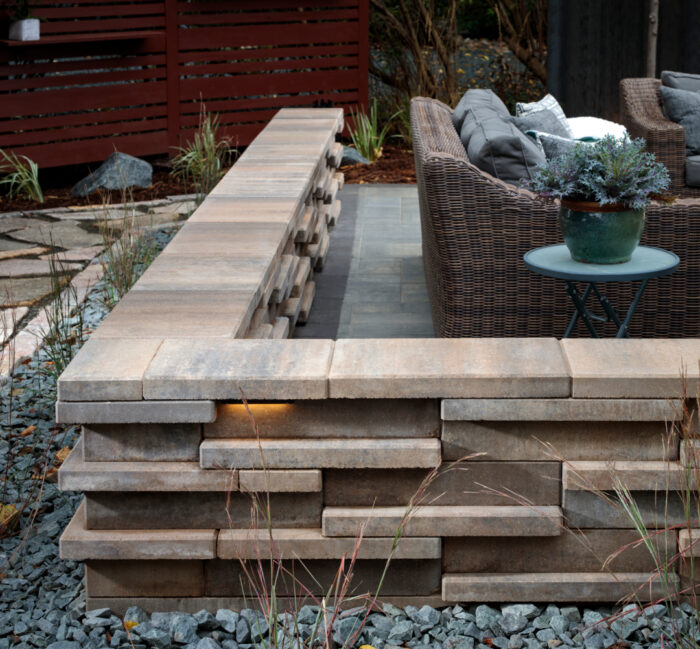 Lineberry is also excited about the design possibilities with Melville Wall, explaining that the products "allow the contractor to build the cap into a wall, giving it a modern texture and a custom appearance." He adds, "playing with shadows from natural light and the undercap light offers a unique design feature."
This versatility makes Melville Wall a perfect choice for a variety of applications: fire and water features, retaining and terrace walls, outdoor kitchens, bars, seating, and more. Make Melville Wall your own:
Choose from two stylish colorways: the cool, gray Cheswick and the warm, earthy Sandbridge
Mix blocks and caps within the design to create depth and a truly custom look
Combine Melville Wall elements with other Belgard products (such as  Origins  and  Dimensions)
Product Showcase:
This fire table with gas insert mixes Melville Wall blocks and caps for a modern, freeform stacked look. A top rim of 20"x13" caps creates an expansive tabletop surface to set out drinks or s'mores ingredients.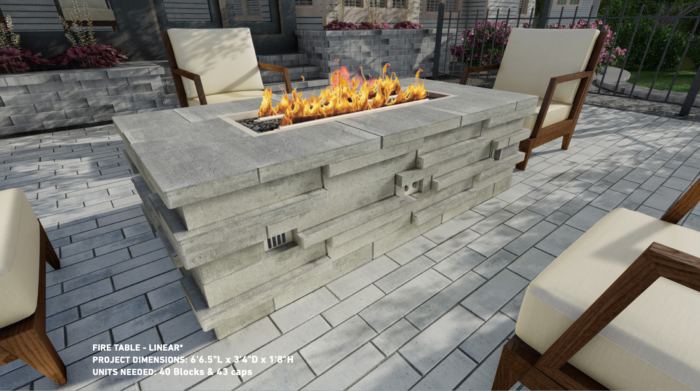 This compact fire pit sits on a 3'x3' footprint, making it an ideal choice for a smaller patio. The base is built entirely of Melville Wall blocks for a clean and simple silhouette, with caps cut-to-fit for the top.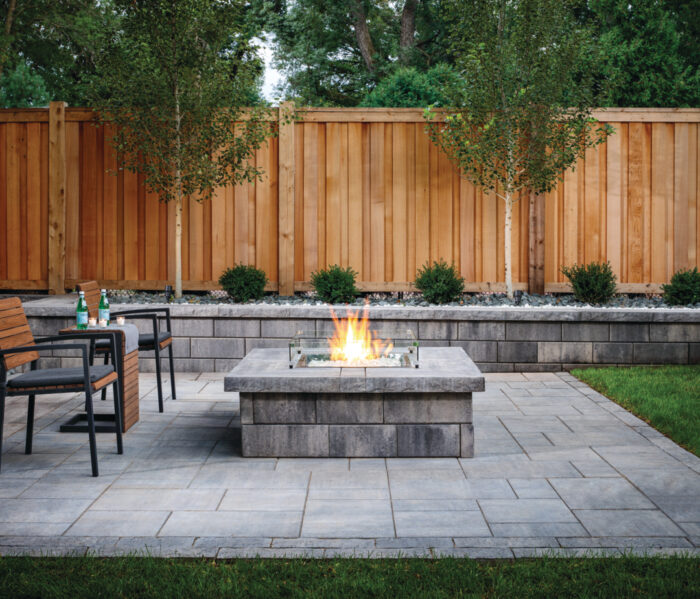 This bar island staggers rows of Melville Wall caps with rows of blocks, giving visual interest to the massive 6.5'x3' structure that serves as a practical focal point beside the pool.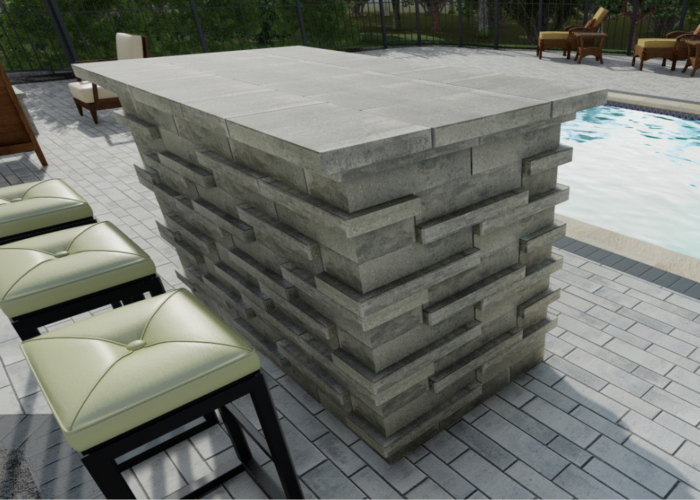 This moderately-sized bar installation features a ledge on one side to accommodate barstools and uses a more traditional block-only running bond construction for the pedestal.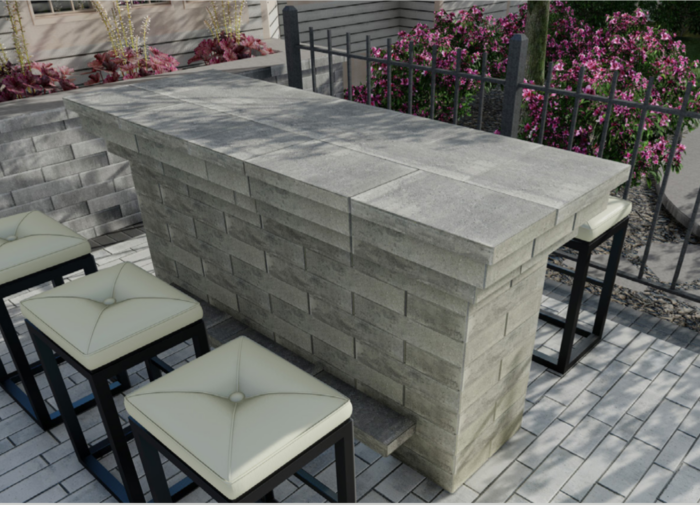 This grill island becomes the true centerpiece of an outdoor space, with a built-in cabinet and plenty of tabletop prep space provided by the expanse of Melville Wall caps.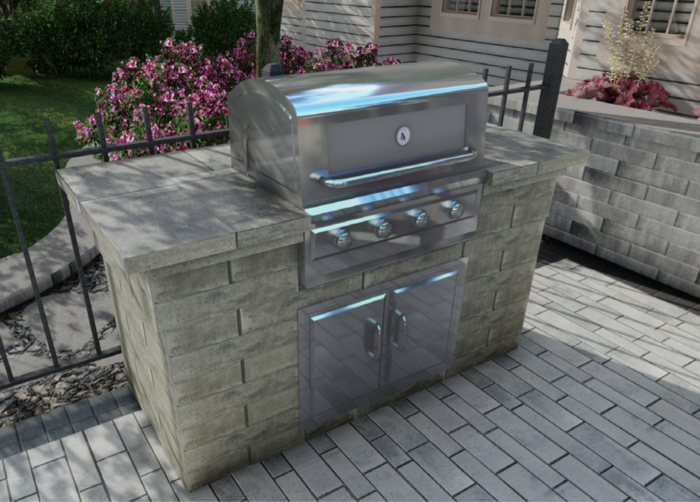 These water features both build on Melville Wall blocks laid in a traditional pattern, with interest created by the dramatic vertical drop of the fountain into the basin.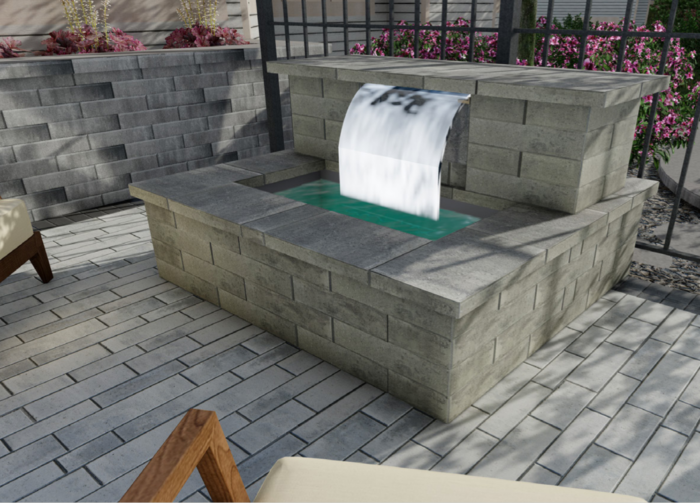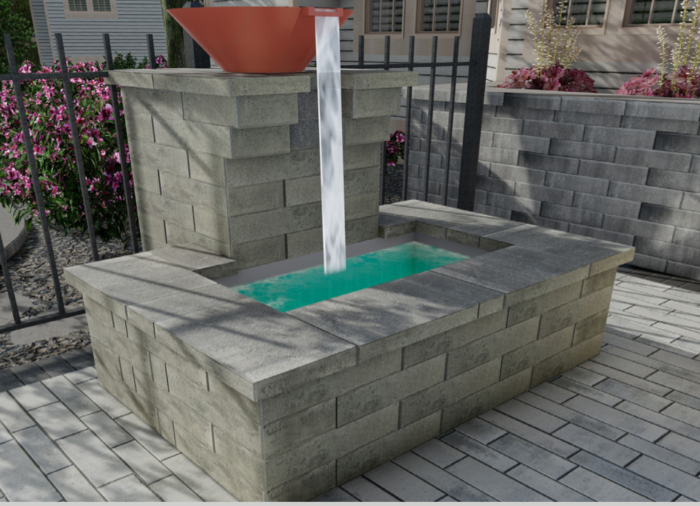 These retaining walls showcase the versatility of the Melville Wall products, whether you're building a segmental or freestanding retaining wall. With installation patterns including blocks only, caps only, blocks on end, blocks and caps mix, and blocks and caps offset, it's a product you can truly make your own.
See more of our Melville Wall system in action below.