Meet October's Hardscape Hero, Brian Gillespie from Ultimate Hardscapes.
Brian Gillespie, in Newport News, VA, has 15 years custom construction experience. At Ultimate Hardscapes he and his team specialize in the design and installation of exquisite outdoor living environments using hardscapes. From simple patio and fire pit installations to award winning showcase projects, Ultimate Hardscapes has the ability to take projects from planning to completion. And Brian is dedicated to delivering a quality project and exceptional experience with each job.
Ultimate Hardscapes prides itself on being extremely efficient on simpler projects offering an accessible price point with quality installation. Brian's recent projects range from installing a pool deck to putting the finishing touches on a paver driveway and building fire pits and patios. In Brian's words, "if it involves hardscape construction chances are, we have the portfolio to show we can bring your vision to life."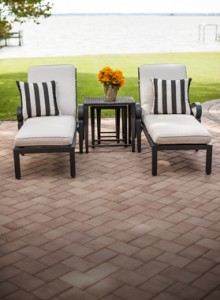 Brian says, "on this particular project we used Eagle Bay products to completely change the way our client is now taking in their wonderful river view." This project creates a space large enough for hosting events and bringing in banquet tables while still feeling cozy enough for just two around the fire.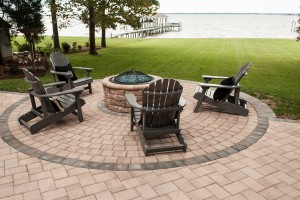 The addition of the outdoor kitchens adds yet another reason to use the space. Also integrated into the space is low voltage lighting which welcomes you after nightfall. Summing up this extensive work Brian adds, "the before and after progression of this project is a wonderful example of what's possible with well thought out design infused with our clients vision."
Brian's Hardscape Tips
Brian lends his experience to help homeowners plan their next hardscape project, "One of the things we always make sure goes into our projects is low voltage lighting. It truly extends the space into the night and the effect on the hardscape products truly create a different dimension."
Another tip Brian has for clients constructing a new home. Brian points out, "often the outdoor living space of the home is one of the last phases of construction, meaning the budget often dwindles down after change orders from the rest of the construction process. If you are going to be building a new home in the future make sure you meet with an outdoor living contractor that can work with you early on to avoid this mistake."
In short, Brian wants homeowners to make sure they're giving as much emphasis to the home's exterior as to the interior.
When it comes to beginning the planning process, Brian suggests, "there is no better time to start that process than the minute you decide you want to create something outside of your door. Outdoor living is one of the highest return on investment projects you can add to your home and with all the products available now it's a no brainer for extending the square footage of your home outside."
Oops! We could not locate your form.