Meet September's Hardscape Hero, Josh Goff from Commonwealth Curb Appeal.
During Commonwealth Curb Appeal's 10 years, Josh Goff has handled a wide variety of hardscape projects. As his company has grown, he has gained extensive experience in patios, pools, and complete outdoor living spaces in particular.
Josh's most recent project was a multi level patio that featured a HighLand(R) Fire Pit, seating bench with back rest, columns & walls with under cap hardscape lighting.
To bring this project together, Josh and his team worked closely with the homeowner to help choose all the details carefully and coordinate color schemes with additional work planned in the future. Commonwealth Curb Appeal modeled existing space into a 3D design to help the homeowner visualize the final product before the project started.
The homeowner was extremely happy with the outcome.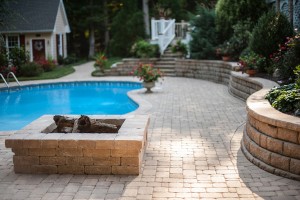 Josh's Hardscape Planning Tips
According to Josh, "the best time to start planning your hardscape depends on the scope of the project." He reminds anyone planning a hardscape project that, "if the project will require Homeowner's Association Approval, you may need to factor in an additional 3-4 weeks. Smaller, more straight forward projects like patios and walkways could be planned in as little as 2-3 weeks before installation."
If you are planning a larger, more complex projects such as pool decks, elevated patios/porches, outdoor kitchens, etc. Josh recommends giving yourself at least 3-6 months of planning.
Another helpful piece of advice from Josh, "like any major purchase, do the homework before signing up with a contractor. Check references for not only newer projects, but for projects that were installed 5-7 years ago. Check out the BBB, search google, check trade association certifications, etc."
Oops! We could not locate your form.