Meet November's Hardscape Hero, Linda Jensen from Arrowwood Landscapes.
Linda describes Arrowwood Landscapes as a "boutique' design/build company." They love to create unique outdoor spaces with hardscape, landscape and low-voltage lighting elements. Her company prides itself on focusing on one project at a time and completing it before beginning the next.
Linda and her team recently completed a beautiful project adding a 150 foot low retaining wall and plants to a very steep slope. Linda says, "the plants will give 4 season visual interest set as a backdrop to a beautiful Highland Stone wall in Jefferson color. As a bonus, the client will never have to mow that slope again!"
The homeowners had a clear idea of the concept and scope of the project – even suggesting adding coping stones to give the retaining wall a softer finish. Nevertheless, they were thrilled by the difference in the before and after appearance in the area. It changed the entire look of the backyard. During the installation, they talked about how they would use the area during the different seasons of the year. It's just the kind of feedback Linda loves to hear.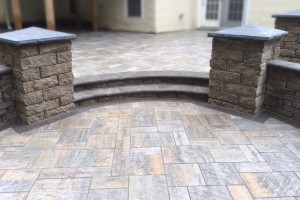 Pavers were Chatham stone for the patio in Jefferson, with a Slate sailor border in Cottage stone textured.
The walls were Highland freestanding for the knee walls and Highland retaining wall for the raised patio and steps.
The walls and steps were capped with coping stone in Chesapeake.
Highland pillars with peaked rock faced pillar caps in grey.
Linda's Hardscape Planning Tips
We asked Linda about when the best time to start planning a hardscape project. She told us,
"A hardscape project can be planned anytime of the year. Winter is an ideal time to start because it is a slower time in the landscape 'Design Season'. Designers have more time to pull the project together and can give more one on one time with the client."
Before starting your hardscape project, Linda wants you to keep two things in mind:
First, "communication is vital, please ask your contractor questions. Communicate while they are onsite. It may require a "Change–Order" to the contract, but details can be added or changed while construction is ongoing."
Second, "Construction is messy! Linda and her team clean, repair, and beautify before they are finished, but since we cannot excavate with a teaspoon, the area will experience varying amounts of mud, debris and disarray in the course of improvement.
Oops! We could not locate your form.