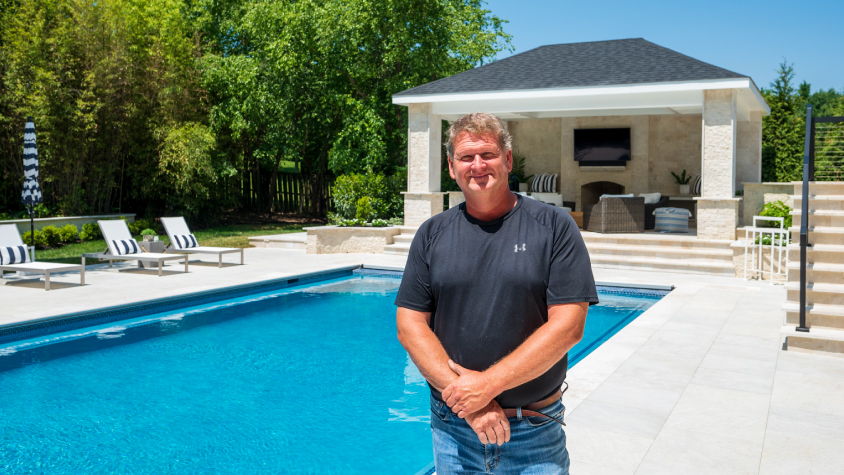 ---
In today's world, it's getting more and more difficult to fight for people's attention. Everyone's eyes are being pulled in a million different directions at once, and hardscaping certainly isn't immune to this reality. For Ray Ditmeyer and the team at Custom Outdoor Solutions, the goal with every job is to create work that you can't take your eyes off of. We certainly couldn't help but notice his entry for this month's Hardscape Hero, which secured him the win for June. While the project was designed like a Porsche, it was built like a battle tank. "The house could blow over and that patio would still be standing," jokes Ray who started the business when he was 19 years old. "I make sure everything is built to last, and I've never had to go back to fix a job once it's done."  
Not only does Ray never want to go back to fix an old job, he never wants to do the same job twice. It's all in the name: Custom Outdoor Solutions. "If somebody offered me a million dollars to build that same job again I'd tell them 'I'm sorry,'" says Ray, "that's why it has custom in the name, I do it once and lots of people appreciate having something that's one of a kind." And this job is most certainly unlike any other. Ray opted for curved walls and concave features to give the space a unique look. Because of the reputation he's garnered over his 30 years in the industry, Ray was able to easily gain the homeowners' full confidence. He always tries to understand his clients and match the project to what he gathers to be their tastes, "when I design a job I try to observe the clients, the cars they drive, how their interior is designed, all to get a sense of their personality, and the choices I make from materials to colors spring from that." 
---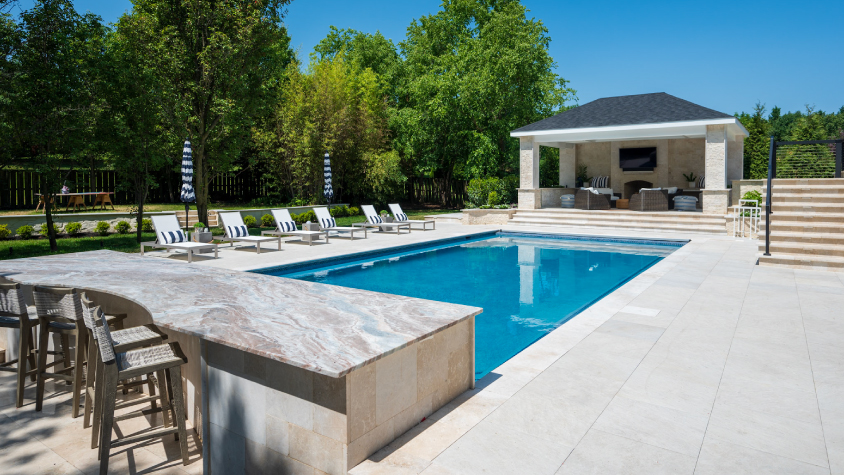 ---
Like most projects, this one came with its own difficulties. The pool, which was installed before Ray's team started work, was not square with the house. "We had to figure out ways to trick your eye," says Ray, "so we got creative with the pattern on the upper deck." Because the wall that supports the pavilion needed to be square with the pool, the team had to figure out a way to hide the crooked lines. They ended up using what Ray calls a "four-way shiplap design" on the deck with NOON Honey planks, creating a kind of pinwheel effect. The forty-five-degree angles were enough to obscure any wonky lines, and the results are incredibly stunning. His decades of experience equipped Ray with the tools to roll with the punches and create a bit of flair while he was at it. 
---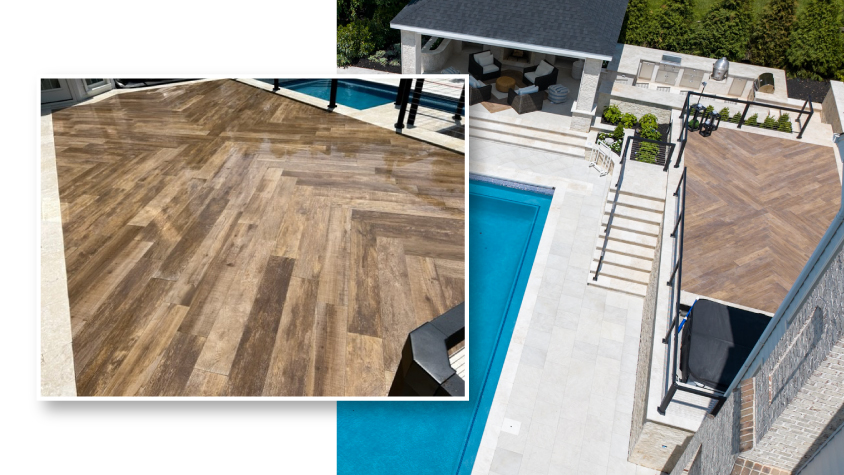 ---
For Ray, a hardscape is incomplete without people in it. When designing a project he always considers how the space will facilitate socializing. "On this project, each section is unique and stands on its own," explains Ray, "but it all ties together. I wanted to make sure no matter where you are in the yard that you feel included in the party." No matter the time of year, this outdoor space is made to make you feel welcome. The outdoor living room has an awning to keep the homeowners cool in the summer and heated seats around the fire pit to keep them warm in the winter. Ray's favorite part of any job is hearing about how the client uses the space afterward. "The homeowner told me he was out on the pavilion every single day enjoying his new space," Ray says, his voice filled with joy, "these spaces are meant to be filled with people, filled with life, you know? Otherwise, what's the point?"
---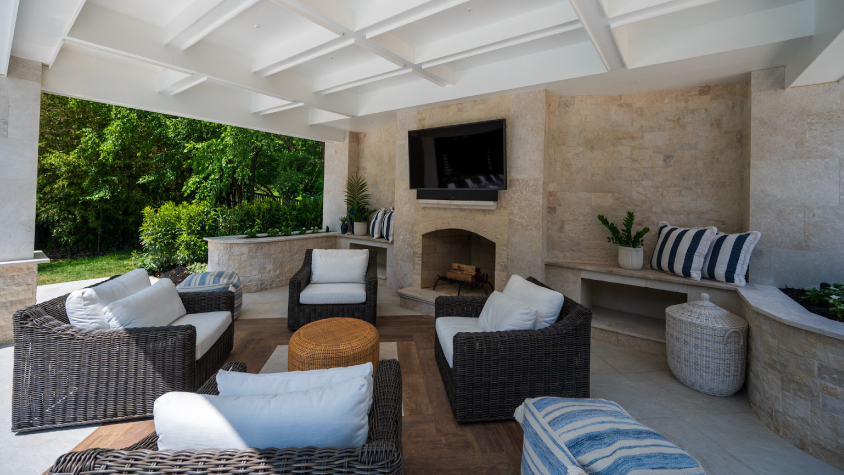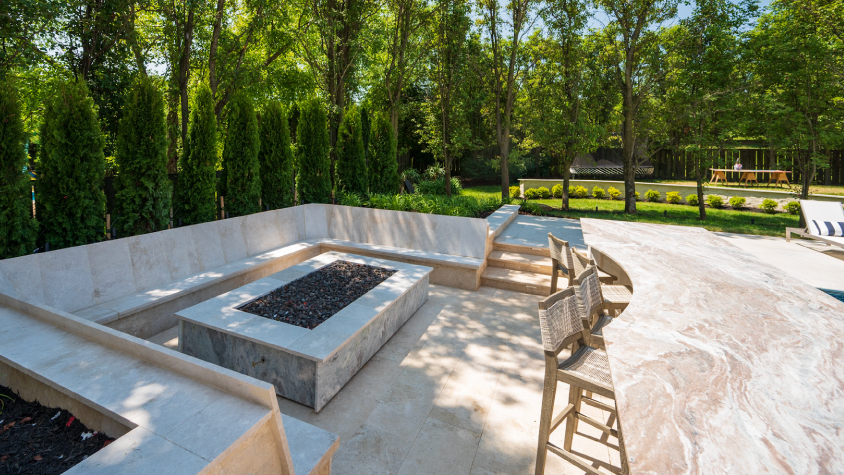 ---
Ray's advice to the next generation of hardscapers? "Don't be afraid to be different." He's built his reputation on taking risks and never going generic. "I always want to make something that stands out. I love showing someone a photo of a job and their jaw just drops because the project is one of a kind." When you have 30 years of experience and devotion to nothing but the highest quality of craftsmanship, taking risks almost always pays off dividends in the end. 
---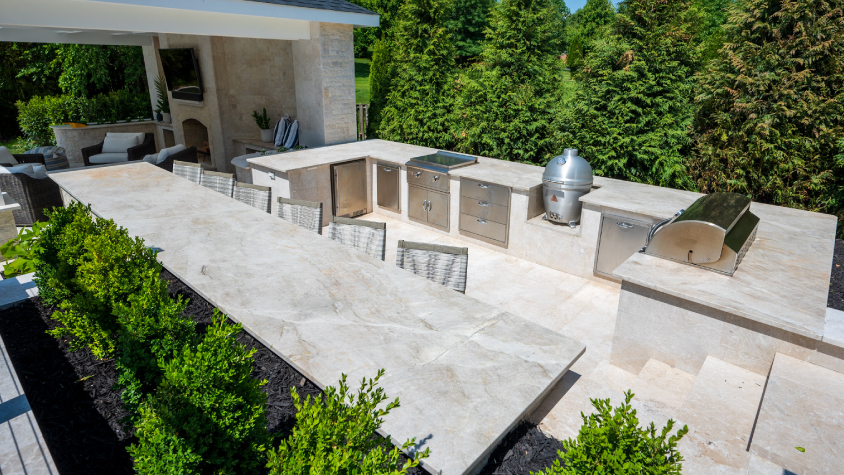 ---
Want to be a Belgard Hardscape Hero? Submit your project here or talk to your sales rep. Follow us on Facebook and Instagram to see more beautiful photos from Hardscape Hero winners.
The following Belgard products were used in this project:
Porcelain: 2,000 SF
Quarziti 24×24 Glacier Pool Deck and Pergola Floor
NOON 8×48 Honey Upper Deck and Inlay Pergola Floor
Techniseal – Ivory Polymeric Sand/Spacers