Hardscapes must be made to withstand wind, rain, snow and anything else mother nature can muster, all while maintaining their beauty and elegance. So, why not lean into the elemental nature of the hardscape? Water features are an incredible way to create ambiance in any outdoor setting, from sprinkling a touch of character to completely transforming the space. Whether adding a splash pad or building a fountain centerpiece, incorporating water features will open up many possibilities for your next project. 
Micah Miller of Easton Outdoors knows better than most how much water can take a job to the next level. "My favorite element to add to a hardscape is water," says Miller, "it brings a dynamic characteristic, a feeling of movement and a sense of life. I use these features to drown out street noise, create a visual centerpiece to daydream and add clean water for birds and wildlife." 
---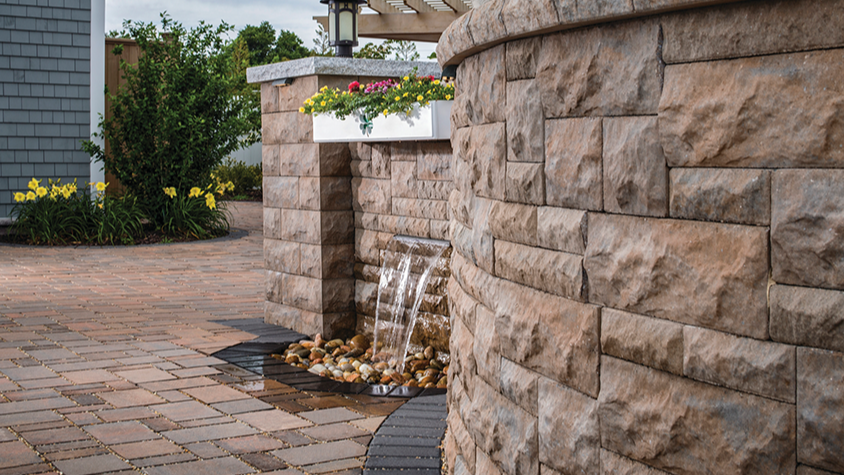 ---
The possibilities for altering a space with water are endless. Interactive fountains are great for families, providing a fun way for children (and children at heart) to engage with the space during hot summer days. Sometimes simplicity is the best way to make your project shine. Pondless waterfalls can add a subtle accent to any patio or garden. The water cascades down into a basin or natural feature like gravel, which then recycles back into the flow to create constant movement. "Water attracts people," adds Miller, "even the ancients had fountains and water-flowing sculptures." Modern hardscapes are no different. An art object or sculpture with flowing water can become the perfect centerpiece for an outdoor space. Everything from water walls to urns and bubbling rocks can take an already beautiful yard and make it feel like a royal estate.  
---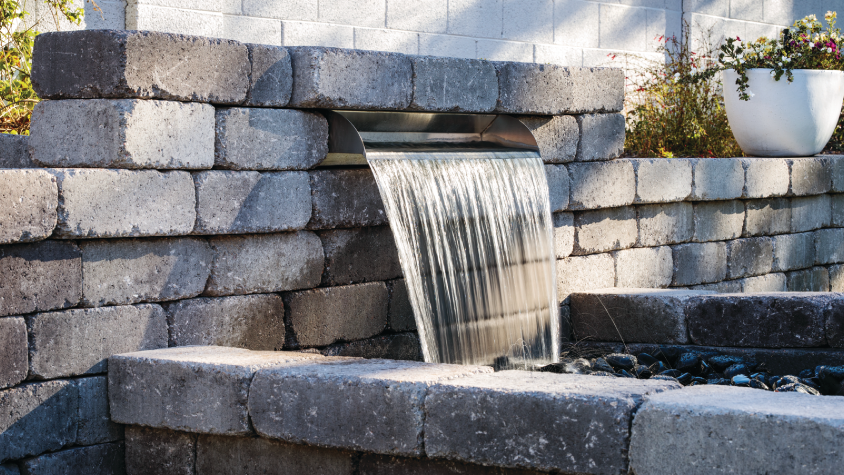 ---
Permeable pavers are a perfect match for any water feature that needs a patio to accompany it. Whether you're installing a splash pad or a water wall, permeable pavers allow water to pass through to the aggregate below where it can be stored in a basin and recycled through the system pump or replenish the ground moisture. Rather than adding to runoff, permeable pavers offer an eco-friendly option for patios with water features. 
---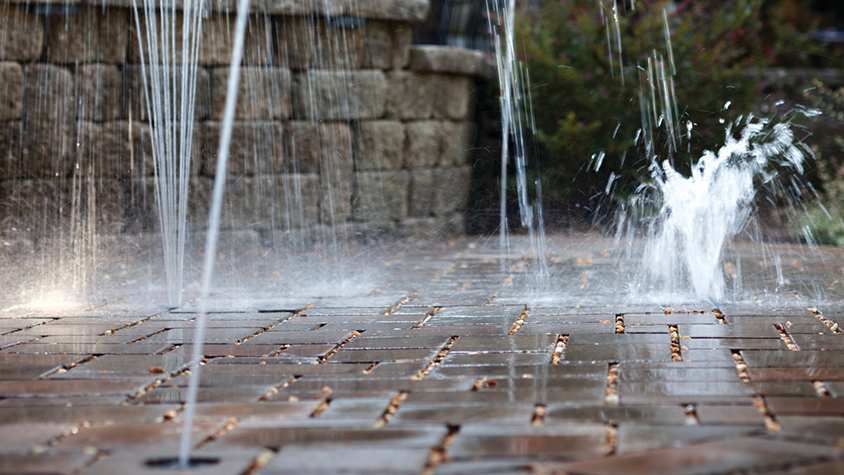 ---
While tapping into the natural feeling of an outdoor space, water elements also provide a great outlet to incorporate new technology into a project. Whether you're powering the pumps to cycle water or the lighting to add ambiance, solar power is an excellent solution for water features. Not only is it a sustainable way to provide power that can lower your energy bills, it also saves you the headache of running electricity and burying lines. When it comes to retrofits, using solar energy helps avoid invasive and laborious work where hardscape already exists. However you choose to power the lights and pumps, smart devices can take those features to the next level. Wifi-enabled water features allow the homeowner to set the ambiance of their outdoor space from their phone or tablet wherever they may be. 
Miller is an expert at incorporating Belgard products into these types of features. "There's nothing complicated about a simple fountain," he says, "you can easily build these into most spaces with a Weston or Highland wall surround. The walls elevate it slightly to add depth and interest, and then the fountain can sit right on the basin inside the wall." 
---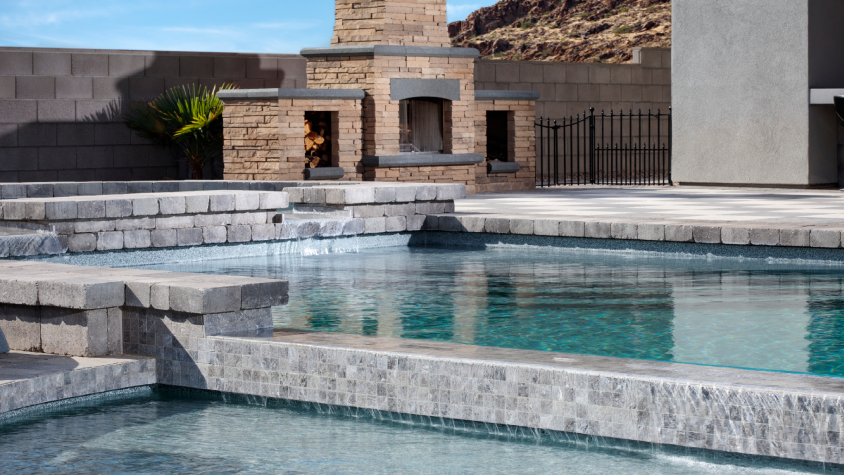 ---
The Atlantis Spillway Kit and Niagara Copper Bowl Fountain Kit are also excellent and complete options for adding a classic fountain to any project. So whether you want to add value when selling a job, or you're looking for ways to give a patio that extra feeling of extravagance, water features are the perfect solution for your next job. What better way to create a seamless transition between the home and the natural world than integrating elemental features into an outdoor space?
For more inspiration head over to our inspiration gallery or ask your sales rep about Belgard products that work well with water features.