Sometimes, getting back to basics is the key to success. Allen Abisia and the team at Creative Outdoors Inc. take pride in their classic approach to the hardscaping business: just good old-fashioned hard work and word-of-mouth marketing. And no wonder people recommend them, just take a look at the incredible job that won Creative Outdoors Inc. this month's Hardscape Hero award.
Allen Abisia has been in the landscaping and hardscaping business for twenty years now, getting his start working for his cousin when he was sixteen. In 2012 he decided he wanted to work for himself and started Creative Outdoors Inc., where he specializes in patios, retaining walls, pools and all things hardscaping. 
For Allen's first Hardscape Hero win, he created a beautiful multi-tiered patio overlooking a lake. Descending from the back deck, he built a stairway using the Belgard segmental wall system, which leads to a curved seating wall adjacent to a firepit. The next tier down provides an open sunbathing area with a walkway that leads to a dock on the water. Every level is bordered by a retaining wall, giving each of the landings leading up to the house a sense of being their own space.
---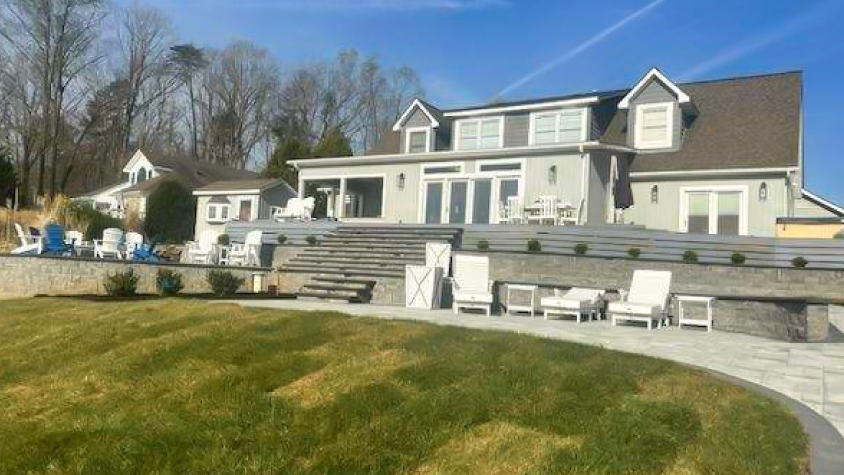 ---
Allen chose the materials based on the homeowners' desired color scheme. Because they wanted large pavers with lighter tones, he used Dimensions 12 in Cheswick for a majority of the patio. For the darker accent pieces, Coping Stone in Midnight tied the patios together and capped the retaining walls perfectly. In addition to the stairs, Allen used Highland Stone Segmental Retaining Wall features for the seating walls and firepit. 
A pro in taking on big projects, Allen says this smaller job didn't pose too many problems. One minor challenge he encountered was needing to accommodate for future lighting, electrical and irrigation. 
"For me, communication is the most important thing," says Allen, "the more time I spend with the homeowner at the beginning, really working through everything, the fewer problems come up later on. And when we do encounter challenges, it's super essential to keep the homeowner informed throughout the process." 
The lake that the home overlooks is owned by a power company that does not allow anyone to build retaining walls below the flood line. This necessitated some redesign and mid-job changes, but speedbumps like these are easily navigated by the seasoned team at Creative Outdoors Inc. 
---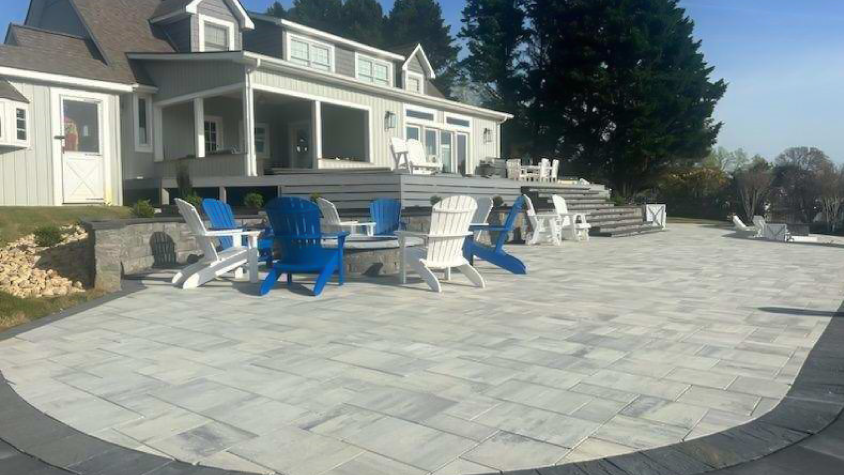 ---
Allen says his favorite aspect of this particular job was the fire pit with the curved seating wall. "I love having circular details," he explains, "anyone can cut a straight line, but being able to make curves that are fine and consistent really shows off your craftsmanship." Allen is so confident in his skill and the team at Creative Outdoors Inc.'s work that he puts a five-year warranty on all of his jobs. 
Allen is oldschool and sticks to paper when he draws up plans. "Computers are not my friend," he says laughing. A self-described "hands-on kind of guy," Allen takes this approach throughout all stages of the job. When it comes to building, he says he prefers to be on-site, laying down pavers himself alongside his team. Allen's other favorite part of the job is at the other end, when the project is finished and he walks the client through everything. He smiles as he seems to recall the look on the homeowners' faces, "I love getting to see their expressions when we do that final walkthrough, when everything's done. They put all this trust in you and they're just so ecstatic when they finally see their outdoor space transformed." 
---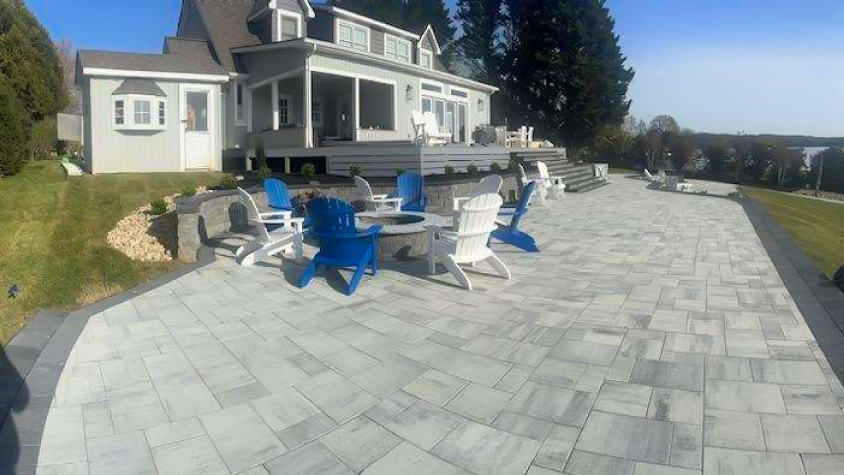 ---
With Creative Outdoors Inc.'s first Hardscape Hero win, it's clear that with hard work, experience and pride in your craft, you can create something people will be talking about for years to come. It's obvious why Allen's first submission caught our eye, and we're super excited to see what the future holds for Creative Outdoors Inc. 
Want to be a Belgard Hardscape Hero? Submit your project here or talk to your sales rep. Follow us on Facebook and Instagram to see more beautiful photos from Hardscape Hero winners.
The following Belgard products were used in this project: