Paves the Good projects come in all shapes and sizes, from a simple backyard patio to big ground-up projects like the recent collaboration between Belgard, Easton Outdoors and Tunnel to Towers. 
---
---
It was a sunny summer day in James City County, Virginia and the yard was full of friends, family and a number of first responders and veterans awaiting Master Sergeant Logan Brokaw's arrival. The dedication ceremony for MSG Brokaw and his family began as they pulled up and took center stage in front of their brand new fully accessible smart house surrounded by lush forest. One by one, members of MSG Brokaw's family and representatives from the organizations that built the home took the microphone to thank him for his dedication and sacrifice. Gratitude filled the air as the family raised a flag in the front yard before beginning this next chapter of their lives.  
For Belgard's second Paves the Good project we partnered with Hardscape Hero winner Micah Miller of Easton Outdoors and Tunnel to Towers to create a beautiful outdoor space for an injured U.S. Army veteran. Based in Hampton, Virginia, Easton Outdoors serves the Peninsula and Southside where they specialize in water features, koi ponds, hardscape design and installation, landscape lightings and patios. Miller was contacted by Tunnel to Towers to help Master Sergeant Logan Brokaw by building him a patio for his new home. 
---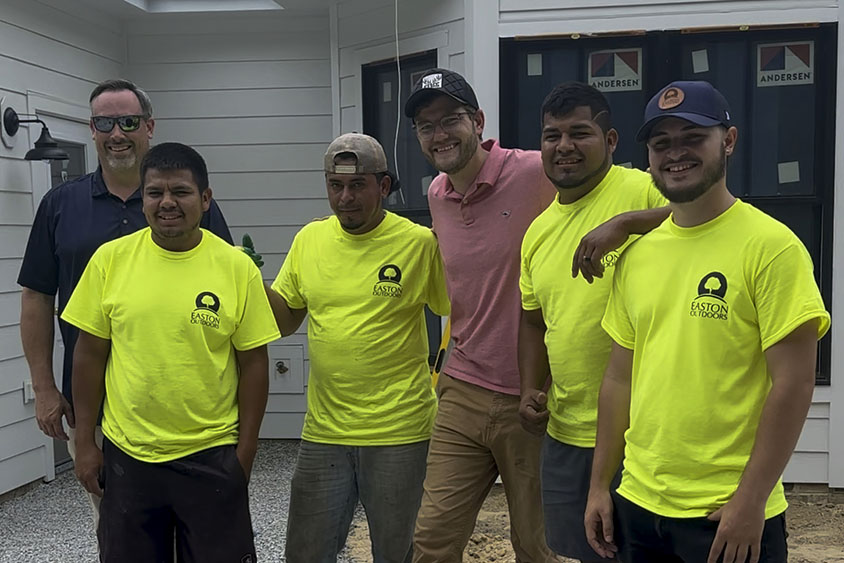 ---
The Tunnel to Towers Foundation was formed in 2001 after the September 11 attacks in New York City, in honor of the Brooklyn Squad 1 firefighter Stephen Gerard Siller. On that day, Stephen was off of work but heard there was an attack over the scanner in his truck. He immediately grabbed his gear and started heading into Manhattan, but was stopped at the Brooklyn Battery Tunnel. Determined to help, Stephen carried 60 pounds of gear on his back and traveled on foot through the tunnel and to the World Trade Center where he lost his life saving those trapped inside.
---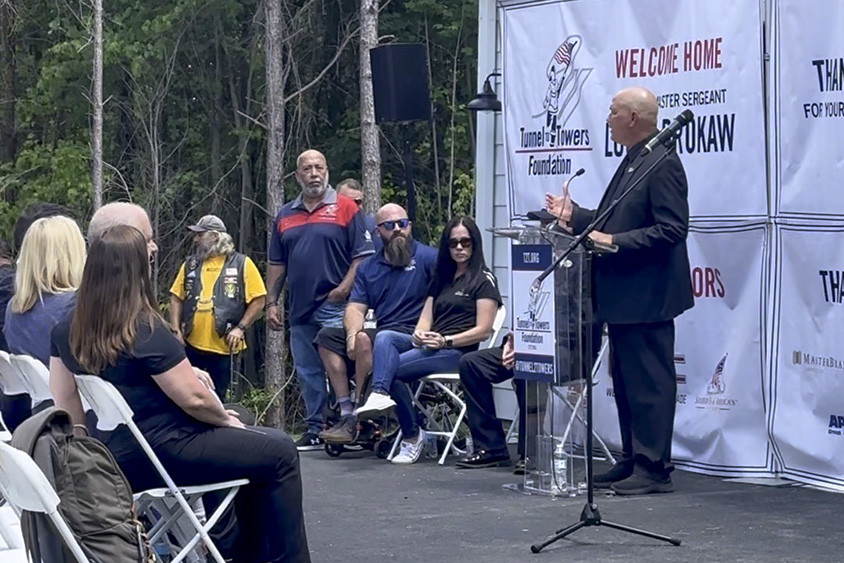 ---
Stephen's brother, Frank Siller, formed Tunnel to Towers soon after as a way to honor the sacrifices his brother and many others made that day. They have a number of programs to help wounded veterans and first responders, as well as support families of those who have lost their lives in service. Tunnel to Towers provides mortgage-free homes to the families of veterans and first responders who have died in the line of duty, provides housing to homeless veterans and builds smart homes for veterans and first responders who live with a disability resulting from their service.
MSG Brokaw was the most recent veteran in their smart house initiative to receive a mortgage-free home. After multiple tours in Iraq and Afghanistan with the U.S. Army's Special Operations, Brokaw was injured during a freefall training exercise that led to paraplegia. Tunnel to Towers built him and his family a fully accessible smart house complete with low countertops, wheelchair accessible shower and remote doors and lights. Belgard was incredibly excited to partner with Tunnel to Towers and Easton Outdoors to build the Brokaws a fully ADA-compliant patio for their new home. 
---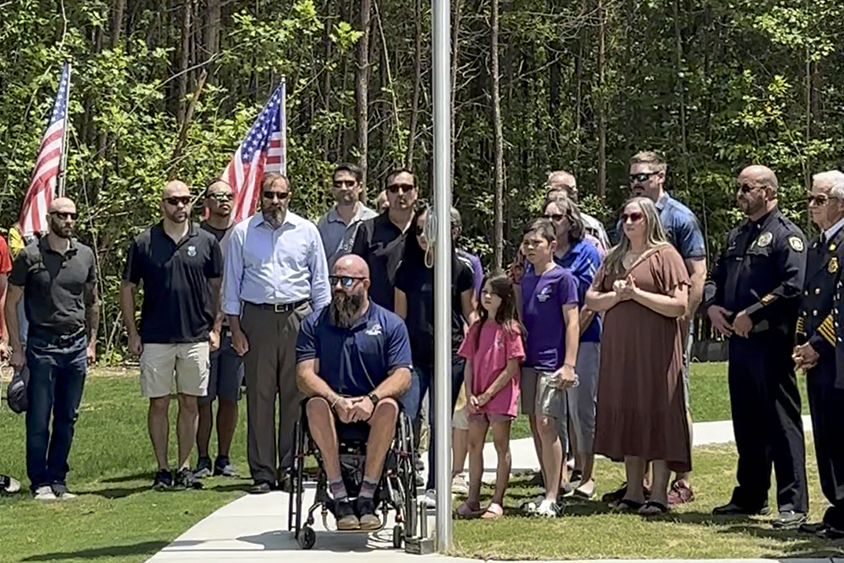 ---
Miller and Easton Outdoors chose Dimensions Pavers for the smoother face with minimal lip to create a more seamless surface for Brokaw's wheelchair. They were able to create a gentle slope to the back door to accommodate for the drop, which would normally require a step. In addition to the Dimensions in Cheswick, they used Dimensions in Midnight as accent pieces and Brooklyn Pavers as the inlay. They also included LED lighting to take everything up a notch. They pulled it all together by surrounding the patio with a Highland Wall system. All of the elements were joined together with donated materials from Techniseal.
---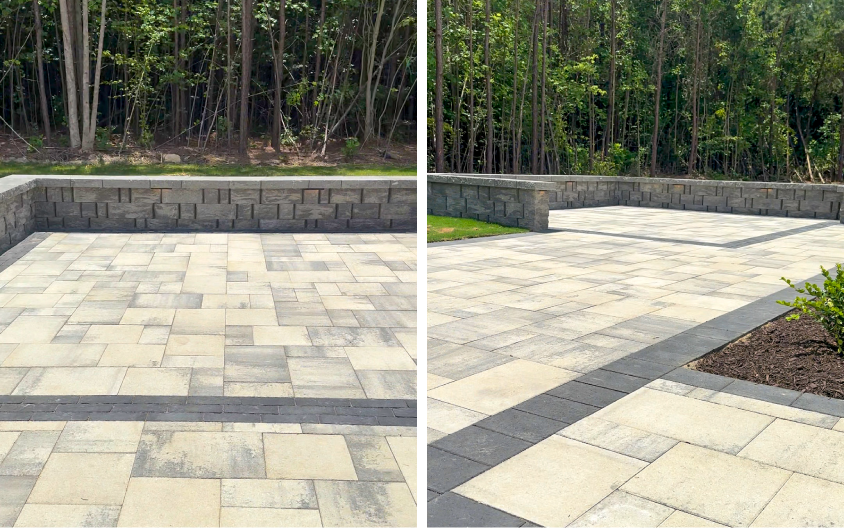 ---
The details that went into making the inside of the house totally accessible transitions seamlessly into the outside space thanks to Miller and the awesome work of Easton Outdoors. As a fan of the outdoors MSG Brokaw will be able to enjoy his beautiful patio and the natural surroundings, grilling with his family and playing with his children as they create many happy memories in their new home. 
---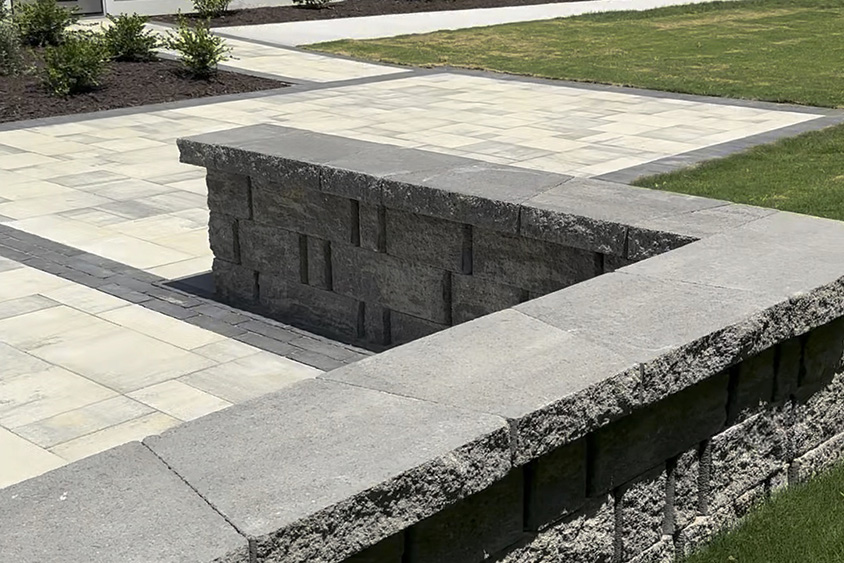 ---
If you have a project you think would be great for Paves the Good, head over to our website or talk to your sales rep.
Products used for this job:
Techniseal NextGel Granite (Poly Sand)
Techniseal EdgeBond (New Edge Restraint)
Dimensions 12 Cheswick
Dimensions 6×9 Midnight
Brooklyn Midnight
Highland Freestanding Chesapeake
XL Cap Chesapeake