With three previous wins under his belt, this month's Hardscape Hero is proficient in award-winning hardscape design. But Patrick McGrath of Virginia Beach Patios still comes up against uniquely challenging projects that require outside-the-box thinking, like this design for a little jewel box of a backyard in Croatan, Virginia.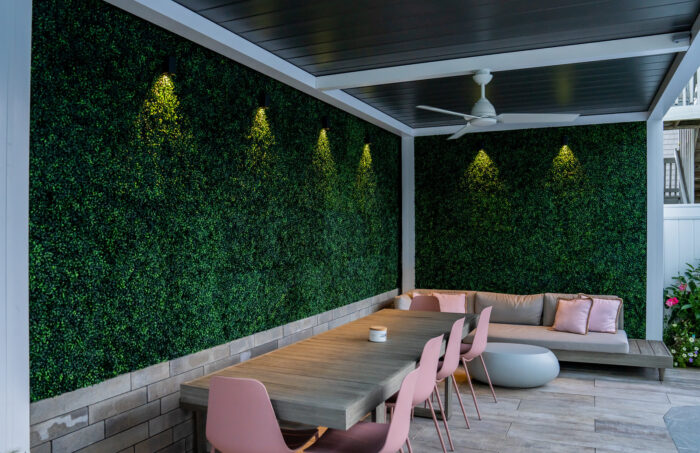 The home sits in a residential neighborhood just steps from the oceanfront, with a long and narrow swath of yard that was in desperate need of an upgrade. "They had an existing old concrete patio and pool deck," says McGrath, along with "concrete pool coping, and a pool that looked like it should probably be removed." But a thoughtful redesign not only retained the pool, it created a sleek, modern, low-maintenance space perfect for outdoor entertaining.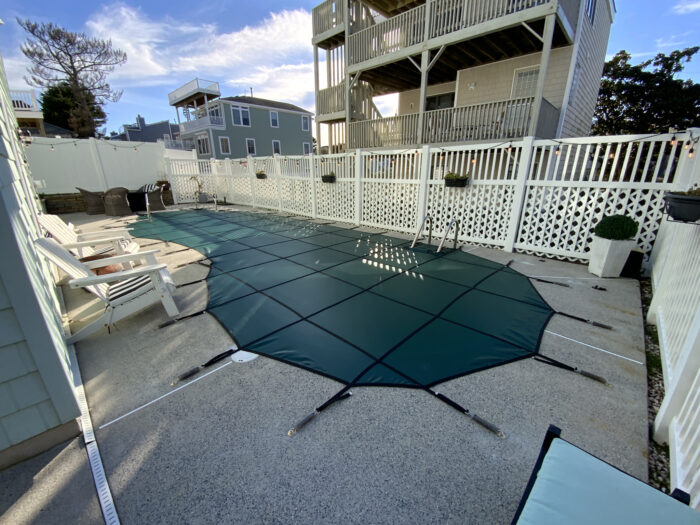 The process started with an in-depth consultation with the clients, "talking about their goals and trying to get an idea on what type of materials that they would be looking for" says McGrath. And although one of the clients started out wanting a high-maintenance English garden look, "they kept talking about how they wanted it to be smooth and easy to maintain." So, the design ultimately prioritized low-maintenance elements, which was especially important to the homeowners due to the sometimes extreme weather that comes along with coastal living.
The resulting easy-care design includes durable Belgard porcelain pavers, a statement-making faux greenery wall, minimalist landscaping, and a showstopping 18' tall motorized pergola covering a cozy nook of ultra-functional outdoor living space.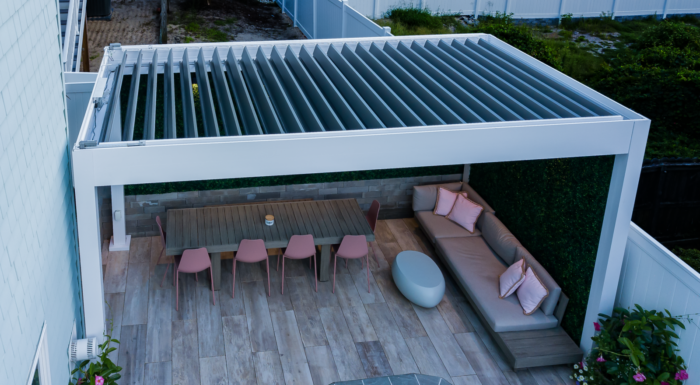 The first initiative was the redesign of the pool and decking. "We went back and forth on a few different things," says McGrath, "and it ended up that they really loved the Noon Pavers in Daybreak – the porcelain pavers that Belgard offers." He wanted to pair the sleek pavers with a natural stone coping, but the organic form of the kidney-shaped pool threw him a curveball. "Coming into it, one of our main challenges was cutting curves into porcelain," he says. "It's not the most forgiving material, but we had done a few before and had learned some tricks of the trade."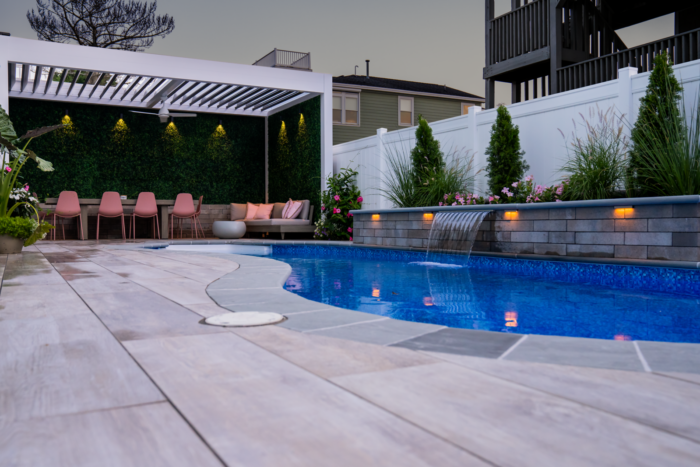 Another challenge McGrath's team faced was the installation of the pavers in a yard with a surprisingly complex elevation. He explains that they experienced "some difficulties with access and all the different fencing and drainage needs" of a property that butts up against adjacent lots higher on one side and lower on the other. Their solution? "We did a concrete sub-base and then we used a mixture of sand in Portland and screeded it dry on top of the concrete, installed the porcelain, and then wet it so that it locked it all in."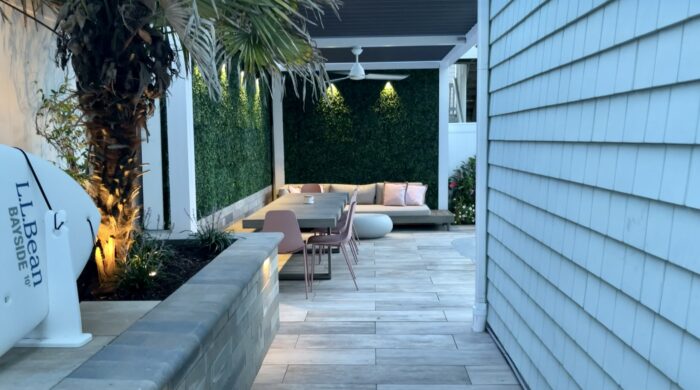 With the pavers laid and the pool finished (with the help of a pool contractor to perform repairs, replace the steps and liner, add lights, and plumbing for the spillover), it was time to move on to the other elements of the design, which included porcelain stepping stones with built-in lights, storage for beach gear like surfboards, and an outdoor shower.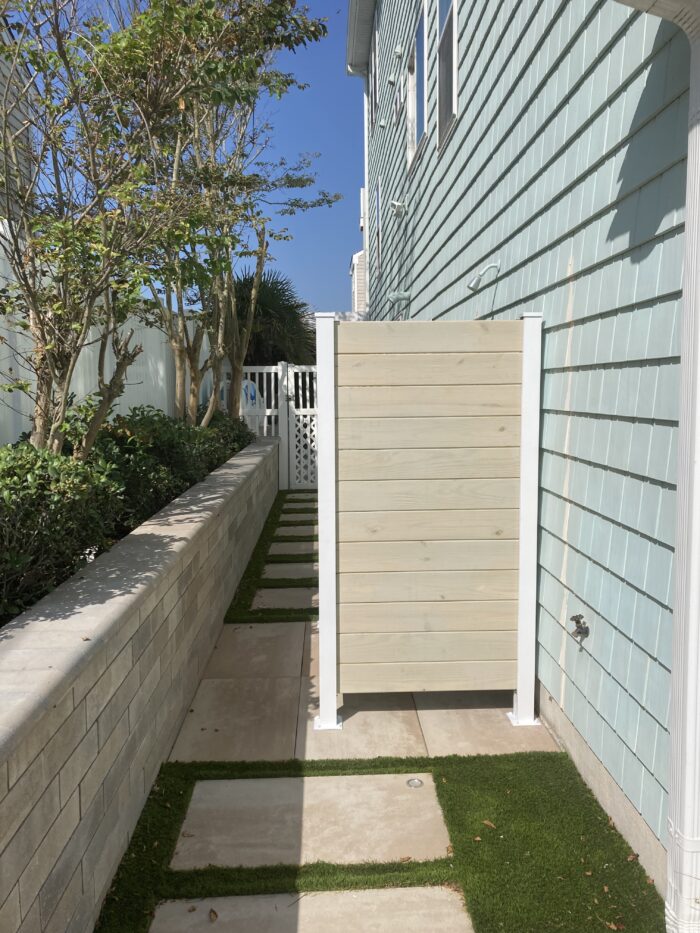 But the real wow factor was the inclusion of a futuristic custom pergola. Produced by French manufacturer Azenco, the pergola was designed to fit exactly into a 10'x20' area at the shallow end of the pool, carving out a perfect space for a covered outdoor dining/living room.
The sleek, modern structure features motorized louvers that can be adjusted at the touch of a button to open fully for maximum sunlight, open partially for dappled shade, or close fully to protect against rain or scorching midday heat. The hurricane-resistant louvers can even be set to open automatically in high winds to prevent damage from gusty up-drag.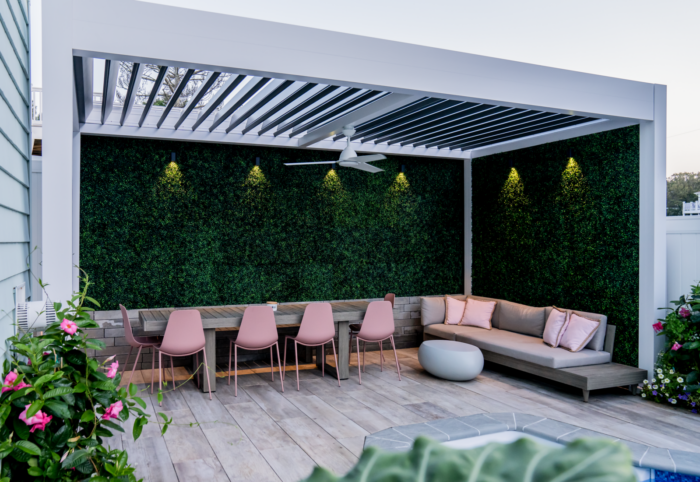 The 18' tall pergola (complete with built-in ceiling fan) brings height to the design and covers a small but extremely functional patio featuring a 10-seat dining table and built-in 10-foot sofa, all surrounded by a floor-to-ceiling faux boxwood wall that brings texture and softness to the otherwise sleek space. With no room for in-ground landscaping, a long built-in planter and several large-scale pots bring additional greenness to the design.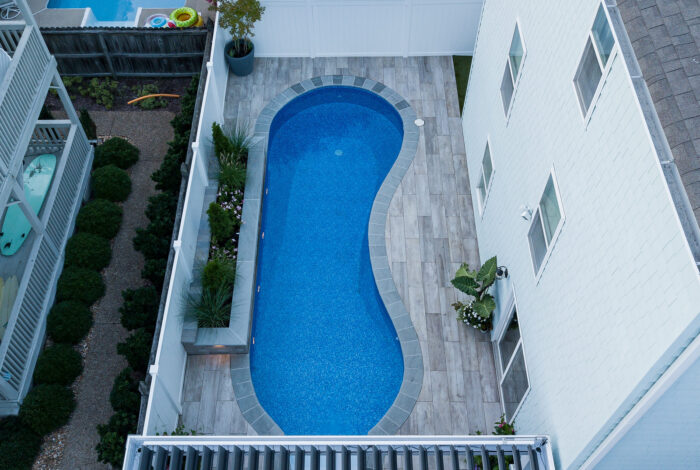 McGrath and the homeowners are both thrilled with the result. The modern and minimalistic design is about as far as you can get from an English garden vibe, but, says McGrath, "we all love the way that that the style came together."
Want to be a Belgard Hardscape Hero? Submit your project here. Follow us on Facebook and Instagram to see more beautiful photos from Hardscape Hero winners.
The following Belgard products were used in this project:
Belgard Noon Porcelain Pavers in Daybreak