They say that when you love what you do, you'll never work a day in your life. Clinton Ferris of Virginia's Ferris Landscaping has taken that old adage to heart, turning even a tricky patio install into just a pleasant afternoon on the lake.
When clients in Mineral, VA approached Ferris about installing a patio at their Lake Anna vacation home, he was more than happy to take on the project. Ferris prides himself on his genuine passion for landscape and hardscape design, but the idyllic lakefront setting of this particular job had him even more enthusiastic than usual. He and his crew enjoyed "just looking at the lake. Even as we were working, it was peaceful just for the location of it."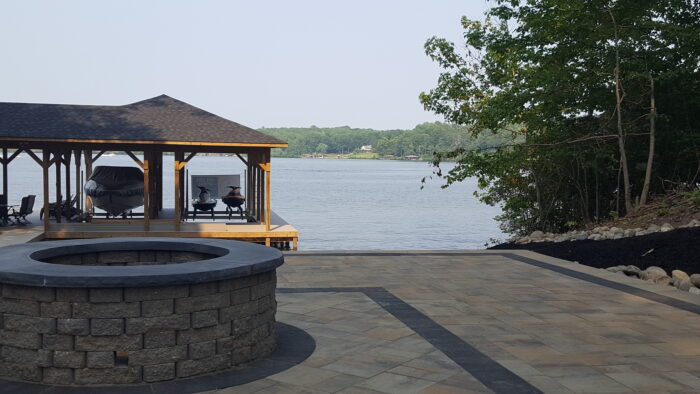 Lake views notwithstanding, that location was a bit of a doozy. The homeowners wanted a large stone patio set into the slope between their house and the lake, on a steep incline of approximately 70 feet elevation. Ferris got to work planning out a design that combined the homeowner's vision with his two decades of experience to create a patio that thrilled both the client and the designer.
Ferris used Belgard Design Studio (BDS) to create 3D renderings of the design so that the homeowners could envision exactly what the finished product would look like. The renderings "gave them the layout of what the patio would be, the height of the walls, and so forth, so they would know what would actually fit the area that they were trying to fill in."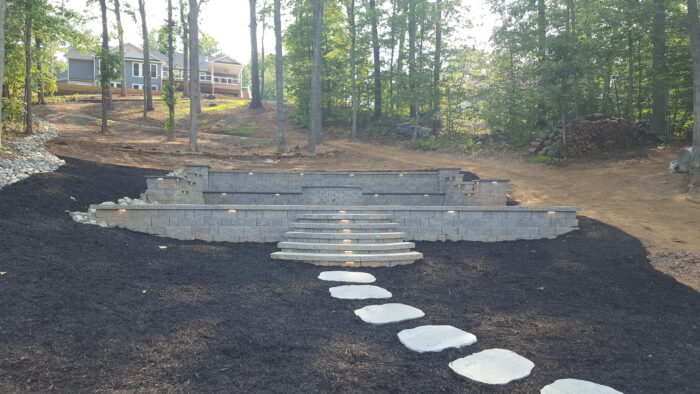 One of the major advantages of designing with BDS is that the realistic renderings give homeowners and designers the opportunity to make changes to a design before the first paver is ever laid, which save time and money and produces a better end-product. "Some of the [design elements] changed actually midway through the project, like the inlay," says Ferris. "I redid the imaging with the inlay in it, recommended that it would look really nice – they saw the pictures and decided to do it, as well as changing of the seating wall caps to a darker color. I think both of those really made the design pop."
And with that design agreed upon, it was time to get started on the build – which went smoothly, but wasn't without its challenges. The pitch of the build site was the main obstacle. "From the drop site where the material was delivered [to the installation site], it's probably two hundred yards. So, getting everything down there was a challenge," says Ferris. "When it rained or anything like that it became very slick, and it was just a lot of material get down there."
But the material, a combination of Belgard Highland Stone and Origins pavers, was ultimately moved safely to the job site and set into place to create a showstopping patio with built-in seating and firepit.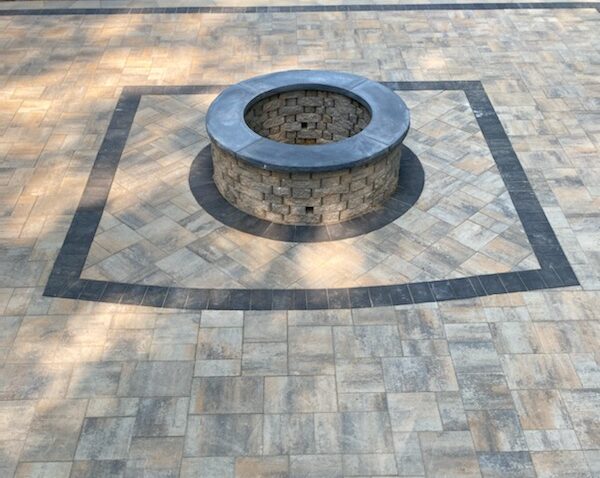 Ferris says that Origins is his favorite Belgard product for its balance of natural and modern lines. "I think it's a perfect combination because a lot of times we've used it in places where there's more of a rustic feel and you don't want something that stands out as too formal," he says. "I think it's just the perfect blend where you can use it either way."
As for future projects? Ferris will continue to rely on Belgard for quality materials and the indispensable BDS tools, and hopes to find a project where he can incorporate pavers from the porcelain Noon line: "I would love to do an inlay with Noon." In the meantime, he'll continue bringing his expertise, eye for design, and upbeat enthusiasm for his work to every job he tackles. "Just listen to your customers and let your passion for the work do the rest."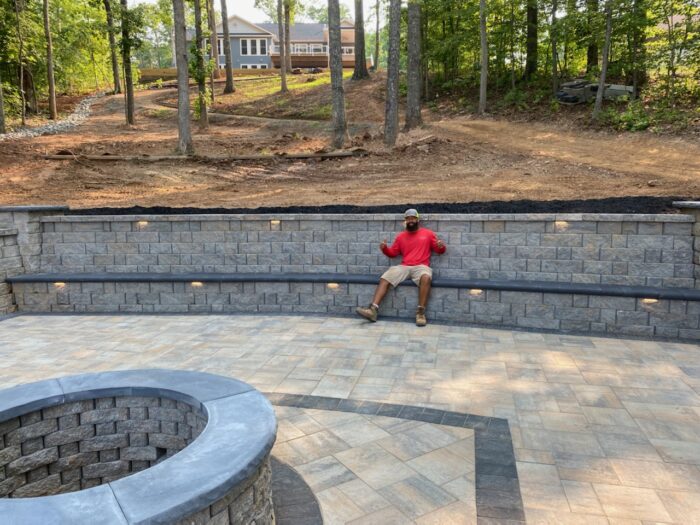 Want to be a Belgard Hardscape Hero? Submit your project here. Follow us on Facebook and Instagram to see more beautiful photos from Hardscape Hero winners.
The following Belgard products were used in this project: