Meet this month's Hardscape Hero, Nicholas Molter of Molter Landscaping in Chester, VA.
Specializing in landscape design and installation, Nicholas' company has been in business for five years. Recent hardscape installations include patios, sidewalks, fire pits, outdoor kitchens, and retaining walls.
Molter Landscaping's latest project centers around creating an outdoor living space. The plans call for a seat wall with back, fire pit, and steps that lead from the driveway down to the patio on the basement level. Once all the hardscaping is complete there will be a great deal of new planting and accent lighting to complete the look for his client.
Nicholas and his team had their work cut out for them. Previously the space had an undersized deck hardly large enough to fit a few chairs and a table. The homeowners, avid grillers, had to keep their grill on the lawn.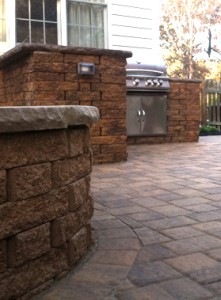 With their new hardscape, the homeowners can now enjoy their outdoor living space, entertaining family and friends for years to come.
Nicholas' Hardscape Planning Tips:
"There's no time like the present to begin planning your outdoor living space," says Nicholas. And while your options are practically endless, he recommends planning a hardscape that will enhance the landscape surrounding the space. "It's a surefire way to ensure your neighbors are envious," he adds.
Finally, Nicholas reminds us, "the one thing I want a homeowner to know is be sure to meet with your hardscape designer or installer multiple times to be certain that the design will make all of your outdoor dreams a reality. There is no such thing as too many meetings."
Oops! We could not locate your form.