The visionary filmmaker Orson Welles said, "The enemy of art is the absence of limitations." Luke Walton and the team at Integrity Landscaping Solutions see hurdles thrown at them by the terrain as opportunities to show off their creative chops. Nowhere is this more apparent than in the project that secured them their first Hardscape Hero win. 
---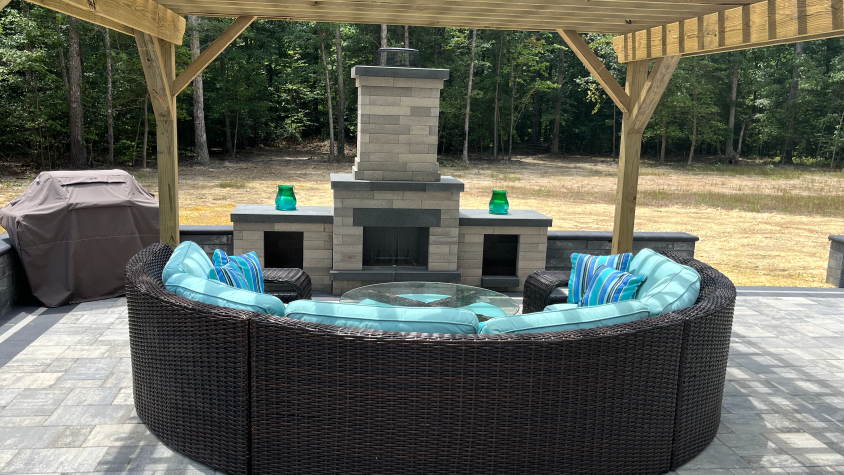 ---
After only five years in the business, Luke Walton has taken to hardscaping like a duck takes to water. Having studied environmental horticulture, Luke started out running mowing crews and doing landscaping maintenance before pivoting to patios and retaining walls. "I've really developed a passion for the hardscaping side of things," says Luke, "there are so many colors and textures it's a lot like plants, just less fickle." He's been with Integrity Landscaping Solutions for two years now and is all-in on concrete.
---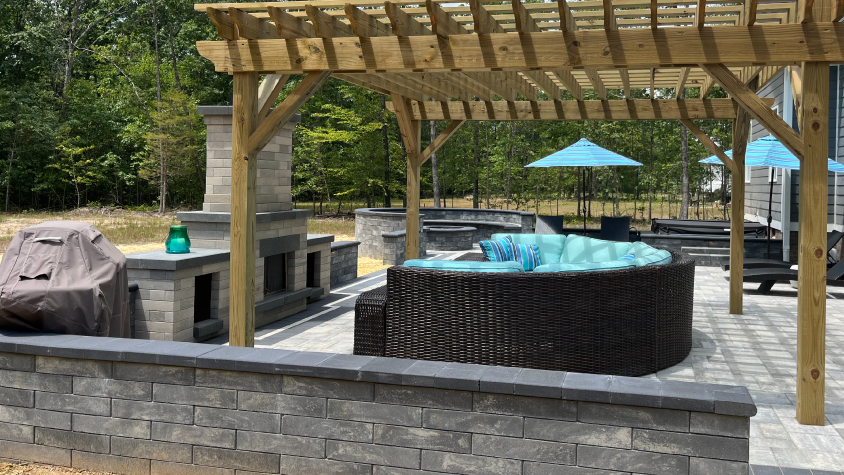 ---
You wouldn't guess looking at the project, but Luke had to dial back some of the elements during the design. He managed to pack a fire pit, fireplace, pergola, hot tub and seating wall into a small patio without anything feeling crowded or cramped. "Once I showed our client the Belgard Mid-Atlantic catalog, she had to have the seating wall with the backrest from the cover," says Luke, "and because you see both sides of that backrest, precision was essential during construction." The patio was all brand new construction, giving the team at Integrity a lot of freedom with the space. 
---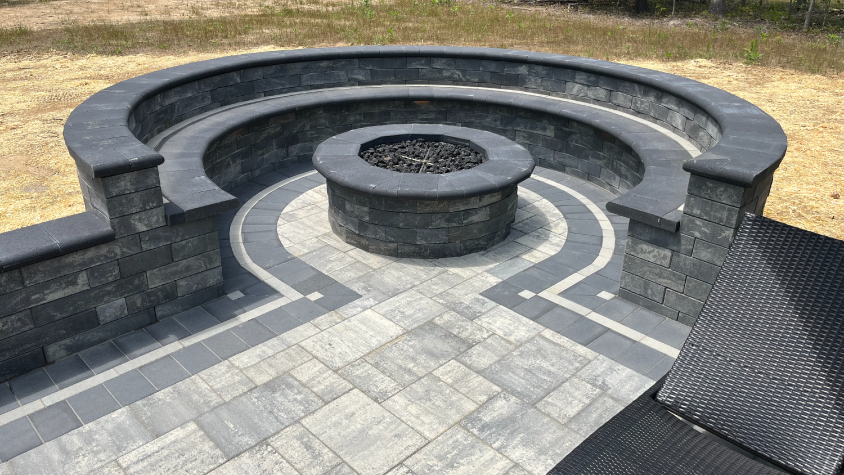 ---
While the new construction offered a blank slate for Luke, it also came with complications. Because the house was built to grade and backfilled, when the team started excavating to lay down their base, they reached leaves and other organic matter and had to dig twice as deep. In addition, the curved features on the seating wall and firepit had to be cut perfectly because both sides would be visible. "It took my guy Bryan a couple weeks of steadily sitting there, marking and cutting to get that perfect arc going all the way around," says Luke, a sense of pride rising in his voice.  
When asked how he is enjoying his pivot from horticulture to hardscapes, Walton says, "It's not like a plant that's going to be too small or it's going to die in a year. If you install a hardscape correctly, it lasts a lifetime." He sees limitations presented by the landscape as opportunities to express his creative side with eye-catching flourishes. "Inevitably you get a yard with a lot of elevation changes, and so you need to put retaining walls in," says Luke, "and I always try to convince the homeowner to let me put a seating wall in because why not? I see it as an opportunity to create different textures in the space and really make things pop." 
---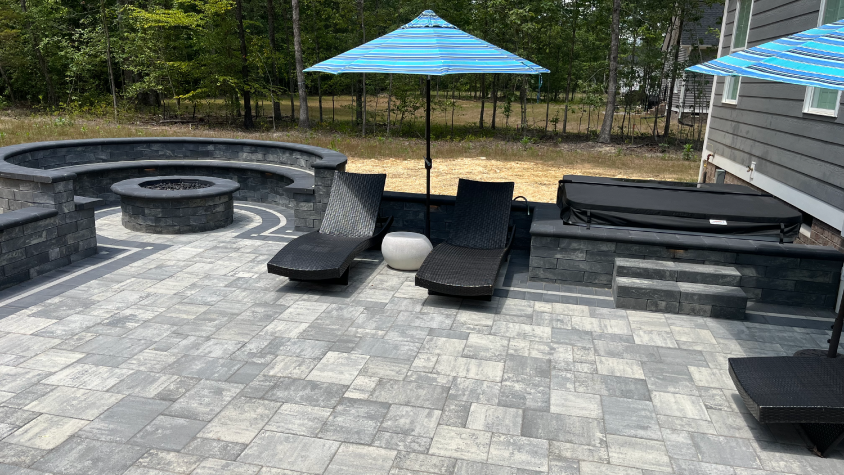 ---
Luke's advice to someone starting out in this business? Don't undersell yourself, "If you're confident in the quality of your work, the right clients will come, and the kind of homeowners who are willing to pay for that quality will show up." Looking at the job that won Luke and the crew at Integrity Landscaping Solutions this month's Hardscape Hero, we're more than confident in the quality of their work. 
Want to be a Belgard Hardscape Hero? Submit your project here or talk to your sales rep. Follow us on Facebook and Instagram to see more beautiful photos from Hardscape Hero winners.
The Crew:
Jason Morauske
David Scott
Bryan Lopez Martinez
Roberto Quevedo Orantes
The following Belgard products were used in this project:
Dimensions 12 Cheswick
Dimensions 3×12 Scandina Gray
Dimensions 69 Midnight
Melville Wall Cheswick and Fireplace
Coping Midnight
Custom Melville Fire Pit