Sometimes the most impressive projects aren't those that start from scratch, but rather transformations of existing installations. For Jeff Crandell and the team at Scapes Inc., updating their client's backyard pool proved to be an exhibition in craftsmanship and secured this month's Hardscape Hero win. "I think we were able to take a nice backyard and step it up into a great backyard," says Jeff, pride filling his voice. Like many of his peers, Jeff got his start mowing lawns twenty years ago and grew his business from there. Over that time he was able to offer more options to clients by integrating walkways, then patios, and eventually pavilions, outdoor kitchens and pools. 
---
---
Jeff's winning project was a major makeover for a backyard pool that had become dated over the decades. "The homeowners wanted a fresh, no-maintenance backyard to update the oasis they already had in place," says Jeff, "so we settled on the Belgard Quarziti porcelain pavers and redid the whole thing to make it look brand new." The homeowners were happy with the layout, so it was up to Jeff to work within the space and make the decades-old pool and pool house look newly installed. "They wanted something that was a higher-end product that they wouldn't have to redo," Jeff continues, "and the nice thing about the porcelain is it never changes. It's going to look good forever." From the outside looking in, you would never know that this space is effortless to maintain, but that's all thanks to the groundwork Jeff and the team at Scapes Inc. laid down at the beginning.
---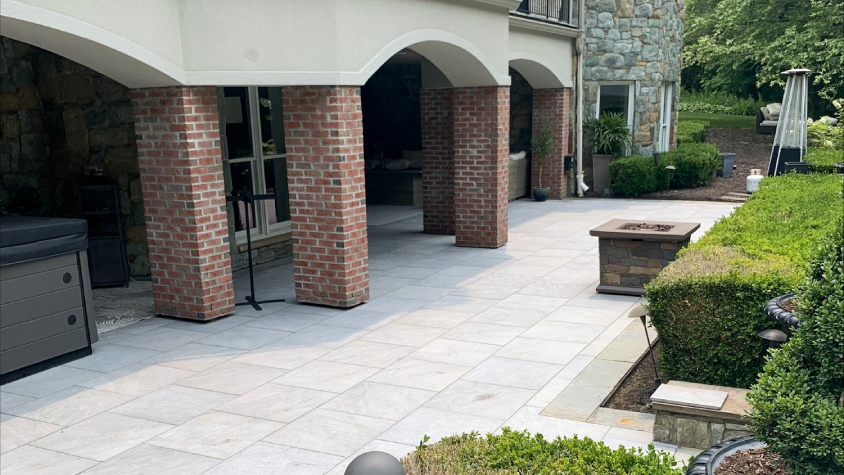 ---
"My favorite part of the project was watching the transformation from a dull and dated space into a stunning, modern hardscape," says Jeff. The pool was in dire need of refurbishing, having been built by the previous owners almost twenty years prior. The team at Scapes Inc. refinished the pool itself to match the pavers and did some foundation work to adjust for gradation. Once the slope was accounted for Jeff was able to create a seamless space that flowed from the walk-out basement. "I think people want their outdoor space to be an extension of their home," continues Jeff, "I think COVID really pushed people to want to be outside as much as possible, and if the backyard feels like it's a continuation of the inside the homeowner will feel that much more comfortable in their outdoor sanctuary."
Every job has its challenges, but fortunately for Jeff this project's complications were mostly commonplace. Having to work within a predetermined space presented its own restrictions, along with multiple elevation and drainage issues. They wanted to ease the gradation of the yard so they adjusted the underlying foundation to avoid any drastic steps up or down.
---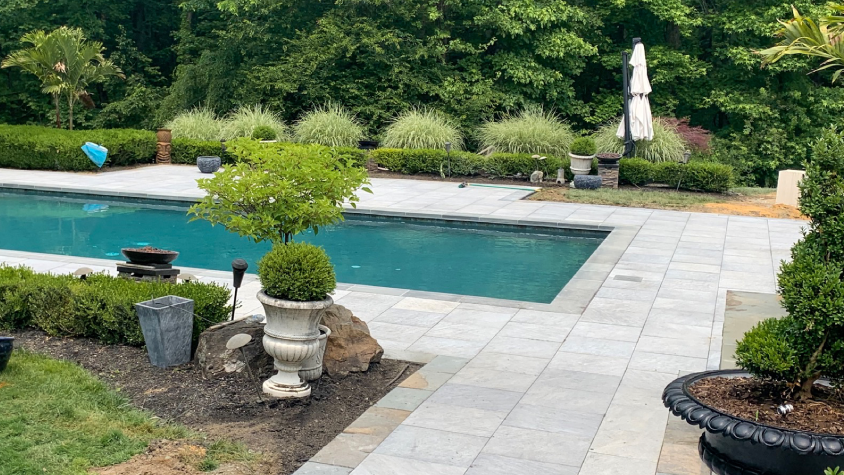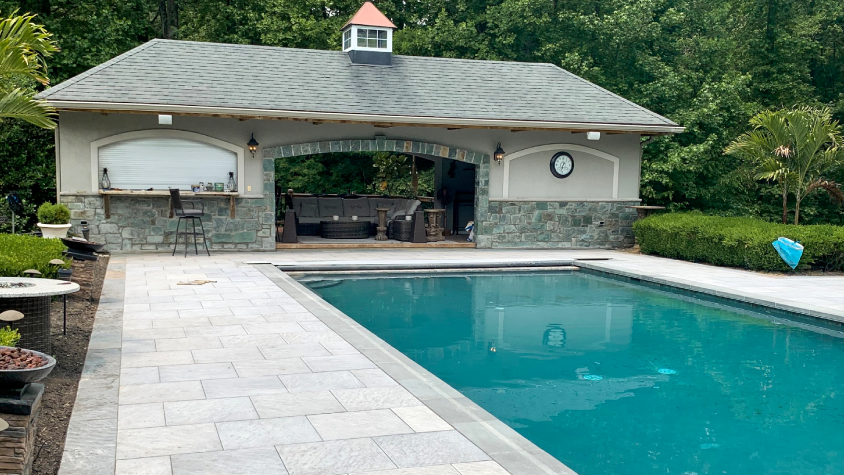 ---
The best advice Jeff says he can give anyone in this line of work is to communicate with the homeowner and your team from the jump. "Every job is going to have difficulties, but if you address potential problems upfront and keep your client informed about your progress, you can avoid a lot of headaches," suggests Jeff. He says he wants his clients to not only enjoy the final product but enjoy the transition from old to new. "You want to make sure the client understands every step of the process, that it's going to look worse before it looks better. At the end of the day, it's their yard and their project, so they should feel involved in every aspect." 
Jeff understands that customer satisfaction is the best form of advertisement. "If people feel proud of their yard, then they'll want to show it to other people and that's how you build a good reputation. Especially if the client had a good experience and felt included in the process." We're thankful Jeff submitted this project, and we're excited to see what the future holds for Scapes Inc.
Want to be a Belgard Hardscape Hero? Submit your project here or talk to your sales rep. Follow us on Facebook and Instagram to see more beautiful photos from Hardscape Hero winners.
The following Belgard products were used in this project:
Mirage Quartziti Waterfall