Congratulations to the first HARDSCAPE HERO of 2020, Lonny Arter of Denison Landscaping! While HARDSCAPE HERO winning projects come in all shapes and sizes, it takes a unique and admirable level of skill, technical proficiency and project management to execute one of this size.
"We've completed commercial projects that were obviously much larger than this one, but for a residential project, it's definitely one of the biggest. It was funny, after about the fifth truckload of Eagle Bay Pavers arrived, the neighbors actually started coming out of their houses to see what was going on," says Arter.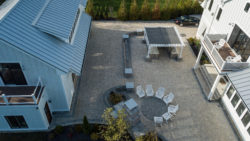 The project began after the homeowner purchased an old horse barn and converted it into a beautiful home. They also constructed a multi-car garage behind the main house. When the construction was complete, they contacted Arter to discuss designing an outdoor living space that would tie the whole property together.
"When we originally met, the homeowner had a great idea of what they wanted. It included a water feature, a fire feature, an outdoor kitchen and a connecting patio," he says.
After meeting the homeowner, Arter enlisted the help of the Eagle Bay Design Studio (EBDS) to help design and complete a 3D rendering of the project.
"The video from the Eagle Bay Design Studio was a crucial part of the process. It really helped the homeowner visualize the final project and helped us win the bid," explains Arter.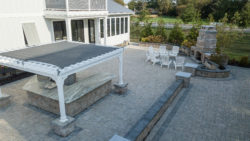 The centerpiece of the installation is a custom fire feature, adjacent to the outdoor kitchen.
"We used a Dublin Traditional Fireplace Kit bordered by two Dublin Woodbox Kits. We used Highland Stone® and additional Dublin™ stone to customize the fireplace. After, we added a water feature on either side and an integrated planter box to really make it a statement piece," says Arter.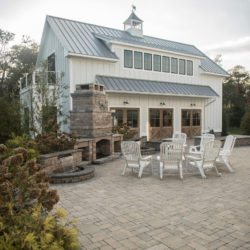 To round out the functionality of the patio, Arter and his team installed gas lines to the fireplace and outdoor kitchen. They also added a water line and drainage for the kitchen and integrated lighting throughout the whole project.
"Our foreman, Jésus, and his crew did an incredible job with this project, and it's important that our whole team is recognized," stresses Arter. "I love what I do and working with Matt and Cole at Eagle Bay is always a pleasure. They really do their best to support us."
Arter says that several of the homeowner's neighbors have already contacted him to start transforming their backyards, and he plans on making a few more instrumental tweaks to the winning project over the next few months.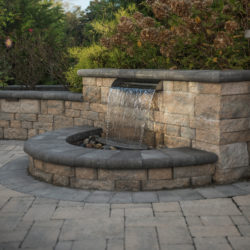 The winning project was completed using CottageStone, CircleStone Textured, GrandCay Cobbled, Highland Stone® Freestanding Wall, Dublin™ Traditional Fireplace and a custom Highland Water Feature.
Want to be a HARDSCAPE HERO? Submit your project here. Follow us on Facebook and Instagram to see more beautiful photos from HARDSCAPE HERO winners.