It's true that you can't judge a book by its cover, and in many cases, you can't judge an outdoor living space by its surface. March's HARDSCAPE HERO winner, Kenny Oriole of Oriole Landscaping, LLC, installed a beautiful outdoor living space after completely reshaping the homeowner's backyard to accommodate the installation.
"The space was essentially a big hole. We had to bring the entire yard up about six feet to meet the existing aggregate concrete that had been installed. It took a significant amount of coordination, about 30 trucks of dirt and another three feet of crushed stone," says Oriole.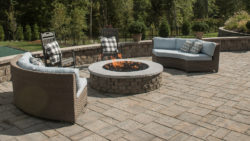 While leveling the yard, Oriole and his team also took the time to create an underground infrastructure of features for the new patio.
"Drainage was an obvious issue, so we addressed that by creating a way for water to run off and away from the house. We also brought in a subcontractor to run gas lines for the fire pit; it was such a significant change that we had to request a few additional permits for the land modification," explains Oriole.
Coordinating additional permitting and the delivery of such a large amount of fill dirt was no easy task. However, in true HARDSCAPE HERO fashion, Oriole was able to ensure that the entire installation went smoothly.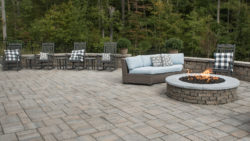 "We're really excited with how the patio came together. We actually had to add a 'wave' to the base aggregate so the paving stones would meet the existing concrete while remaining level, and improving drainage," he says.
The installation includes integrated lighting, new landscaping surrounding the patio, a seating wall and a Bluetooth firepit.
"The homeowner actually works in the outdoor lighting industry, so he installed the lighting in the patio and the surrounding landscaping himself," says Oriole. "But we were really excited to be able to add the Bluetooth features to the gas firepit. It allows total control from the homeowner's phone and is a great finishing touch to the entire outdoor living space."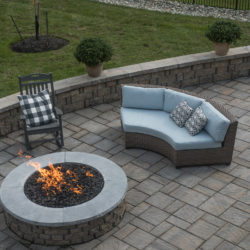 The patio now offers the homeowners a beautiful space to entertain while reducing the overall slope of the yard and making the rest of the outdoor space more usable.
The winning project was completed using Chatham Natural, Highland Freestanding Wall, Highland Stone XL Caps, Copingstone, Highland Stone Retaining and a Highland Stone Fire Pit.
Want to be a HARDSCAPE HERO? Submit your project here. Follow us on Facebook and Instagram to see more beautiful photos from HARDSCAPE HERO winners.