April's HARDSCAPE HERO winner, Scott Prunty of Solid Structures, shows that perseverance is the name of the game when it comes to completing complex projects. This is his second winning project and one that took almost a year and a half to complete due to zoning regulations.
"The project was interesting for a few reasons," says Prunty. "The client was one of our partners, a provider of our natural stone and countertops. Since he knows a bit about installing hardscapes, it was fun to be able to have him along for the whole process."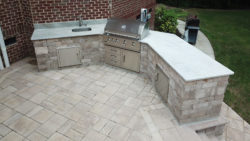 The backyard itself consisted of a raised patio and a dramatically sloped yard that fed into a Chesapeake Bay canal, which meant that certain provisions had to be made for the installation of the patio.
"We were required to get certain permitting for runoff. The homeowner had actually been trying unsuccessfully for over a year. We were denied the first time we went before the board but managed to get the permitting the second time. It took us about six months," says Prunty.
To help offset any environmental impacts, Prunty and his team planted 75 new plants as part of the project's landscaping element. "We felt it was important to create a beautiful project while still being good environmental stewards," he says.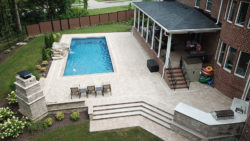 The entire installation is elevated to combat the slope of the yard and is full of features.
"Since the homeowner understands our business so well and knows me personally, he felt comfortable giving us free rein on the design. It was great to be able to be so creative and have the trust of the homeowner," Prunty says.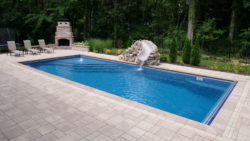 The outdoor living space includes a pool, fire feature, outdoor kitchen and custom waterslide with a natural rock support system.
"We added a lot of little touches to take the project to the next level," says Prunty. "There's a double inlaid border around the project, and the custom waterslide took a lot of planning to get just right."
The pool also includes a motorized cover that required extra work from the Solid Structures Team. "We custom cut stones to allow openings for maintenance hatches and for the cover to be neatly hidden when not in use," Prunty explains.
Despite all of the permitting hiccups, the project came together incredibly well once Prunty and his team were able to start working. Not only were they able to create a beautiful outdoor living space while helping the environment, they also finished with another happy homeowner and a second HARDSCAPE HERO–winning job.
The winning project was completed using Dublin Freestanding Wall, Chatham Natural, Cottage Stone and a Dublin Traditional Fireplace.
Want to be a HARDSCAPE HERO? Submit your project here. Follow us on Facebook and Instagram to see more beautiful photos from HARDSCAPE HERO winners.