Josh Goff of Commonwealth Curb Appeal returns as our Hardscape Hero this month for his fourth time with the title. And just like when he made the leap from landscaping to hardscaping almost 20 years ago, he knows that seeing success in this business takes a mix of heart, hustle, and hard work.
This seasoned pro stays at the top of his field by continuing to level up his skills, offering this advice to anyone else trying to make it in the outdoor living business: "Keep asking questions, find the best resources for the best information and just keep learning and making sure that the work you're doing is up to par."
It's advice that Goff takes to heart as the founder and Chief Outdoor Officer of Commonwealth Curb Appeal, where he says that their team thrives on challenging projects that are often beyond the skill set of a less experienced patio-type company. "We have a knack for jobs that require the knowledge, the team and the support to navigate more complex projects," he says. "Our focus is on pavers and hardscapes, but we also prep the land, install the outdoor audio structures, adjustable pergolas and pretty much anything else."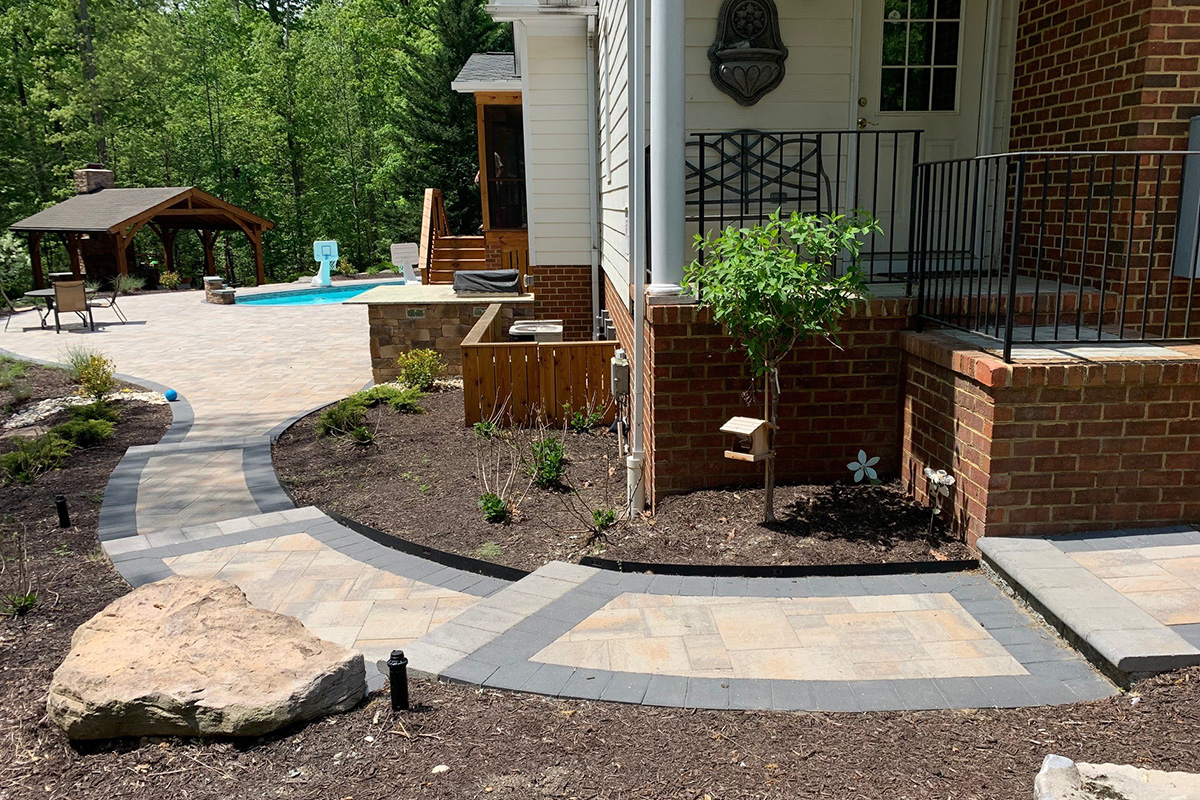 CCA is also in the final stages of creating a maintenance program that will see them offering long-term contracts for the ongoing care and maintenance of the hardscape elements they install. Goff explains that the maintenance plan will include items like "annual inspection on retaining walls, cleaning, lighting, checking for pavers out of place – we can take care of all of that on a schedule once or twice a year." His goal with the maintenance program is to save clients money over time by helping them keep their hardscaping investment in top condition.
It's a service that the happy homeowners of his latest winning project will surely benefit from, as he expects their dream yard to see lots of use as they raise their family in the exceptional space. "My favorite element is probably the covered patio at the bottom of the yard that has the fireplace in it," says Goff. He adds that his clients "like hiking and camping and they wanted like a rustic look and feel. So, they love the idea that they have an area away from the house where they can go and hang out in a rainstorm and feel like they're away."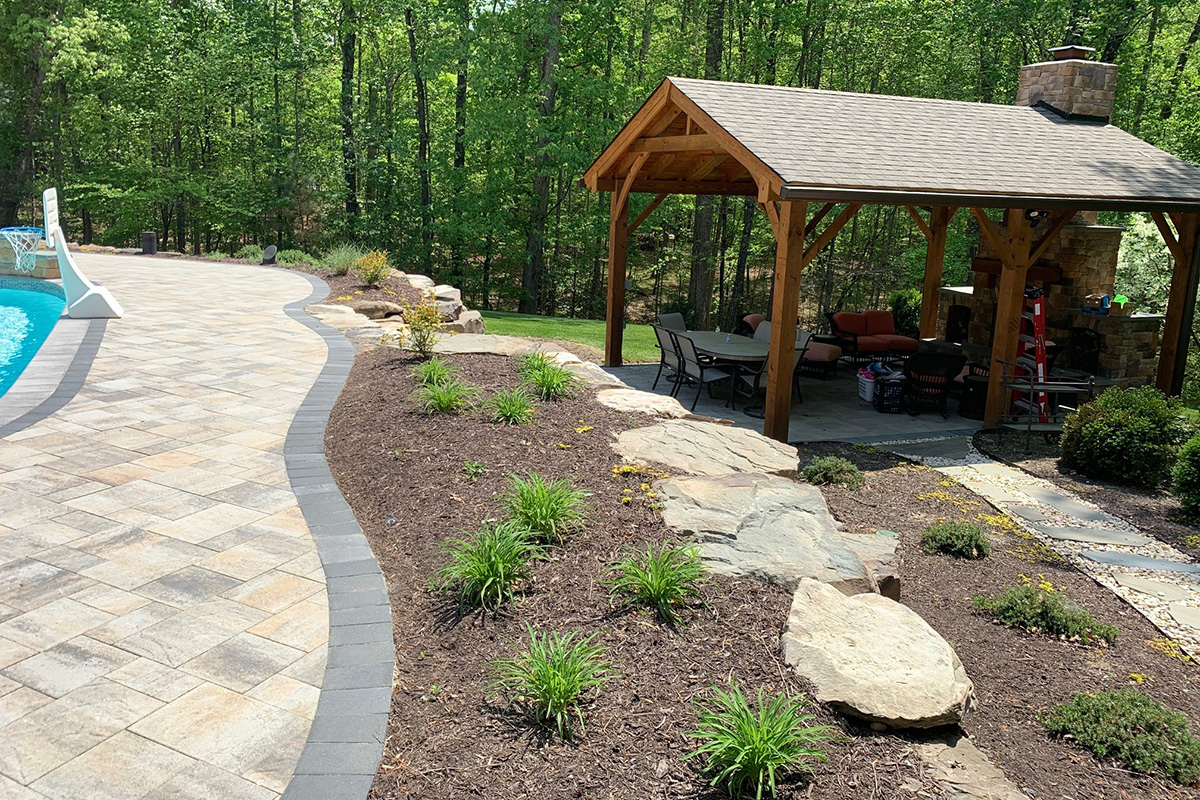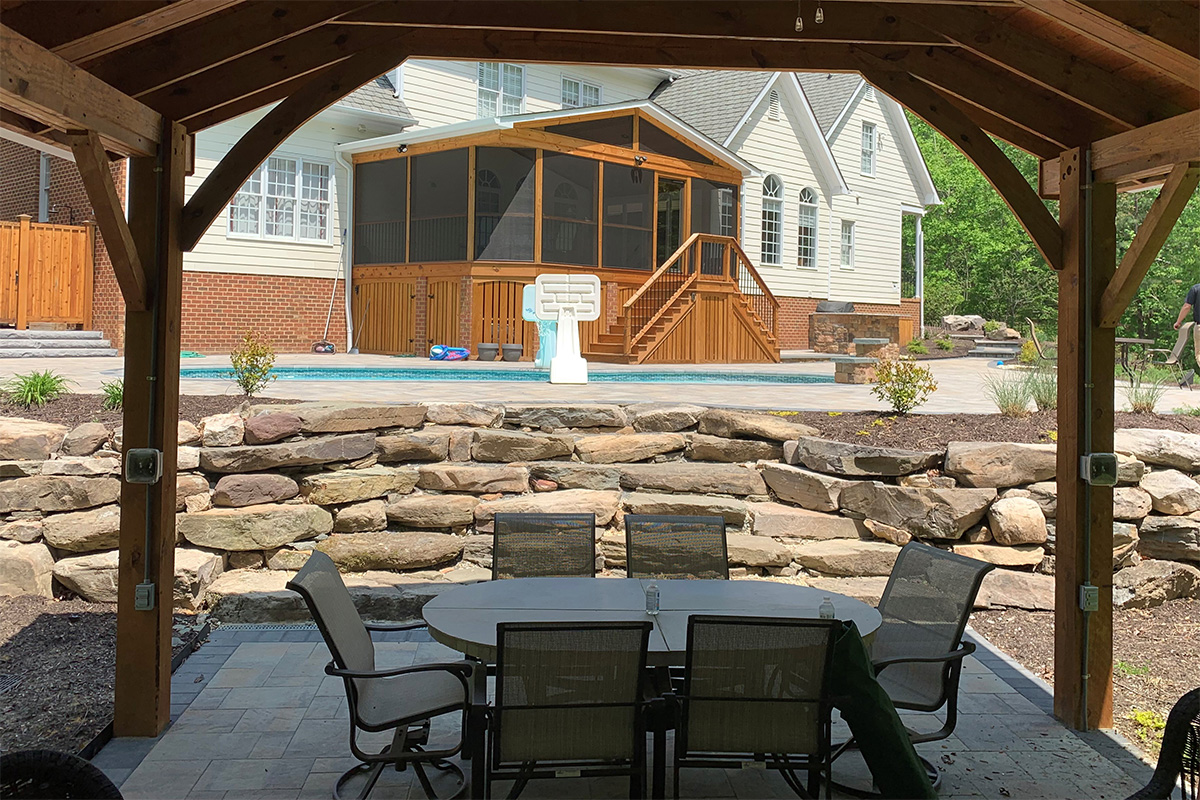 He and his team also gave a major facelift to the existing pool area, extending the pool decking and blending it with the surrounding space to make the entire outdoor area flow. "The pool was already there," he says, "and it was just like 3-5 feet of stamped concrete and then a pool fence which closed the area off from the other patio that they had in the back – it just wasn't very functional," he says. So he and his team "pulled the concrete out and put all the pavers in, which multiplied the size many, many times over."
Goff's team used Belgard Origins pavers as well as a Natural Stone Kitchen to give the space the natural, rustic feel that the clients were after. The newly extended area includes a lawn where kids and grandkids can play, and where the whole family can gather to play yard games. The fun-loving homeowners even ordered an outdoor pool table to level up the competition.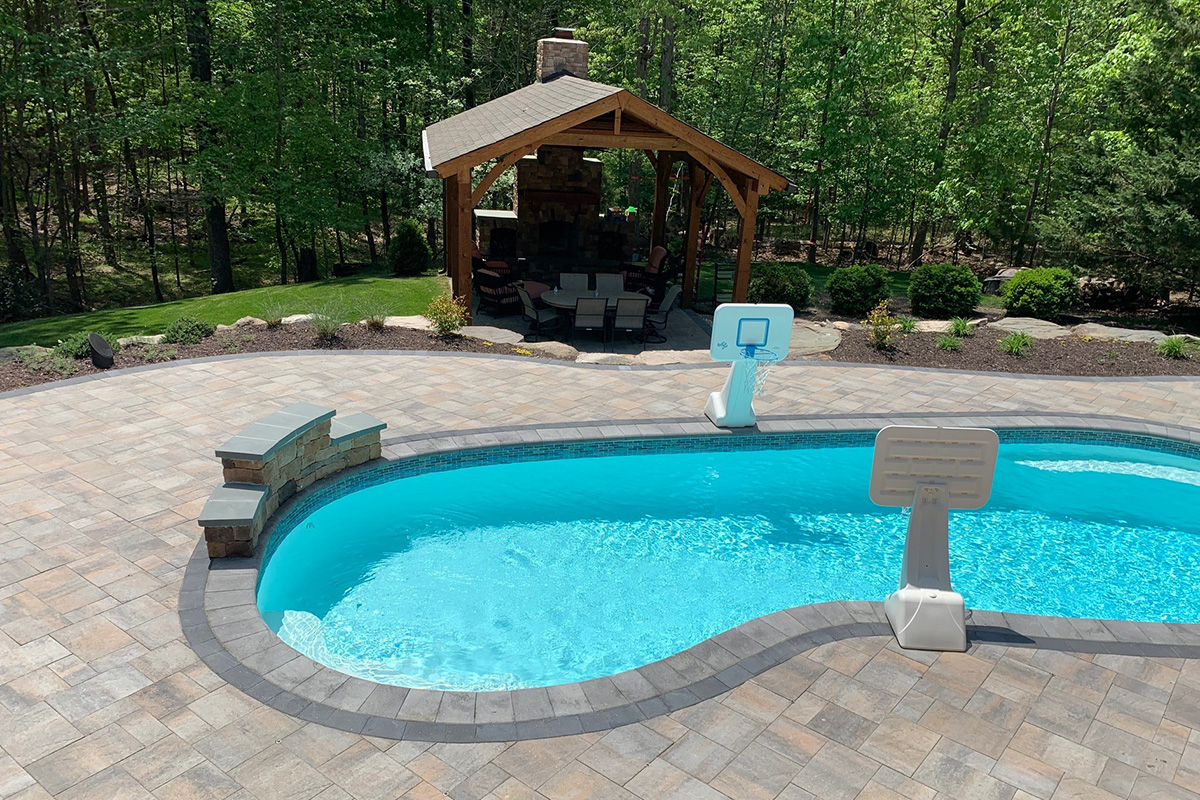 It's a challenging project that Goff loved working on, but one which CCA almost didn't get to be involved in. "They had a couple of different designers work on it before we did," he says, "but they weren't really happy with any of them." The clients – who had worked with CCA previously – "ended up coming back to us, and we pretty much tweaked the design and finally dialed into what it ultimately became."
He was happy to welcome a customer back into the fold, and knows all too well that there are many hardscape companies out there who don't have the skill to help a homeowner realize their vision of the perfect outdoor space. "It's easy to order some pavers and some retaining wall and take a stab at it," he says – "but there's so much more behind the scenes engineering and things that you really need to know before just jumping into a project."
So, the parting advice from this industry expert and 4-time Hardscape Hero is "to keep learning and making sure that you're building the best product. You can never know enough in this industry, that's for sure. You're never too good."
Want to be a Belgard Hardscape Hero? Submit your project here. Follow us on Facebook and Instagram to see more beautiful photos from Hardscape Hero winners.
The following Belgard products were used in this project:
Origins 12 (Jefferson)
Origins 69 (Midnight)
CopingStone (Chesapeake)
Natural Stone Kitchen