Some people are born with a silver spoon in their mouth; Jon Marson was born with a shovel in his hand. "I was born into the landscape industry," says Marson. "Ed's Plant World was started by my father back in 1981, and I worked there as a child growing up – on weekends, after school, and in the summertime." He says that the experience gave him unique insights into the industry, and informs his design style to this day.
"When I started full-time working for our company in 2009, I started as a crew foreman," he says, "which gave me some awesome insights as to how hardscape projects are completed – and experience with the manual labor as well as the design." Marson built on that foundation to grow the Brandywine, MD business to where it is today, and to take on large-scale design projects like the massive 6,000 square foot patio that he submitted for this Hardscape Hero win.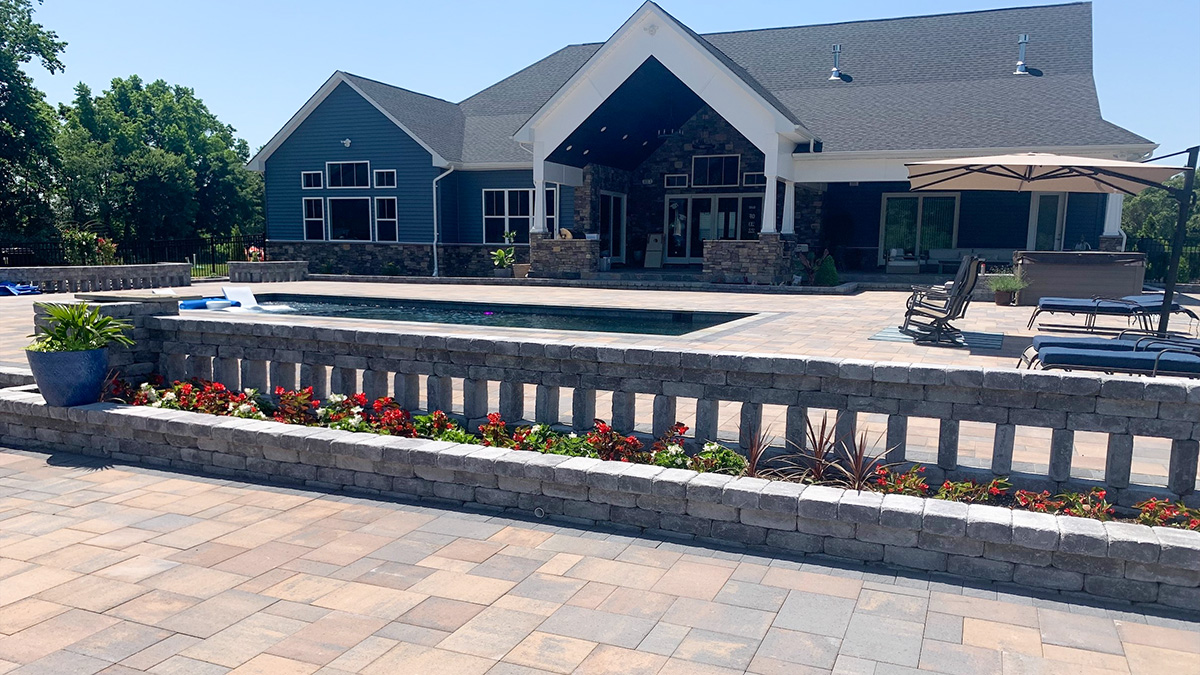 When the homeowners first approached Ed's Plant World to begin the patio design phase, they had already had a new pool installed. "What they were looking for at that point was to create a really large open patio terrace around the pool to give them a large gathering space and an area for a lot of chairs and tables, etc.," says Marson. "They also wanted a lot of expansive garden beds around the patios and throughout the landscaping to allow for annual flowers and vegetables."
The request – though large in scale – sounds straightforward enough, but Marson's team was faced with a major design challenge in the varied elevations of the job site. "There were definitely some elevations which played a part in how the project was designed," he explains, continuing, "the house elevation, the pool elevation, and then actually the ground elevation were three different areas that we had to basically blend together."
But Marson and the Ed's Plant World team worked around the challenges, delivering a seamless and functional space for the homeowners. "Creating the garden beds allowed us to include some raised walls to allow for an upper patio and stairs, and also a ground level patio and walkway for access." The space also includes a stone fireplace on the lower patio for an additional entertaining zone.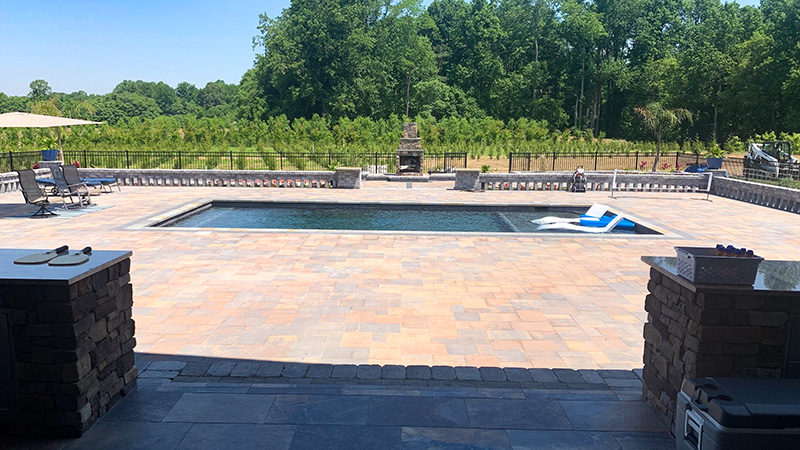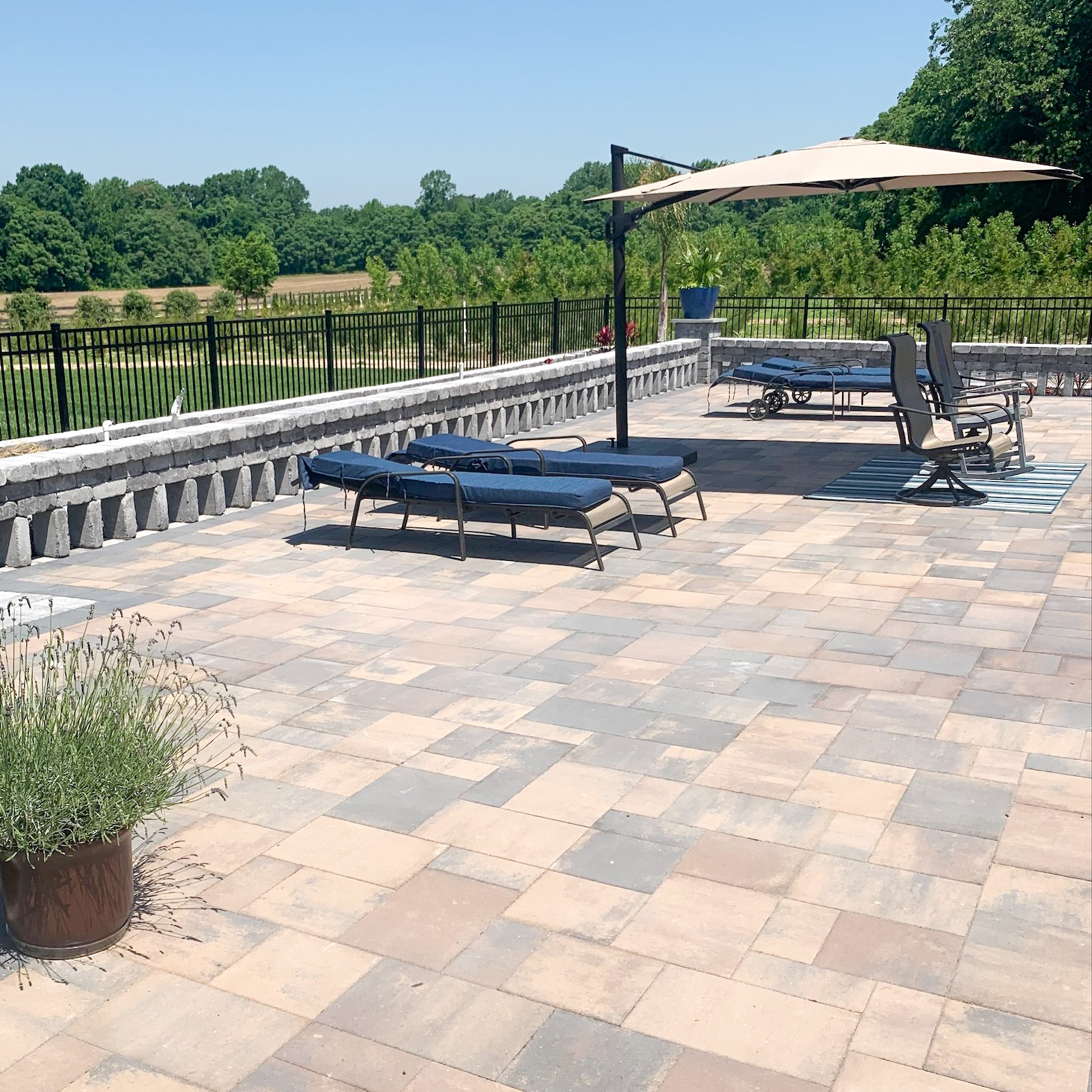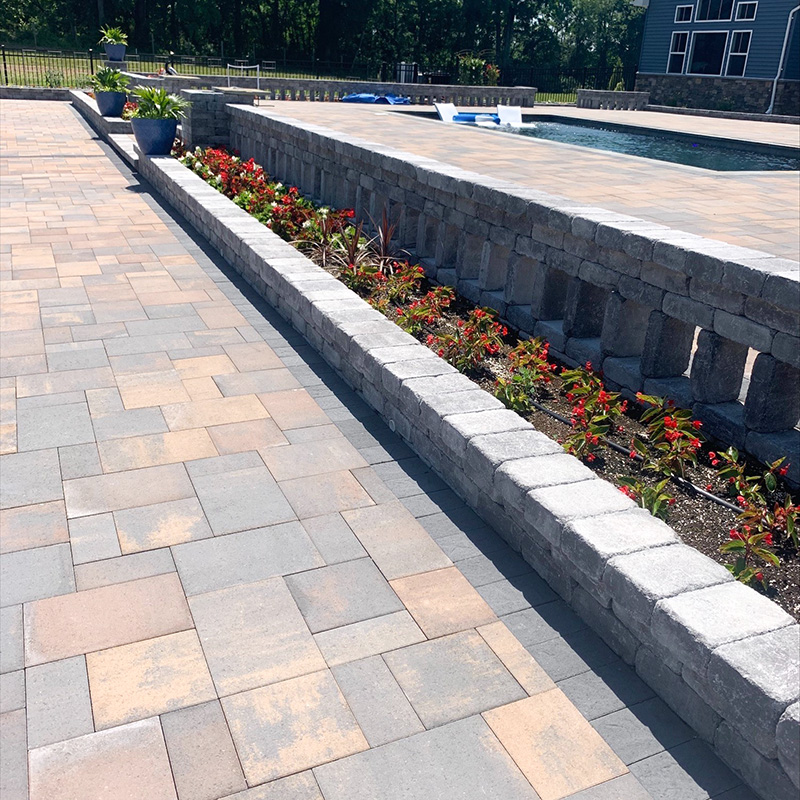 As with many of his projects, Marson used Belgard Design Studio (BDS) to work through iterations of the design with his clients. The digital design platform – available for free to members of our Belgard Authorized Contractor program – lets contractors like Marson create 3D renderings to show clients exactly what their project will look like. "I utilize BDS quite often for larger scale projects, and it's a great selling point," he says.
But before even starting to lay out the project in BDS, Marson's standard process is to sit down with the homeowners and get to the bottom of what they want out of their outdoor living space. "I think the biggest thing is to consider what your goal is with the project," he says. "Most people come to me and say they just want a patio. Well, the first thing I ask them is, what do you want to do on the patio?" He digs in to find out how the client envisions using the space, "whether it's an outdoor kitchen, a fire pit, somewhere to get away from the kids, whatever you want it to do. Then we can create an outdoor living space for you based on those goals."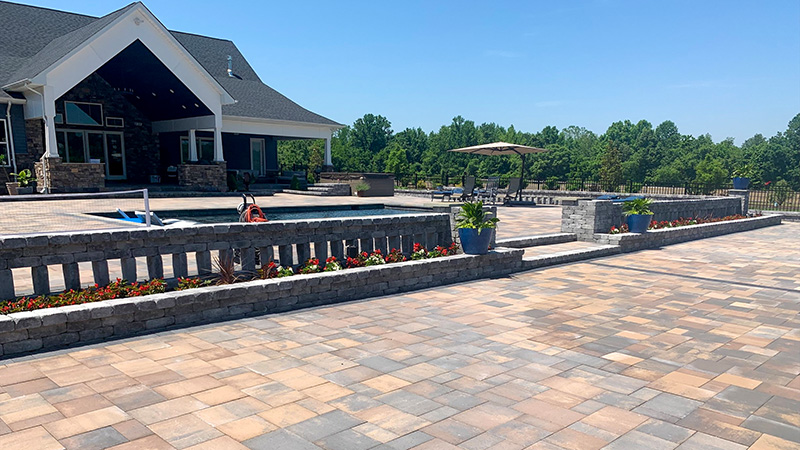 That tried-and-true process worked well with these clients, and once the design was finalized, the installation completed, and the final paver laid in place, both Marson and the homeowners were thrilled with the result. Asked to choose a favorite element of the project, Marson says, "I love the raised sitting walls. They create a rather Romanesque theme with a very open field, and they're both functional and airy at the same time."
In fact, Marson is having a moment with walls in his current design style. "I think probably the favorite material that I have right now is Belair wall," he says. "I love the natural look of it, how it mirrors natural stone, and its functionality. I can build steps  with it, I can do sitting walls with it, retaining walls, basically, it's one of the most versatile wall materials that I can use on a job site right now."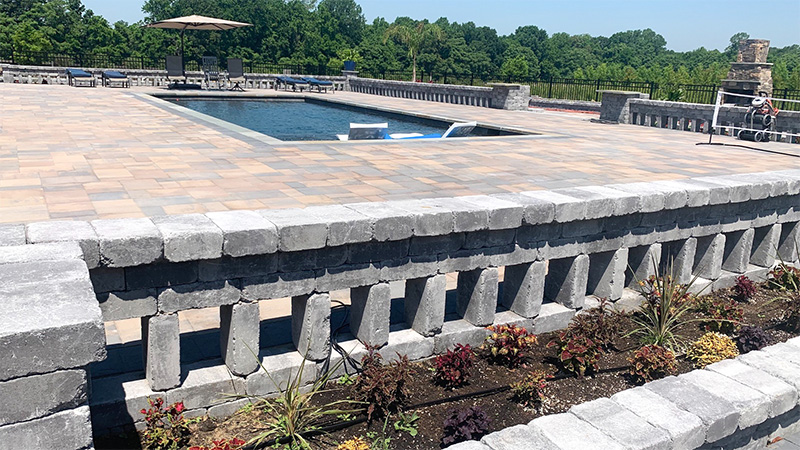 And even with more than two decades on the job (almost twice that if you count back to his childhood growing up in the family business) Marson can still often be found on a job site. "I think the biggest thing is go get your hands dirty," he says. "There's no better experience than hands-on."
Those years of hands-on experience have not only taught him the value of hard work, they've had a major influence on his design process. "I can walk onto a job site now and see what can and cannot be done with the space versus someone just going to a seminar or taking a college class," he says. And from apprentice to foreman to Hardscape Hero, Marson's life-long education continues on, one shovel at a time.
Want to be a Belgard Hardscape Hero? Submit your project here. Follow us on Facebook and Instagram to see more beautiful photos from Hardscape Hero winners.
The following Belgard products were used in this project: