Congratulations to August's Hardscape Heroes, Josh Goff and Chris Johannsen of Commonwealth Curb Appeal­. We spoke with Chris, who told us Commonwealth Curb Appeal has 12 years of experience in hardscaping about patio design, grilling and what it's like to do a custom patio for Richmond's Homearama.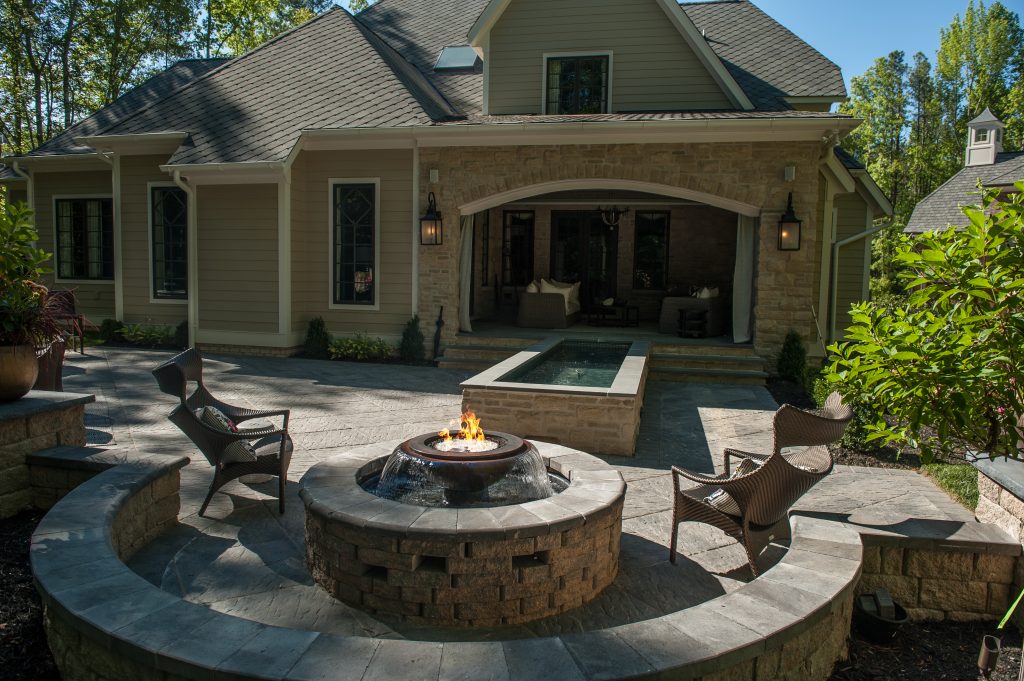 Their winning project posed a unique challenge both in scope and design. Homearama, a yearly homebuilding event, allows hardscape contractors the unique opportunity to partner with a homebuilder to construct a one of a kind dream home. For this project, Josh and Chris partnered with Bel-Arbor Builders to create the front and back patios for the custom home that Bell Arbor built for the event. "It's a chance to show off what we do," Chris said about the event. "They're million plus dollar houses, and 12,000 people toured each house this year. When we started the project, we got together with Joe at Bell Arbor, and just bounced ideas around. His design for the house was very 'L.A'., which is something that you don't see a lot in Richmond. It was cool to work with that."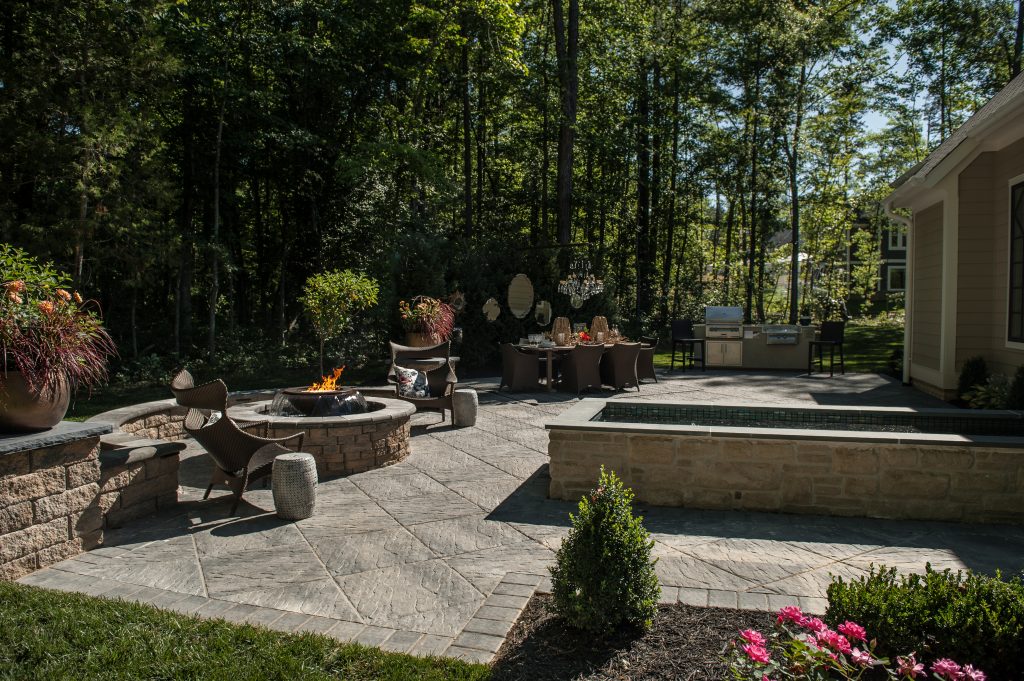 "We used the Chatham XL pavers on this project, and Josh came up with the idea of using the 26×26 inch piece to make a diamond pattern and using the smaller ones to do a herringbone pattern on the upper patio. It came out well, so now we're talking about using them to try making a chessboard."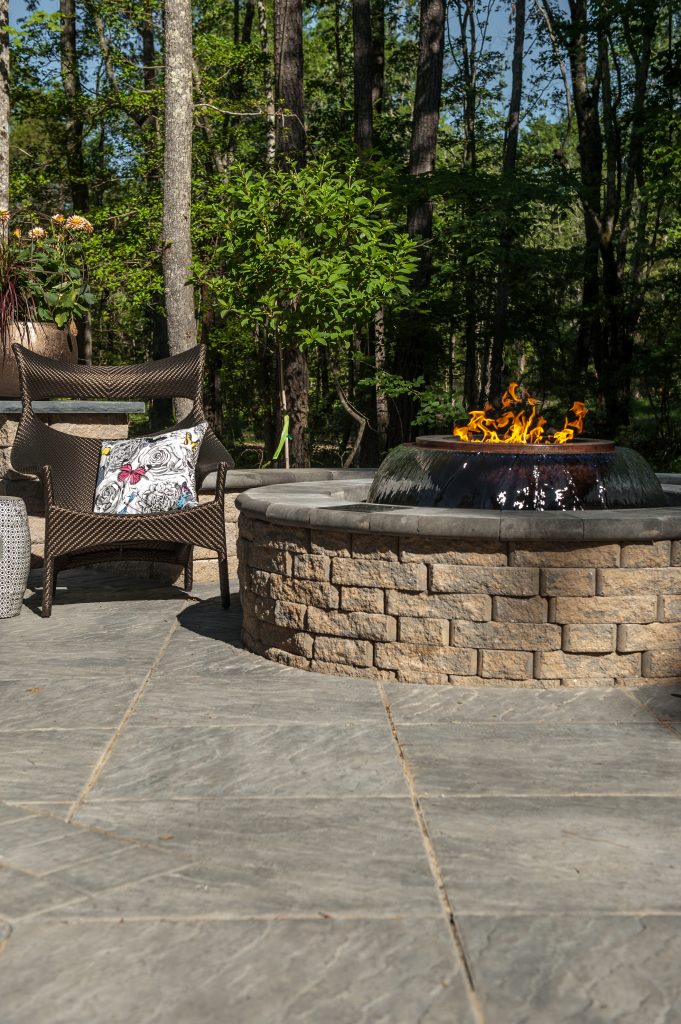 Chris joked that lifting the stones was the hardest part of the project, but luckily the team had their equipment, and were able to knock out the patio fairly quickly. "We love designing patios with other elements like waterfalls, fireplaces and outdoor kitchens. That's where you can really get creative and play with the space." The reflecting pool and Highland Stone Fire Pit are great examples of exactly how creative the guys at Commonwealth Curb Appeal can get.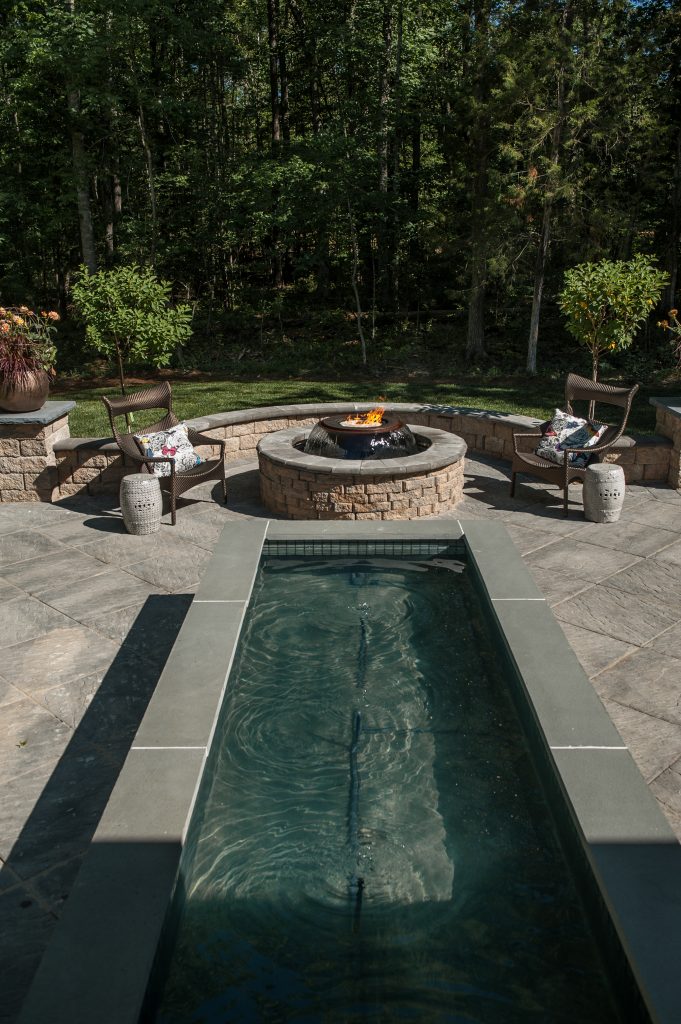 According to Chris, the design phase is what sets Commonwealth Curb Appeal apart from other hardscapers, and is what made this project a success. "We do 3D renderings. We go to houses, get a feel for the space, measure and take pictures and then start designing. At the end, clients come in for a final design review." By doing as much design as possible up front, Chris says the final work phase typically goes a lot faster, and clients end up with a nicer patio. The design phase allows clients to debate different options and helps them visualize their project. "They get to see their ideas come to life, the patio with furniture on it, with illustrations of traffic flow. We can show the customer exactly how the patio is going to look."
The Commonwealth Curb Appeal philosophy towards hardscaping is pretty simple, "We live what we do," says Chris. On most weekends, a lot of the team can be found on their own patios relaxing after a long week and spending time with friends and family. "We all love to smoke meat. We sell the Primo Smokers, which are made in the US. Just this weekend, we got together at Josh's house and grilled. We use ourselves and our home patios as experiments."
The experimentation is paying off, and it's obvious that Commonwealth Curb Appeal is capable of creating beautiful and functional outdoor spaces.
Want to be our next Hardscape Hero? Submit your project here.