Two-time HARDSCAPE HERO winner Josh Franklin of Deckscapes of Virginia, LLC, knows what it takes to create outdoor living spaces that include unique and interesting features while keeping functionality at the forefront of the design. His latest winning project is no exception. This complete backyard renovation included a deck, a pool, a cabana, and a custom-made fire feature.
"We were referred to this project by other homeowners in the neighborhood," explains Franklin. "We've completed five other patios on the street. The homeowners loved Eagle Bay's products and after talking with their neighbors, decided to use us to complete the project."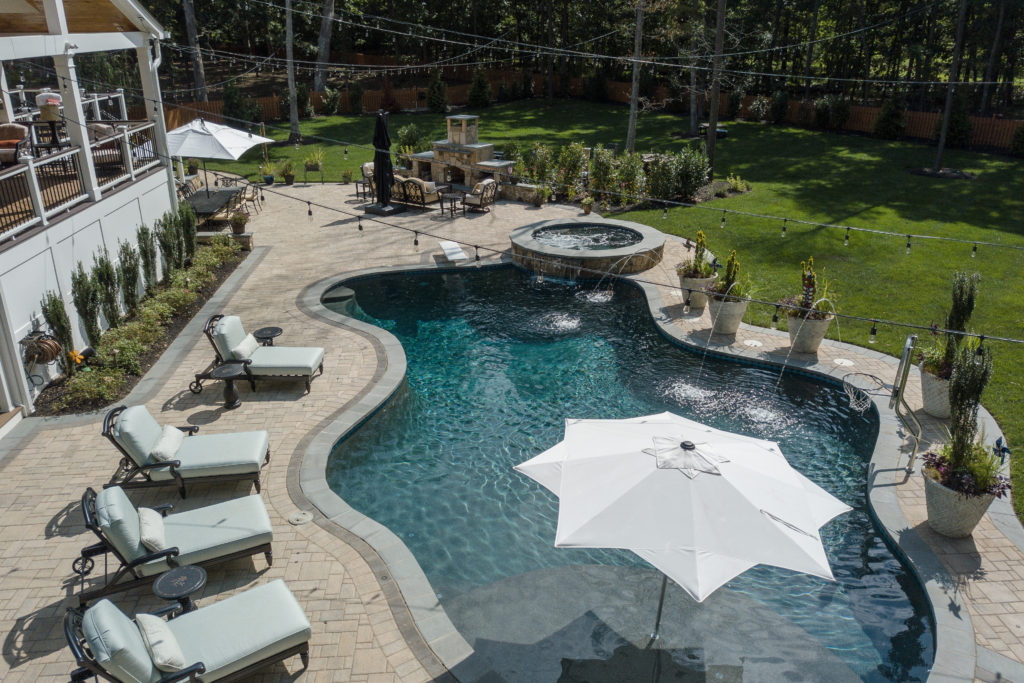 At the start of the project, the homeowners had nothing more than a small landing pad and a staircase leading to the backyard from the second-story access point. "They knew they wanted a deck, a pool and a fire feature and gave me the freedom to design the space to accommodate all of the elements," says Franklin.
A skilled designer, Franklin uses the same 3D design software as the Eagle Bay Design Studio.  "3D renderings have totally changed the way we design projects. It's always been hard to help clients visualize how things will work with a 2D architectural design. With VizTerra, we're able to really show clients exactly what their space will look like. As a result, homeowners can contribute more to the design. Being able to visualize the space allows the homeowners to better see exactly where things will be," says Franklin.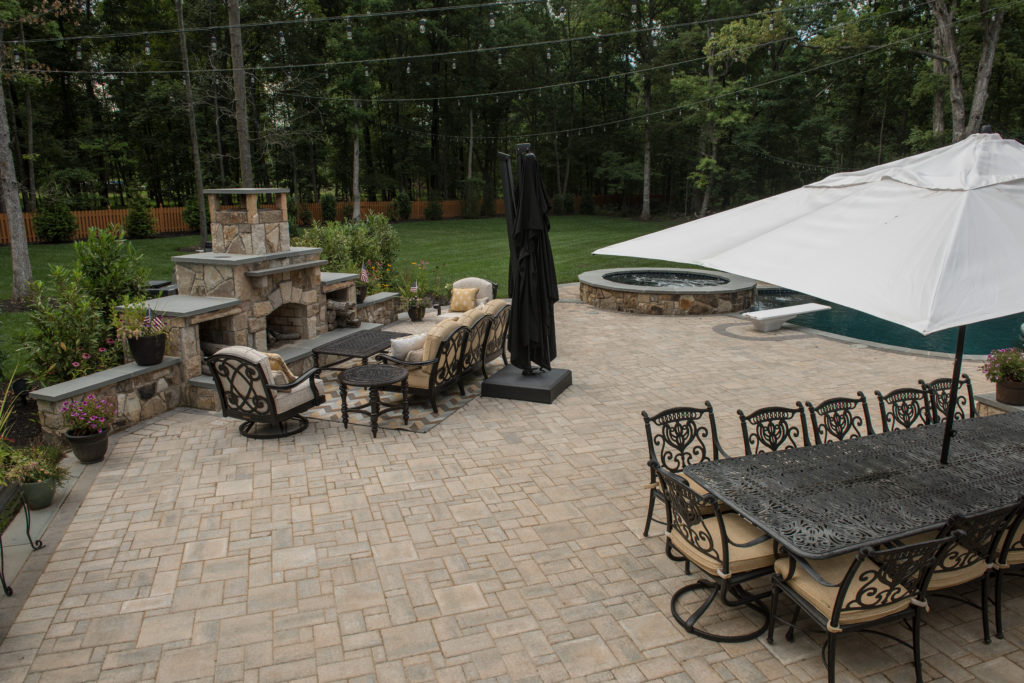 This collaborative design effort led to the finished project being exactly what the homeowners wanted. "Unfortunately, we really had to fight with the weather. It was raining two or three days every workweek for most of the installation. We tried everything from tarping off certain areas to building temporary shelters to try and keep installation sections dry.… Nothing worked, the water just kept getting in," he says.
Despite the rain, Franklin and his team completed the project close to the homeowners' requested deadline. "It was tough, but we remained in constant communication with the homeowner to explain why things were progressing the way they were. They were frustrated, but understood that no one can control the weather, and we were making every effort to make progress on dry days," explains Franklin.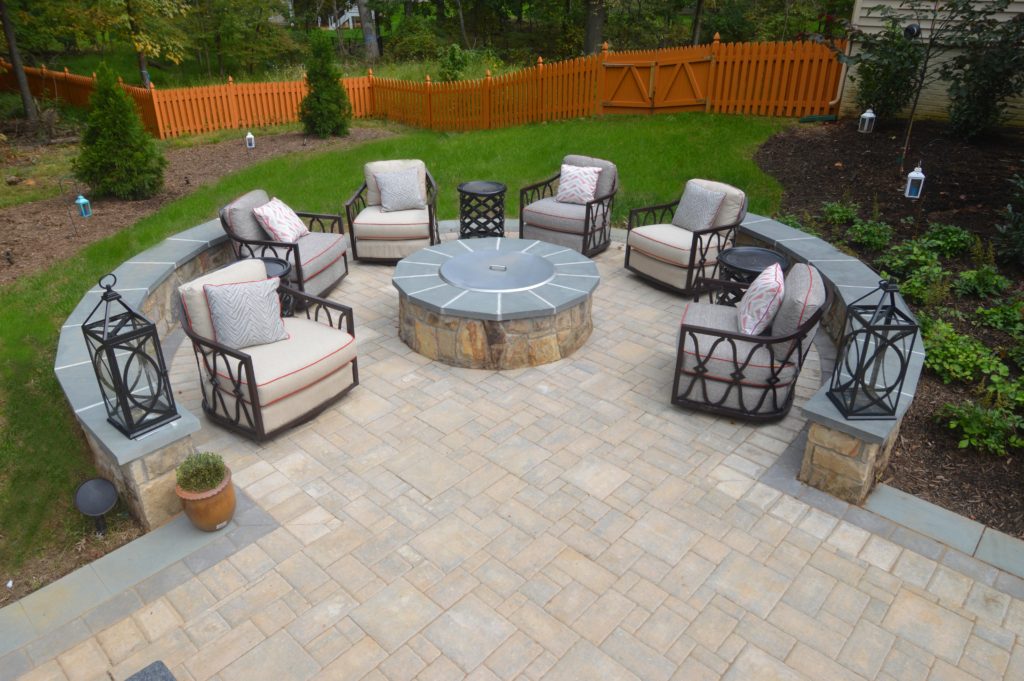 Large-scale projects like this one rely heavily on planning and attention to detail. "There are a few custom features, including the hand-cut fireplace made completely of natural stone. We tried to incorporate as many embellishments as possible," he says.
Along with the natural stone installations, Franklin and his team developed creative solutions for other details, including an inlay of Eagle Bay pavers around the concrete diving board platform.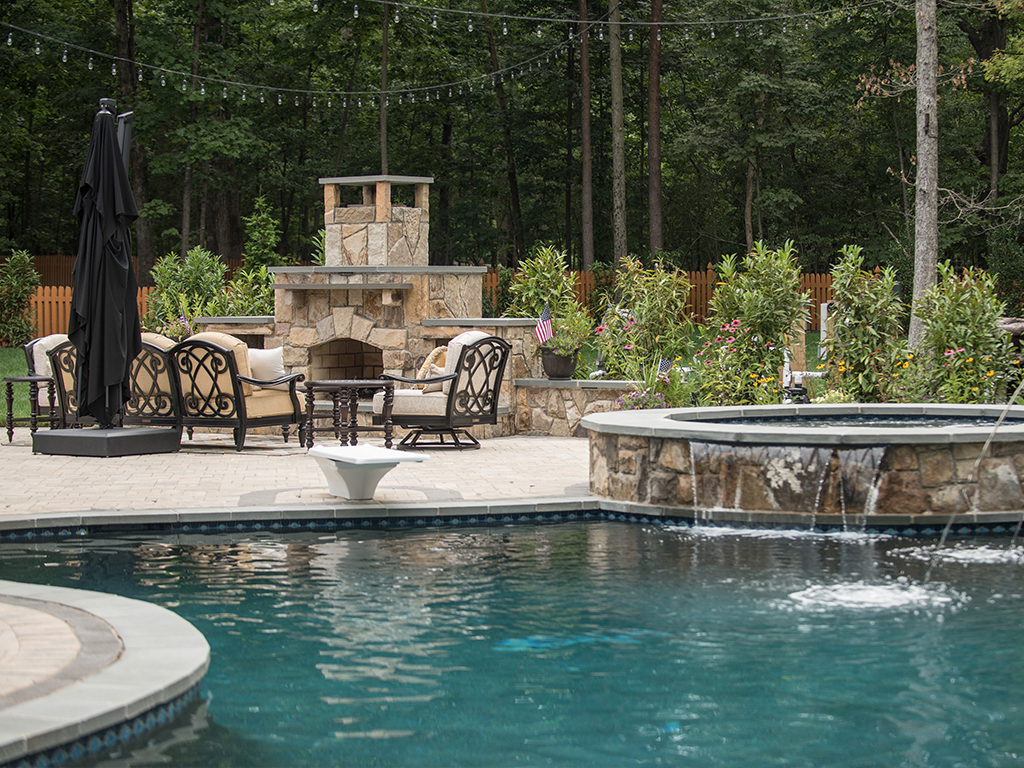 "We love seeing our installers complete projects of this scale. This is a beautiful outdoor space, and the combination of features makes it even more unique and incredible," says Matt Kwarta, Marketing Manager at Eagle Bay.
No two outdoor living spaces are the same. With tools like the Eagle Bay Design Studio, it's easy for both homeowners and installers to plan spaces that suit their needs in creative ways.
This winning project was completed using GrandCay Textured and CottageStone Textured.
Want to be a HARDSCAPE HERO? Submit your project here. Follow us on Facebook and Instagram to see more beautiful photos from winning HARDSCAPE HERO jobs.