Having a community to rely on can make completing any project easier. July's HARDSCAPE HERO winner, Joel Cross of J.C. Design, turned to his network for help on his first winning project, and it paid off.
The project began when a high school friend contacted him, after seeing some of his other work online. "They wanted to add a patio to their back yard and, after we met, I contacted Cole at the Eagle Bay Design Studio," says Cross.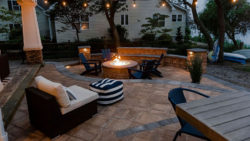 Joel and Cole worked together to design the project. "Joel met with the homeowners several times to outline the project. He's a talented designer, so we took his initial plans and converted them into detailed renderings that the builders could follow," says Cole Lineberry, Director of the Eagle Bay Design Studio.
Due to the size of the job, Cross contacted 2018 HARDSCAPE HERO of the YEAR winner Wayne Long of Albemarle Walls & Pavers for help. "I have a small crew. They were already on another project and we wanted to complete this one as quickly as possible. Wayne's crew was able to step up and really help us. Wayne personally acted as foreman and made sure the project kept moving forward. He cares deeply about his work and his whole team did an amazing job," Cross explains.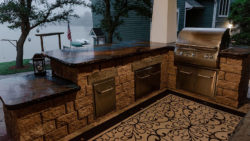 The project has several custom features, including integrated lighting, fire bowls, countertops, and a firepit. "We had to cut everything to size. I was able to provide Wayne and his team with detailed designs and they worked their magic to really make the project come to life," says Cross.
Wrapping around the entire back half of the house, the winning project utilizes several graded terraces to alleviate grading issues and separate the space into several outdoor rooms. The design team used custom in-lays and pillars to give the space more dimension and lit the stairways and walls to reduce shadows and dark spots.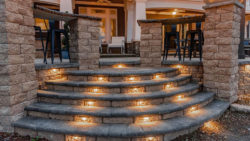 "Our relationship with Eagle Bay is really what made this project possible. The whole hardscaping community came together to make this project happen. It took a lot of communication and planning but the homeowners were thrilled with the end results," says Cross.
"We love seeing our contractors come together to make projects like this happen. It's great to see the hardscaping community support one another," says Lineberry.
The winning project was completed using Chatham Natural, Highland Stone Freestanding Wall, Highland Stone XL Column Cap and CottageStone Textured.
Want to be a HARDSCAPE HERO? Submit your project here. Follow us on Facebook and Instagram to see more beautiful photos from HARDSCAPE HERO winners.