It's rare to be met with a "job well done" before starting a project. But that's exactly what happened for Virginia Beach Patios' Patrick McGrath on his most recent winning project– his third career HARDSCAPE HERO victory.
"We've been putting a lot of effort into our social media presence since about 2018, and it's actually how we were first contacted by this client. They had seen some of our sponsored posts and followed us on Instagram before sending us a message to set up a consultation," says McGrath.
McGrath's hard work has paid off, with almost 40% of their new leads coming from social media channels.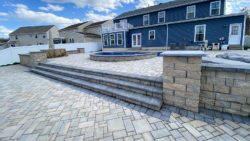 "I started just making an effort to post more regularly, but we only had about 300 followers. I thought I'd try a paid post just once to see how it did. The response justified putting more effort into it, so I basically started teaching myself how to use different apps to create a better social media presence and it's been really paying off," says McGrath.
Virginia Beach Patio's Instagram account now boasts a healthy 2,400 followers and McGrath says that consistent posting has really helped homeowners in the region learn more about the company.
"It's great to be able to talk to people and answer questions, without them having to visit our showroom or schedule a consultation. Of course, we love doing those things, but with social media, we're able to show people all the creative possibilities of pavers every day and while having great conversations with current and future clients," he explains.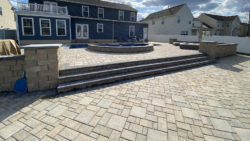 After being contacted on Instagram by the homeowner of the winning project, he invited them to the Virginia Beach Patios showroom to look at samples. "They immediately gravitated towards and selected all Eagle Bay pavers," he says.
Then, McGrath met with the pool installer and they worked together to create a design for the outdoor living space.
"The biggest issues we had to deal with were the existing terrain and the lake. Prior to our work, the backyard was essentially an empty grass slope that drained right into the lake. On average, during storms, the lake could rise up to three feet, so we knew we would have to address that, while still satisfying the homeowner's desire for the biggest pool and patio combination possible," he says.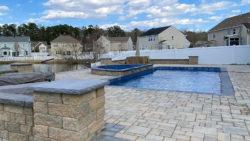 To address the possibility of damage from flooding, McGrath and his team installed vinyl sheet pilings with a permeable base and a concrete footer to act as the elevated foundation for the bottom deck of the patio. They also installed a subterranean drainage system to help further prevent overflow.
Once that was complete, they were able to focus on the rest of the large patio, which contains a pool, an outdoor spa, a tanning ledge, a fishing deck and integrated lighting throughout.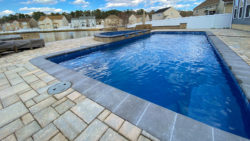 "The homeowners, I think, were most impressed with the sheer amount of material we moved in to complete the project. We staged everything in front of the house and had about a three-and-a-half foot area we could use to bring the material in," McGrath says.
Despite the volume of material needed to create a level backyard and beautiful patio, McGrath and his team were able to complete the project in just two weeks.
The completed project meets the lake, allowing for easy casting or relaxing by the water, and is linked to a walkway that runs to the front of the house, so guests can easily find their way to the pool for the perfect selfie.
The winning project was completed using Highland Stone Freestanding, Highland Stone Retaining Wall, CopingStone and GrandCay Textured Pavers.
Want to be a HARDSCAPE HERO? Submit your project here. Follow us on Facebook and Instagram to see more beautiful photos from HARDSCAPE HERO winners.