In the hands of a talented installer, Eagle Bay pavers can transform any area into a beautiful outdoor living space. November's HARDSCAPE HERO winner, James Kirtley, transformed an unusable and hilly backyard into a graded sanctuary complete with a water feature and planter shelf.
"We specialize in drainage issues. Hardscaping allows us to solve water problems while also creating beautiful outdoor living spaces. This backyard is the perfect example," says Kirtley, owner of Groundwork Landscape.
The homeowners were facing serious drainage and erosion issues. Their house backs up to a steep hill, causing stormwater to run directly into the house.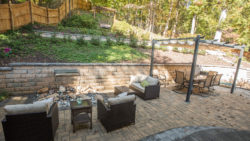 "When designing the project, we wanted to include as many patio features as possible, while focusing on eliminating the serious drainage issues," Kirtley explains.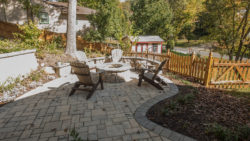 After negotiating the drainage and erosion issues, Kirtley and his team began installing the patio's other features. Through skillful design, they were able to create an outdoor living space with several dynamic elements without making it feel cramped.
The patio includes a custom water feature designed to be seen from the homeowner's kitchen window. It also includes a lower patio area with an Eagle Bay fire pit and seating area. To make use of the hill, Kirtley's team installed a staircase leading to a swing and a planter box at the lower level.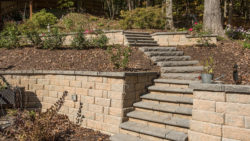 "The most exciting thing to me about this project is how well we were able to make everything work together. This was a steep and oddly shaped space, so much so that it was impossible to get a lot of our equipment into the site. However, we were able to incorporate a lot of features while fixing the homeowner's main problems," he says.
Kirtley goes on to explain that his installation process takes a customer-first approach. "We make customer service our top priority and are in communication during the whole install. It's part of the reason we love working with Eagle Bay. We know they're always there for us," he says.
"When designing projects, we work to make the space as functional and beautiful as possible. I worked with James to come up with a retaining wall and paver patio solution that would met the homeowner's functional needs, as well as provide them with a beautiful space to entertain guests," says Cole Lineberry, Sales Specialist and Eagle Bay Design Studio Director.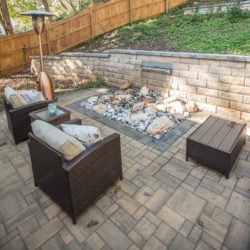 No matter the size or shape of your yard, the combination of a skilled installer and Eagle Bay Pavers is a sure way to improve your outdoor living space.
The winning project was completed using  Diamond 10DS Retaining Wall, Landscape Steps, Grand Cay Textured, Dublin Freestanding Wall and an Eagle Bay Fire Pit.
Want to be a HARDSCAPE HERO? Submit your project here. Follow us on Facebook and Instagram to see more beautiful photos from HARDSCAPE HERO winners.