For the fourth year, HARDSCAPE HERO winners gathered on a cool and clear night at Richmond's historic Carpenter Theatre to see who would be named 2019 HARDSCAPE HERO of the YEAR. During the day, HARDSCAPE HERO winners were treated to the third year of the Techniseal Clay Classic and a happy hour sponsored by Anchor Wall Systems.
Read a recap of the event here.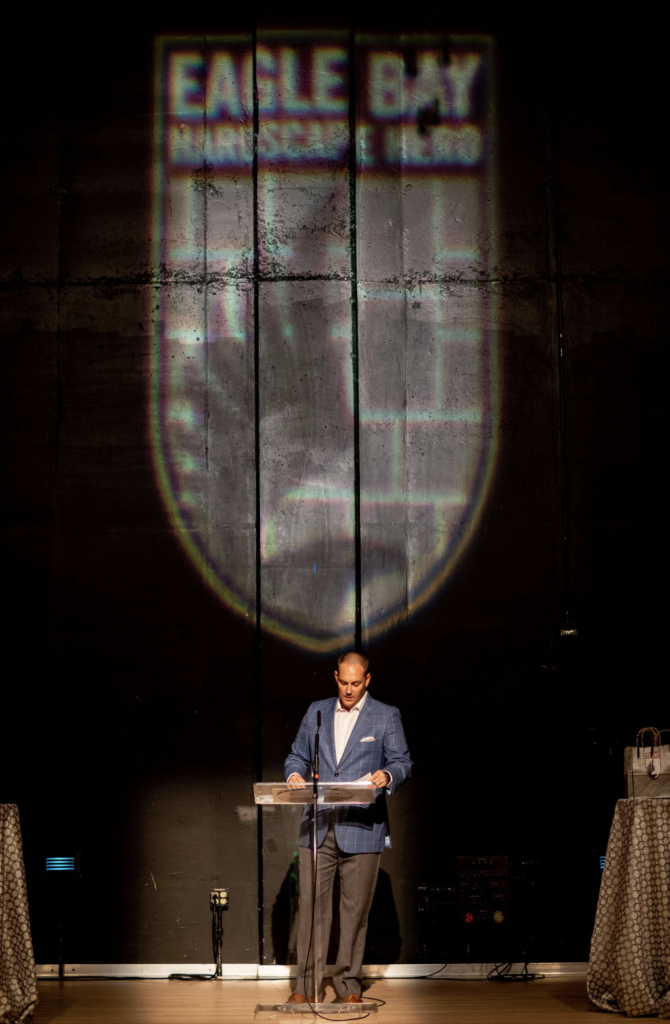 After an incredible presentation that highlighted the accomplishments of the monthly HARDSCAPE HERO winners, it was time to name the 2019 HARDSCAPE HERO of the YEAR. The crowd fell silent as a drum roll rose, before Matt Kwarta, director of sales for Eagle Bay, announced Eric Ellington of Glen Allen Grounds Management as the winner.
Ellington's winning project was selected because of the scope and advanced design. His clients wanted to have an area for their 50 grandchildren to spend time while creating a beautiful and functional space. Ellington's team worked hard to build something that would become a cherished space for several generations of the family.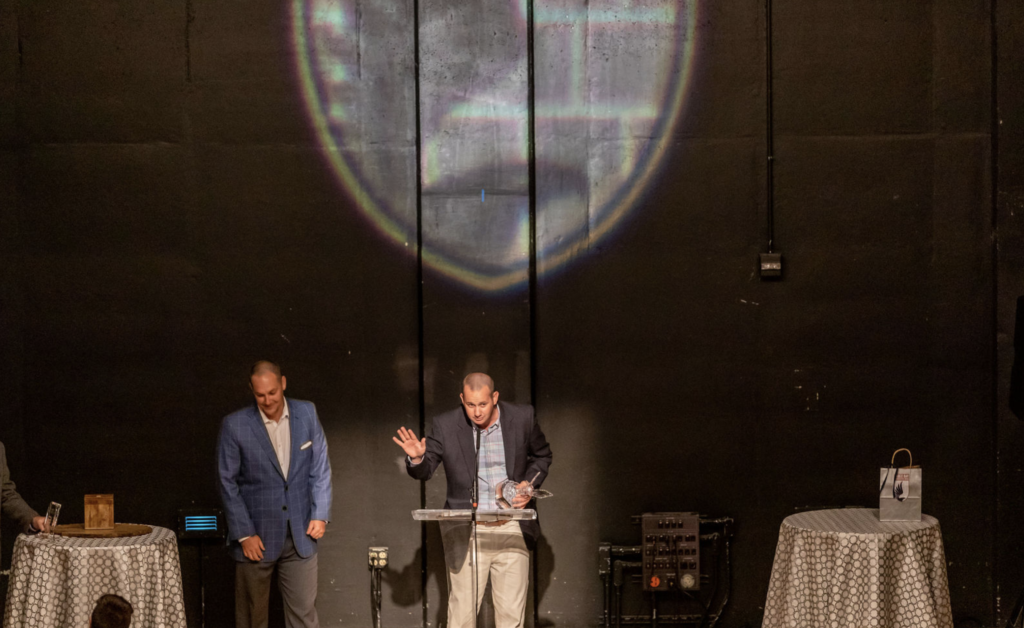 "My team is incredibly excited to have won. They couldn't believe it. Our crew's morale is through the roof. That was a challenging project, and we're glad Eagle Bay is noticing our hard work," says Ellington.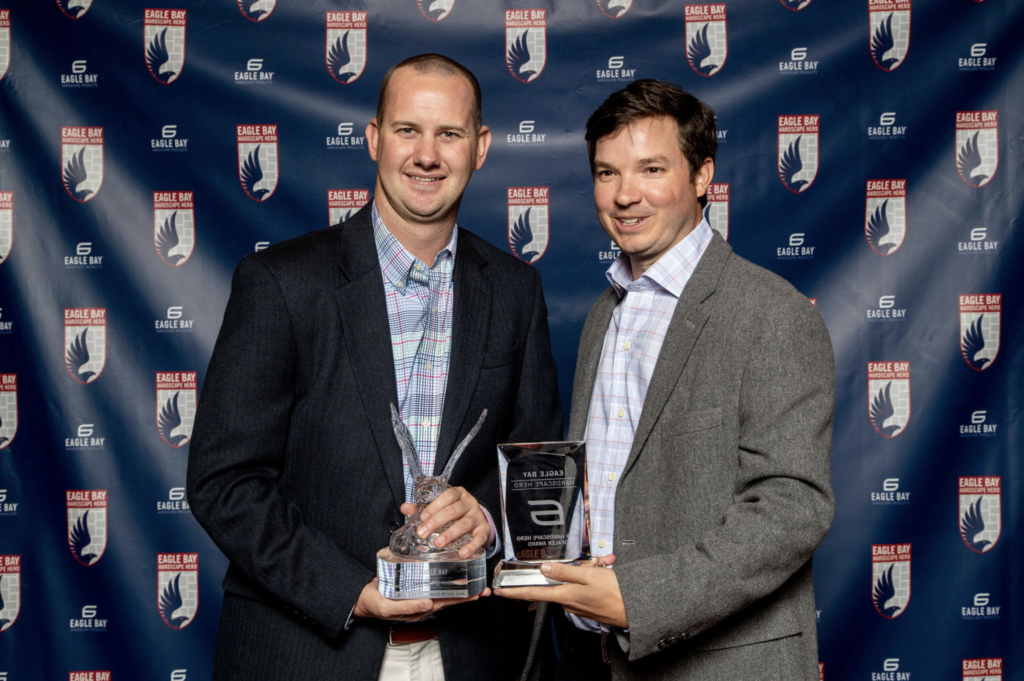 HARDSCAPE HERO of the YEAR winners receive prizes including $5,000 in tools and equipment, $5,000 in other gifts and prizes, a $500 credit for Techniseal products, $500 in marketing materials, and features on Eagle Bay's blog and social media channels. They're chosen by a panel of judges who select from hundreds of projects. Glen Allen Grounds Management's work shows exceptional craftsmanship, creativity, and thoughtful design.
"The prizes will go a long way to help us improve our tooling. This will allow us to become even more ambitious and creative with our installations. We're also extremely excited to see the marketing materials that Eagle Bay will be creating. A lot of our jobs are referrals, but it's incredible to be able to share what we do," Ellington says.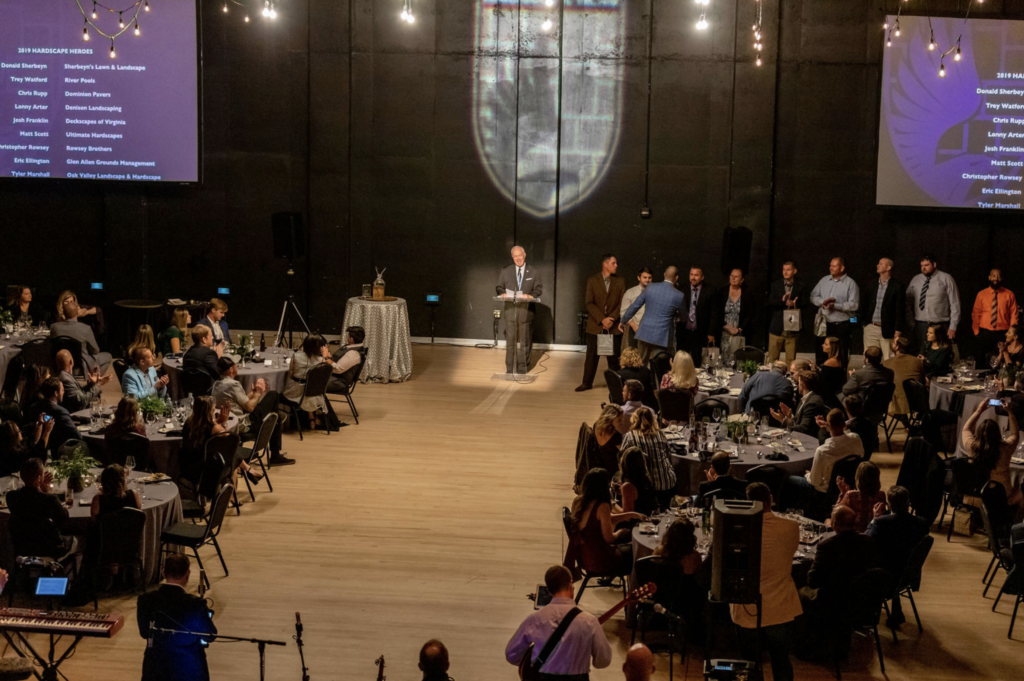 The evening included a delicious coursed dinner, dancing, and live music. HARDSCAPE HEROES and their partners danced, enjoyed drinks, and joked with friends.
"I think this event is great. I love that Eagle Bay invests so much in their contractors. It definitely makes us feel valued. My favorite part of the event was the display of all of the HARDSCAPE HERO jobs. It really tells the story of the program, and I think competitions like this force us to think harder about our work and be more creative," Ellington states.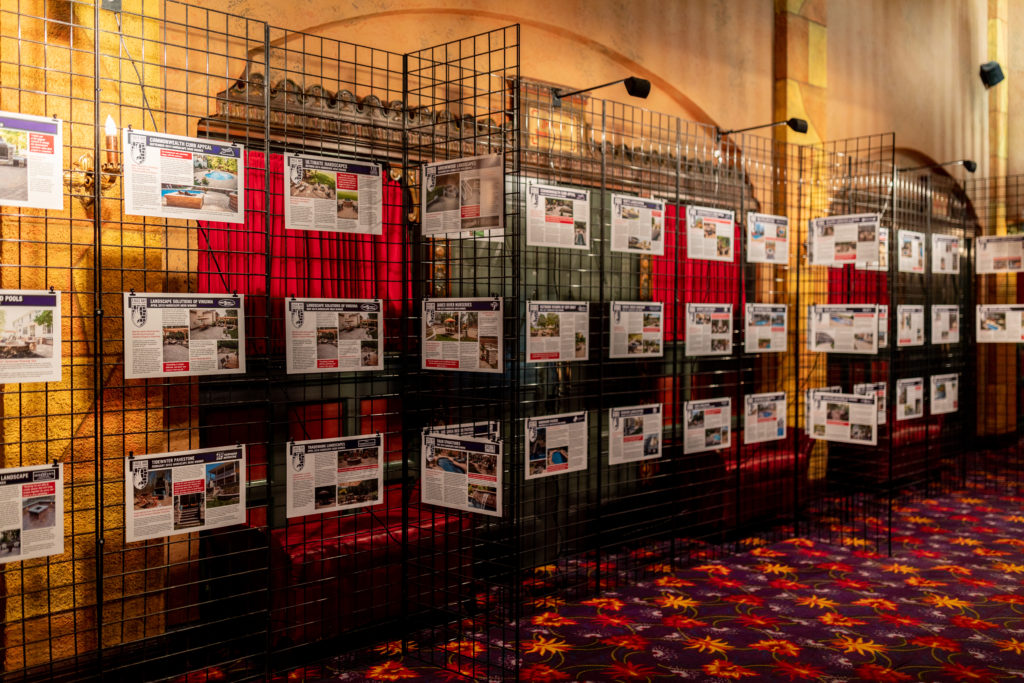 The evening concluded with toasts and laughter as old and new friends congratulated one another on jobs well done.
"Our contractors are at the core of our work, and it's an honor to see so many skilled people entering into the HARDSCAPE HERO contest. They make this program what it is. Every year, the projects get more complex. It's truly amazing to see what our contractors are able to do with our product," says Matt Kwarta.
Want to be a HARDSCAPE HERO? Submit your project here.