At Eagle Bay Hardscapes, we pride ourselves on being easy to do business with. April's HARDSCAPE HERO winner, Christopher Rowsey of Rowsey Brothers, LLC, has the same mission. Rowsey's winning project took a backyard overrun by pine trees and dense thicket and turned it into a beautiful outdoor living space.
"We specialize in turn-key installations," says Rowsey. "Our goal is to make the whole process, from planning to installation, as easy and stress-free for our clients as possible."
The homeowners of the winning project came to Rowsey Brothers with the goal of turning their backyard into something more than an unusable wooded area. "They basically didn't have a backyard. It was just tall pines and scrub brush," Rowsey explains.
Before they started the installation, Rowsey and his team measured the space and consulted with the homeowners on design. The Rowsey Brothers team uses 3D design software similar to that used by the Eagle Bay Design Studio to help homeowners visualize their ideas. "We love using the software because it allows people to really see what we're talking about and makes adjusting the plans that much easier," says Rowsey.
After settling on a design, the team at Rowsey Brothers faced their first big challenge. "The patio was designed to connect to the house, but the installation area was full of tall pine trees. In order to clear the area, we worked with a local arborist to do controlled drops of the trees. It was important not to damage the house or the golf course that sits adjacent to the property," says Rowsey.
With the installation area clear, the team began installing the patio. The winning project features a gas fire pit, fireplace, koi pond, swimming pool, outdoor kitchen, and rain wall.
"We installed independent plumbing, gas lines, and electrical for all of the features," explains Rowsey. "This way, they could all function individually and have more robust support systems, making repairs and management easier. We want our clients to have worry-free patios, and this is just one way we guarantee that."
The rain wall required special care since Rowsey and his team worked to make sure there was an even flow throughout the entire fixture. "It was a bit of trial and error to get it right, but we wanted to make sure it worked perfectly," Rowsey explains.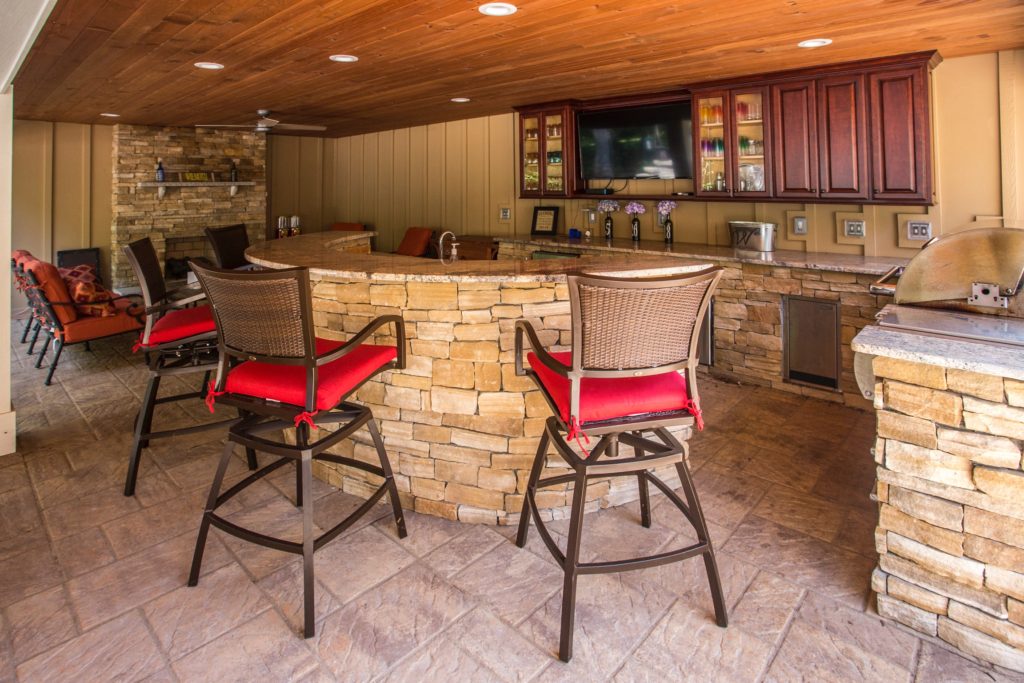 The outdoor living space was designed around several unique features, each flowing into one another to create a fluid, relaxing space.
"The homeowners were overjoyed by the final result. They finally have a place outdoors to relax and host guests. We're happy to have created such a beautiful and functional space for them," Rowsey says.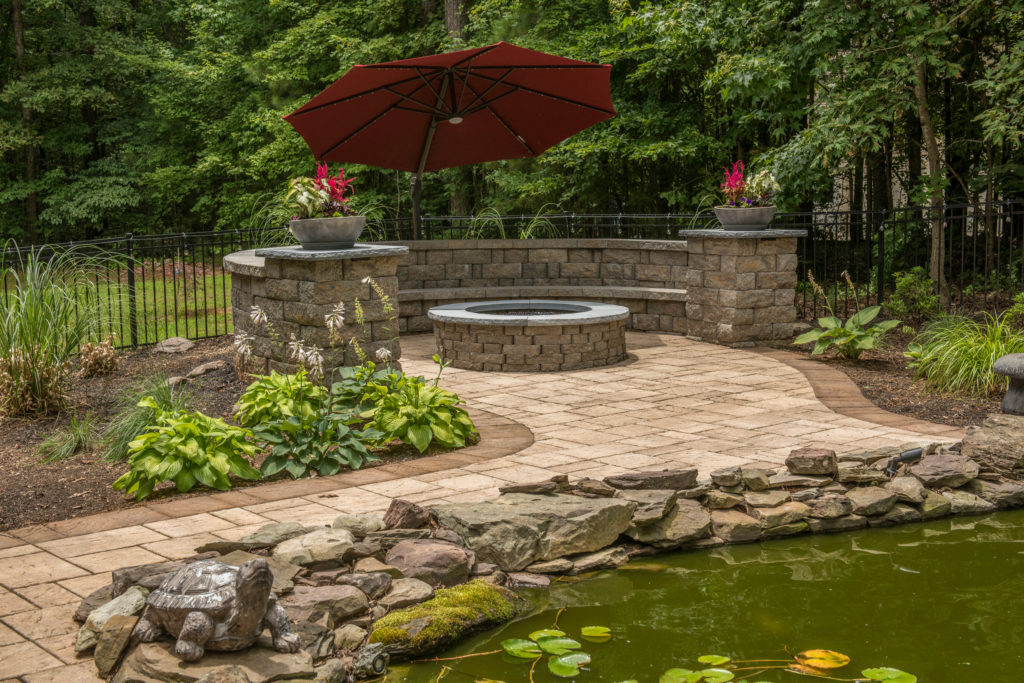 This winning project was completed using Highland Stone Columns, Highland Stone 6" Freestanding Wall, Chatham Natural, and a Highland Stone Fire Pit Kit.
Want to be a HARDSCAPE HERO? Submit your project here. Follow us on Facebook and Instagram to see more beautiful photos from winning HARDSCAPE HERO jobs.