Spending your evenings grilling delicious food is a rite of spring, but it's easy to get tired of the same old chicken breast, steak or burgers. From spatchcocked whole chicken to brined poussin, shake up your summer with a whole bird at the center of your table.
Garlic and Herb Spatchcock Grilled Chicken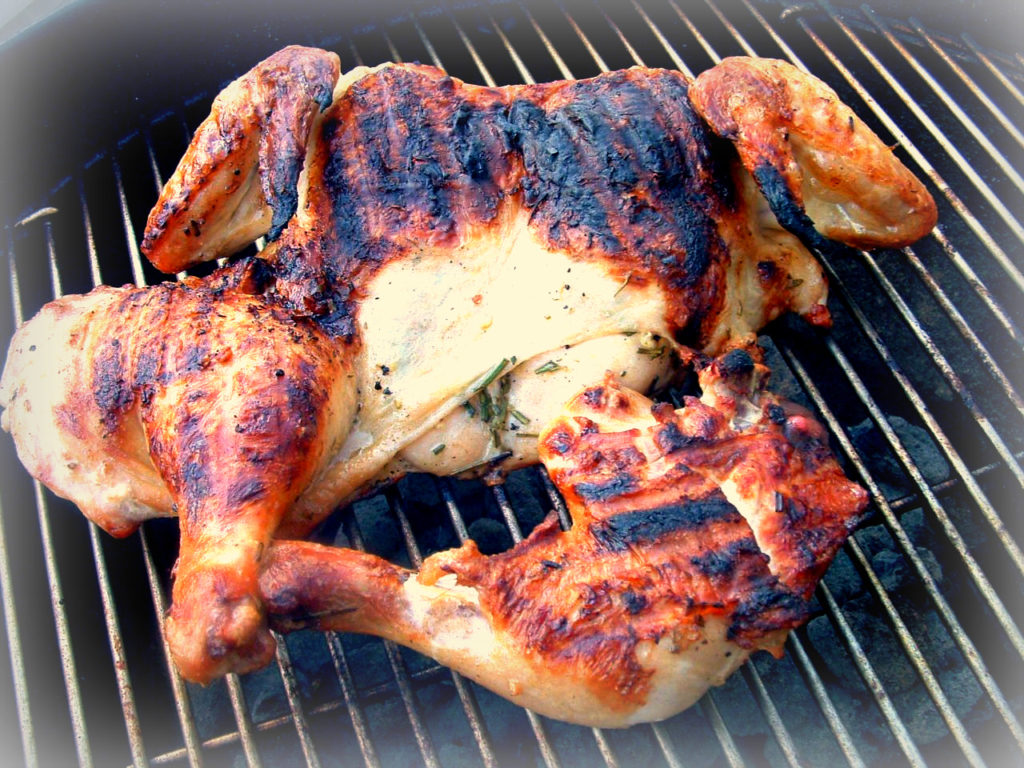 Garlic and herb chicken is nothing new, but spatchcocking a whole chicken on the grill may turn some heads, plus it's fun to say. Spatchcocking is an Italian influenced cooking technique that will leave your chicken's skin crispy and delicious while keeping the inside tender and moist. Give this recipe from Epicurious a try the next time you need something a little different.
What You Need:
1 bunch rosemary
3 garlic cloves, smashed
1/4 cup olive oil
1 (3 1/2-pound) whole chicken
1 (1 1/2-pound) skin-on, bone-in whole chicken breast
2 teaspoons kosher salt
1 teaspoon freshly ground black pepper
Chimichurri Sauce (for serving)
What to Do:
Prepare a grill for medium-high heat with both direct and indirect heat zones, preferably with hardwood or hardwood charcoal. Separate leaves from 5 rosemary sprigs, then coarsely chop leaves.
Place chicken breast side down on work surface. Spatchcock chicken by cutting along both sides of backbone with kitchen shears; reserve backbone for stock. Turn chicken over, breast side up, and splay open. Press down on breastbone with palms until you hear it crack and chicken is as flat as possible. Tuck the wings behind the breasts, then tuck in the legs so the bottoms of the drumsticks are pointed away from the body and chicken is as flat as possible.
Brush all sides of both pieces of chicken with the garlic-oil. Sprinkle all sides with chopped rosemary leaves, salt, and pepper.
Grill both pieces of chicken, skin side down, over direct heat, until skin is golden brown, crispy, and lightly charred, about 5 minutes. Flip both pieces of chicken over, transfer to indirect heat, and baste with rosemary brush dipped in garlic-oil.
Continue to grill chicken, basting occasionally, until skin is golden brown, juices run clear, and an instant-read thermometer inserted into the thickest part of the meat registers 165°F, 45–60 minutes for whole chicken and 25–35 minutes for chicken breast. Let chicken stand at least 10 minutes before carving. Arrange chicken on a serving platter and serve with chimichurri sauce alongside.
Grilled Cornish Game Hens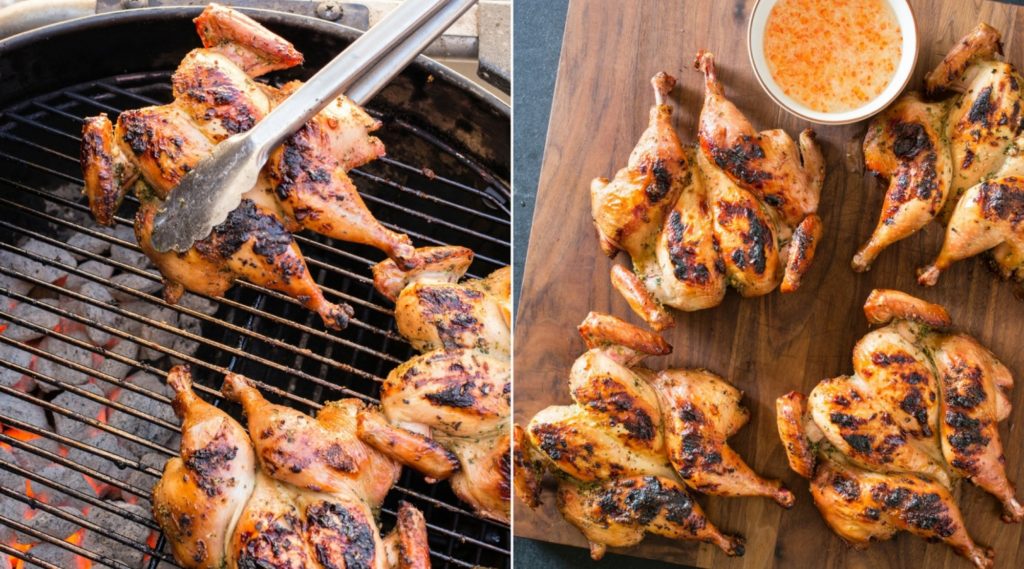 Often considered to just be smaller chickens, Cornish game hens, in fact, offer a flavor profile all their own and present nicely with fresh vegetables, making the perfect summer dish. Because they're harvested younger than chickens, they tend to be more tender and almost buttery in flavor. This recipe from Allrecipes shows you how to easily prepare them on the grill.
What You Need:
½ onion
2 cloves garlic
1 cup lemon juice
½ cup olive oil
1 tbsp. white wine
1 tsp. Worcestershire sauce
1 tsp. hot pepper sauce
1 tbsp. pepper
1 tsp. celery salt
1 tsp. salt
4 (1 ½ lb.) Cornish game hens
What to Do:
In a large, non-reactive bowl, mix onion, garlic, lemon juice, olive oil, white wine, Worcestershire sauce, hot pepper sauce, pepper, celery salt, and salt. Place Cornish game hens in the bowl, coating evenly with the marinade mixture. Cover, and marinate in the refrigerator at least 4 hours.
Preheat an outdoor grill for medium heat, and lightly oil grate.
Cook hens about 1 hour on the prepared grill, brushing occasionally with remaining marinade until no longer pink and juices run clear.
GRILLED QUAIL, SOUTH CAROLINA STYLE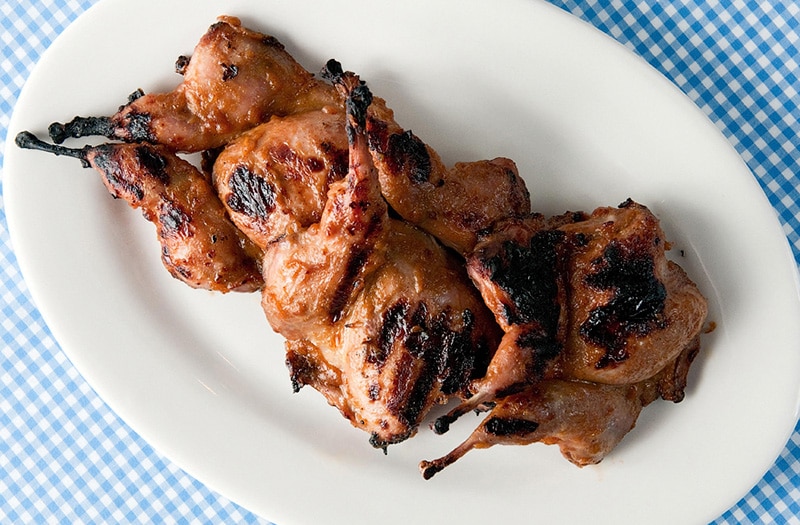 Bring South Carolina style barbecue flavors to these extremely tender and juicy game birds with this recipe from Honest Food. Quail can be harvested wild or purchased from butchers. Due to their size, quail cook quickly while staying juicy throughout.
What You Need:
8 to 16 quail, backbones removed and flattened
3 to 4 tablespoons vegetable oil
4 tablespoons butter
1/2 onion, grated
1/2 cup yellow mustard
1/2 cup brown sugar
1/2 cup cider vinegar
1 tablespoon dry mustard, like Coleman's
1 teaspoon cayenne
Salt to taste
What To Do:
Make the sauce first. Heat the butter over medium heat, then add the onion and sauté until it turns translucent about 3 or 4 minutes. Add everything else, stir well and simmer slowly for 20 minutes or more. You can buzz it in a blender for a smooth sauce.
To flatten the quail, use kitchen shears to remove the backbones of the birds by cutting along either side. Put the quail breast side up on a cutting board and press to flatten. If you want to be fancy, carefully snip out the ribs and the curved saber bones near the wishbone. Salt the quail and toss them in the vegetable oil.
Get your grill hot and lay your quail breast side up. Grill over high heat with the grill lid down for 5 minutes. As it cooks, paint the breast side with the sauce. Turn the quail over and paint the cooked side with sauce. Grill the breast side with the grill cover up for 2 minutes, then turn over again and paint with the sauce one more time. Cover the grill and cook another 2 to 4 minutes. Take off the grill and paint with sauce one more time.
Simple Brined & Grilled Poussin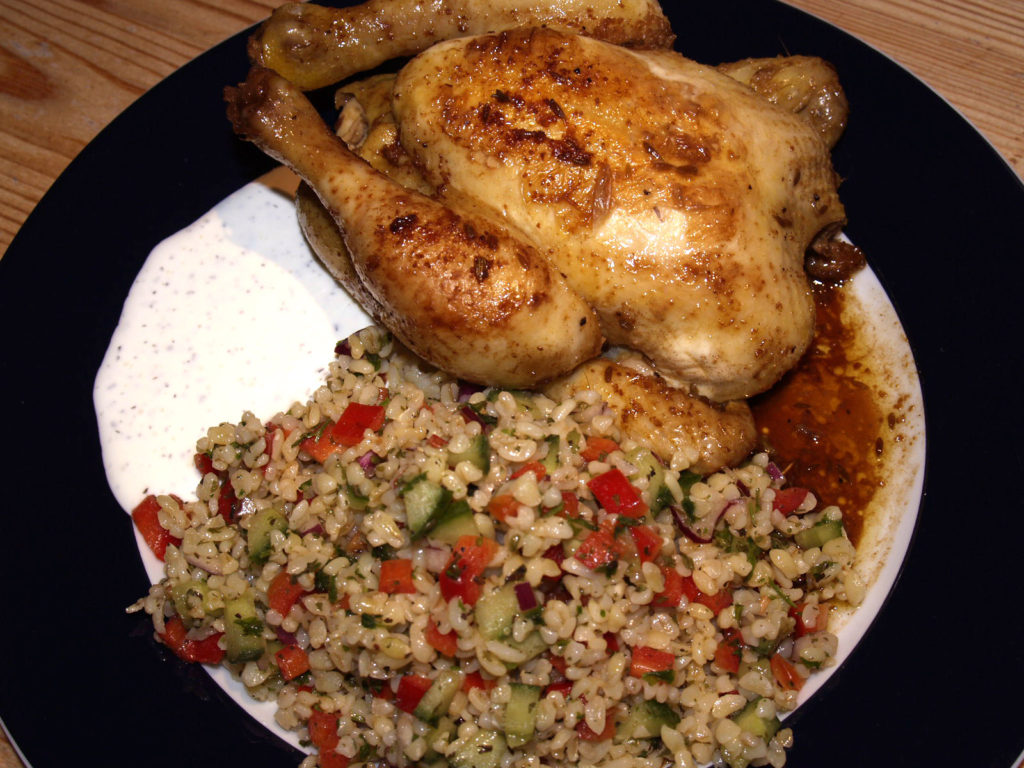 Poussin are chickens that have been slaughtered before reaching a certain size and maturity. They typically weigh under 2 pounds and have a higher fat content than mature chickens. The result is a whole bird that absorbs seasoning well and are juicier. This recipe from Dartagnan is a great intro to cooking this chicken alternative.
What You Need:
4 cups water
½ cup kosher salt
½ cup raw sugar
1 lemon, quartered
3 cloves garlic, smashed
1 tablespoon whole black peppercorns
4 bay leaves
3 sprigs fresh thyme
Handful of fresh parsley
2 cups ice
1 tablespoons unsalted butter, softened
Oil, for grill
What To Do:
In a medium saucepan over medium-high heat, add water, salt, sugar, lemon, garlic, peppercorns, bay, and thyme. Heat until salt and sugar are completely dissolved, stirring occasionally. Remove from heat. Stir in parlsey then add ice. When brine is completely cool add poussins; cover and refrigerate for at least 2 hours (up to 8 hours).
About 30 minutes before cooking, remove the poussins from the brine and quickly rinse and pat dry, tuck in wing tips and tie legs together with butcher's string. Allow poussins to sit at room temp for about 20 minutes to take the chill off.
For outdoor grilling: heat a grill to 400 degrees F. Lightly oil grates. Place the poussins, breast side down, on the grill over direct heat. Cook for 2 minutes, lift poussins and turn ¼ turn, continue cooking 2 more minutes. Flip the poussins over and place on indirect heat. Brush the skin with softened butter. Continue cooking with the lid down until just cooked through and juices run clear, about 15 minutes. Allow the poussins to rest on a cutting board for 10 minutes before serving.
Whole birds can be served with salads, sweet potatoes, or rice and beans. Add some fresh grilled veggies and dig in to these beautiful and flavorful dishes the next time you need a break from tired proteins.