While every HARDSCAPE HERO project is unique, some take on such incredible lives of their own that their stories just have to be told. Eric Ellington's second winning project with Glen Allen Ground Management LLC is one of those.
"We were introduced to this homeowner as a referral from Eagle Bay," says Ellington. "We knew the project would be different because the homeowner's goal for their backyard was something we'd never heard before."
The homeowners had a clear mission in mind: creating a space for their fifty grandchildren to play and spend time with family. They wanted to take the existing back yard, which consisted of a deck and large aggregate patio, and convert it into a space their entire extended family could enjoy.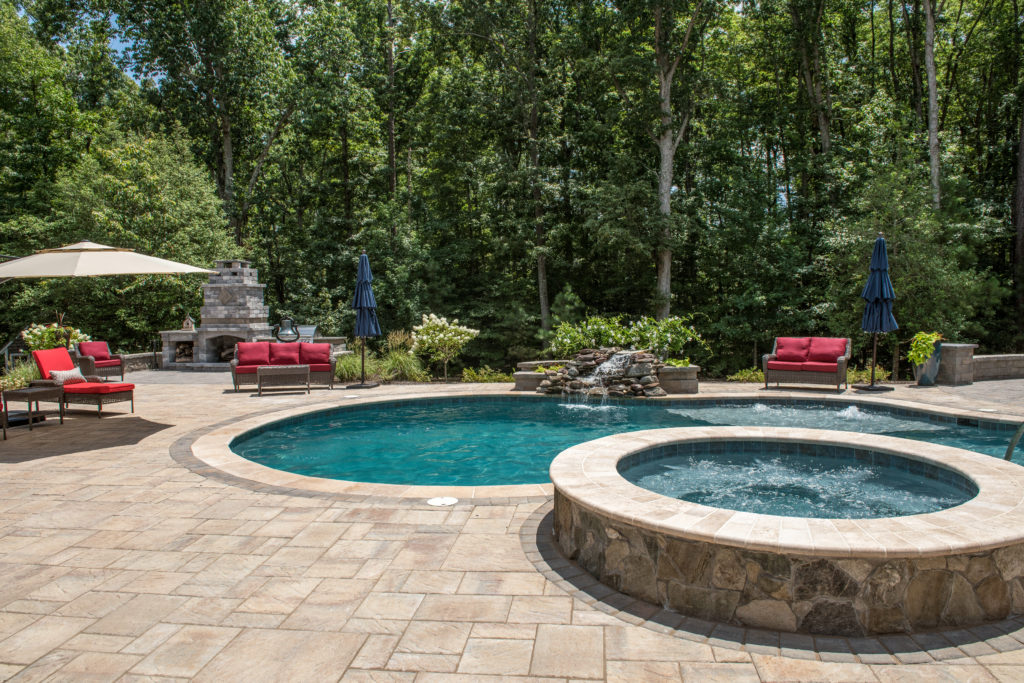 "The scope of the project was not outside of our capabilities, but we wanted to make sure we got everything just right. One of the biggest issues was making sure we could include all of the features the homeowners wanted without making the space feel crowded," explains Ellington.
To do so, the team at Glen Allen Grounds Management enlisted the help of The Eagle Bay Design Studio.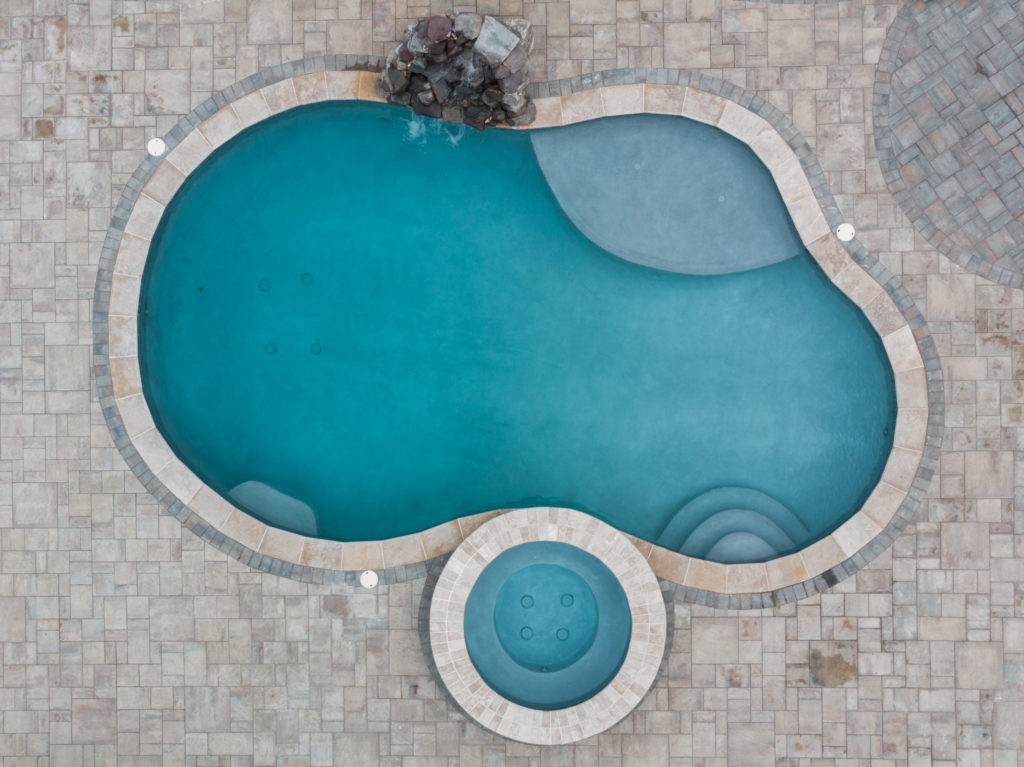 "We worked with Cole Lineberry, lead designer at Eagle Bay, to create a 3D mockup and video fly-through of the patio. When it was ready, we actually met the homeowners in their home and presented the designs on the TV in their living room," says Ellington.
Ellington explains that his team had to coordinate with electricians, pool installers, and plumbers to make sure everyone adhered to the same timeline. The pool, for example, required 13 individual plumbing lines, so timing the installation of everything was a feat.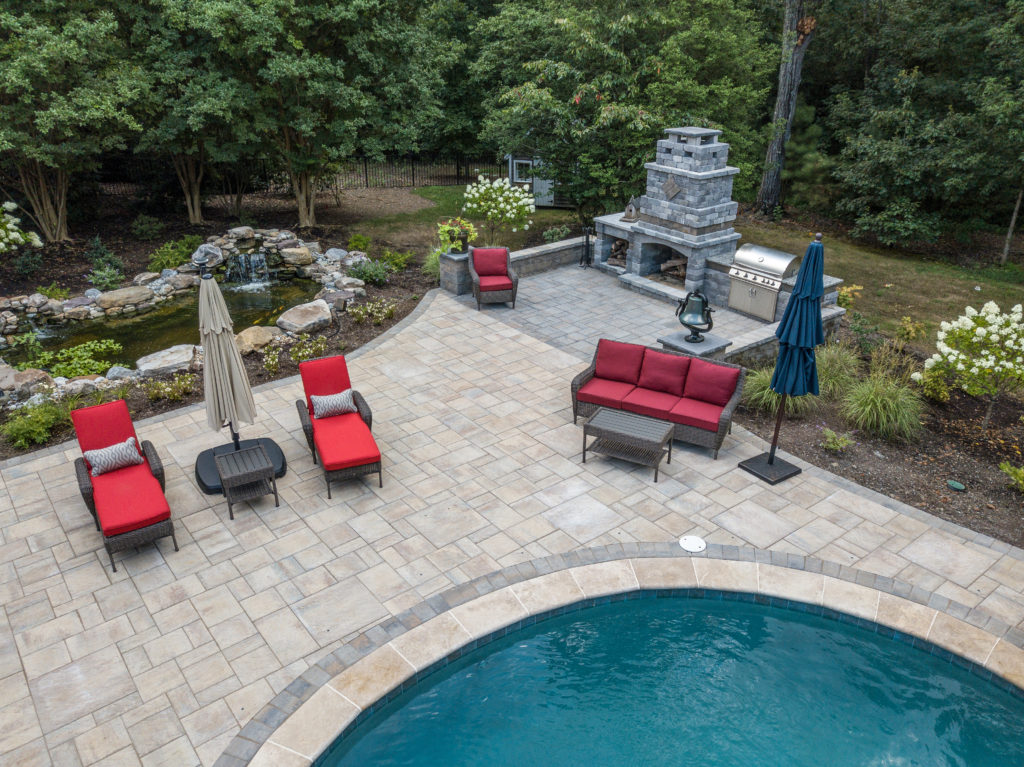 The patio features a fire pit, fireplace, pool, natural pond, sauna, outdoor kitchen, integrated lighting, grill, rotisserie, and outdoor kitchen.
"The natural pond is pretty incredible," says Ellington. "We partnered with a specialist who actually shaped the pond by hand and then installed custom, color-matched natural stone and other materials to finish the space."
Along with color matching the natural features and the paver stones themselves, Ellington's team also utilized a stunning array of products to create a diversity of texture and appearance throughout the outdoor living space.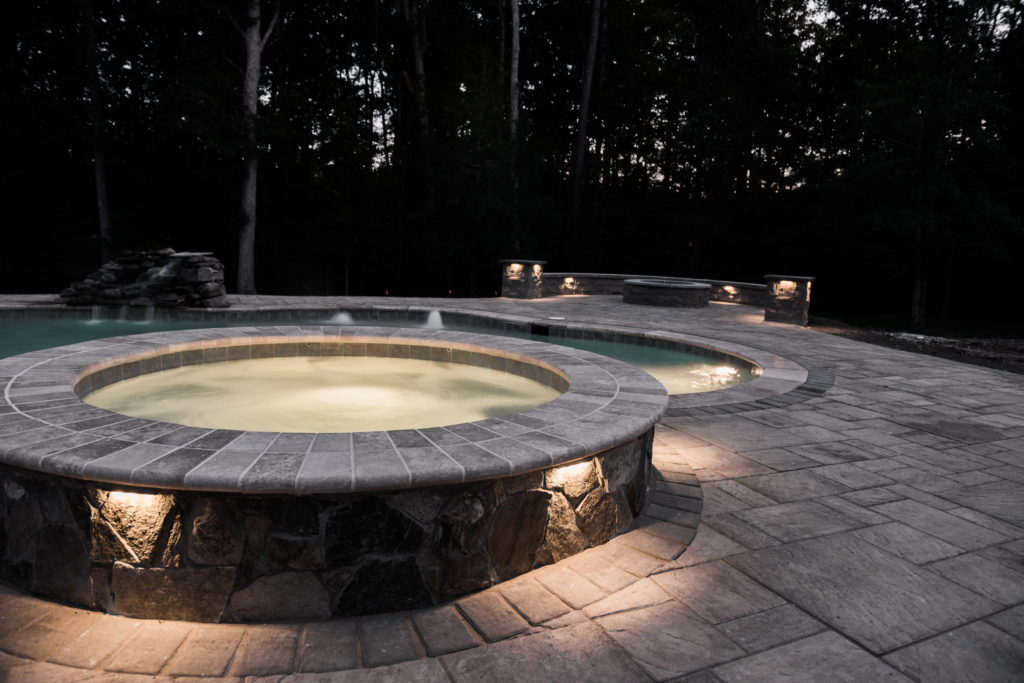 "We mixed Brisa and Dublin on a few of the walls and fire features, which is something we've never done before. It took a few periods of trial and error and some cutting, but the end result is a totally custom installation," says Ellington.
Outdoor living spaces like this one provide a perfect place to spend time with friends and family. No matter what size the space is, nothing compares to grilling out or spending a beautiful summer day with the ones you love.
This winning project was completed using Brisa Freestanding Wall, Chatham Natural, CottageStone Textured, Dublin Traditional Fire Place, and Dublin Freestanding Wall.
Want to be a HARDSCAPE HERO? Submit your project here. Follow us on Facebook and Instagram to see more beautiful photos from winning HARDSCAPE HERO jobs.