It's cookout season! With spring in full bloom, it's time to spend time outside with friends and neighbors around the fire pit. Below are some unique recipes to help you veg out.
Grilled Eggplant, Halloumi and Pesto Burgers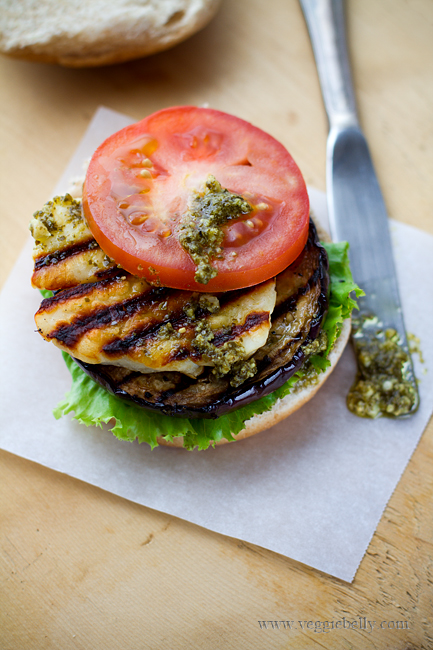 Photo: VeggieBelly
One great thing about vegetarian recipes is cooking with things you can't pronounce. Halloumi is a distinctly flavorful cheese from Cyprus, and when combined with pesto it gives a nutty, smoky and creamy flavoring to the eggplant. Recipe from Veggie Belly.
What You Need:
1 medium eggplant, weighing about 1 lb.
3/4 tablespoon olive oil
3/4 tablespoon balsamic vinegar
1/4 teaspoon dry Italian seasoning
Salt and pepper
4 oz. halloumi cheese
4 medium-sized burger buns
4 teaspoons pesto
Mayonnaise, according to taste (optional)
2 leaves of lettuce, cut in half
1 large tomato, cut into four slices
What To Do:
Cut the eggplant into ½ inch thick rounds, at its widest part. Place the sliced eggplant in a shallow dish.
Whisk together the olive oil, balsamic vinegar, Italian seasoning and salt and pepper. When adding salt, keep in mind that the halloumi is an already salty cheese. Pour the whisked ingredients over the eggplant rounds, and toss well to coat.
Slice the halloumi into ½ inch thick slices.
Heat a grill to medium-high heat.
When the grill is hot, arrange the eggplant slices on the grill, and cook for about 6 minutes on each side or till the eggplant is cooked.
Grill the halloumi slices on both sides till golden grill marks appear—about 2 minutes per side.
Remove from the heat and assemble.
Grilled Cabbage Wedges with Spicy Lime Dressing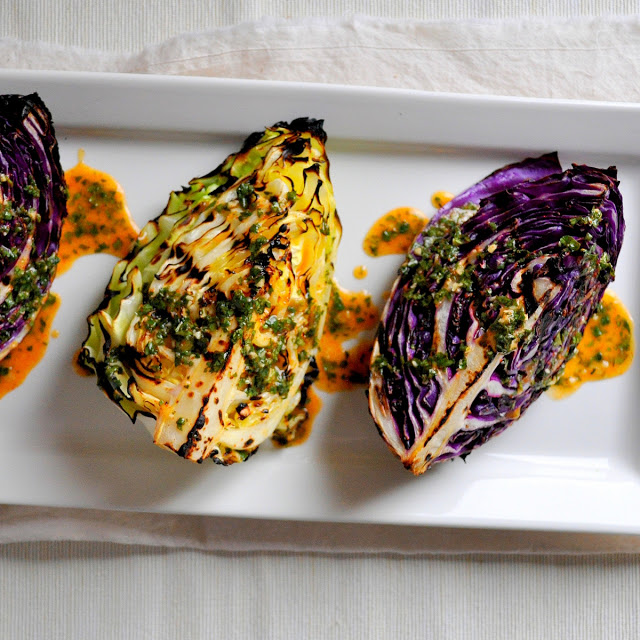 Photo: Breanna's Recipe Box
This recipe from Breanna's Recipe Box is a fresh and easy-to-assemble dish that can be used as an appetizer or an entrée. These wedges might be the perfect spring treat.
What You Need:
1/4 cup fresh lime juice
1/4 cup extra-virgin olive oil
1 teaspoon fish sauce
2 garlic cloves
1/4 cup cilantro leaves
1/2 teaspoon salt
1/2 teaspoon cayenne
1/2 teaspoon sugar
1 head of cabbage
Canola oil
What To Do:
In the bowl of a food processor or blender, combine the lime juice, olive oil, fish sauce, garlic, cilantro, salt, cayenne and sugar, and pulse or blend until the sauce is pale orange in color.
Set aside.
Remove the loosest, toughest outer leaves from the cabbage; cut into eight evenly sized wedges. Do not remove the stalk or inner core.
Lightly brush the wedges with canola oil.
Place the wedges on the grill, and then cover. Cook for 5–7 minutes or until the edges of each layer are blackened and the cabbage is beginning to soften.
Flip each wedge over, cover the grill, and cook for an additional 5–7 minutes on the other side.
Remove the cabbage when it starts to wilt but is still firm in the middle. If necessary, turn the heat down or move the wedges to a cooler part of the grill so they don't burn. Don't worry about the blackened edges; you want a lot of grill and char marks on the cabbage.
Remove the cabbage from the grill and place on a serving plate. Pour the dressing over the top of the cabbage and serve immediately with wedges of lime.
Portobello & Peach Burger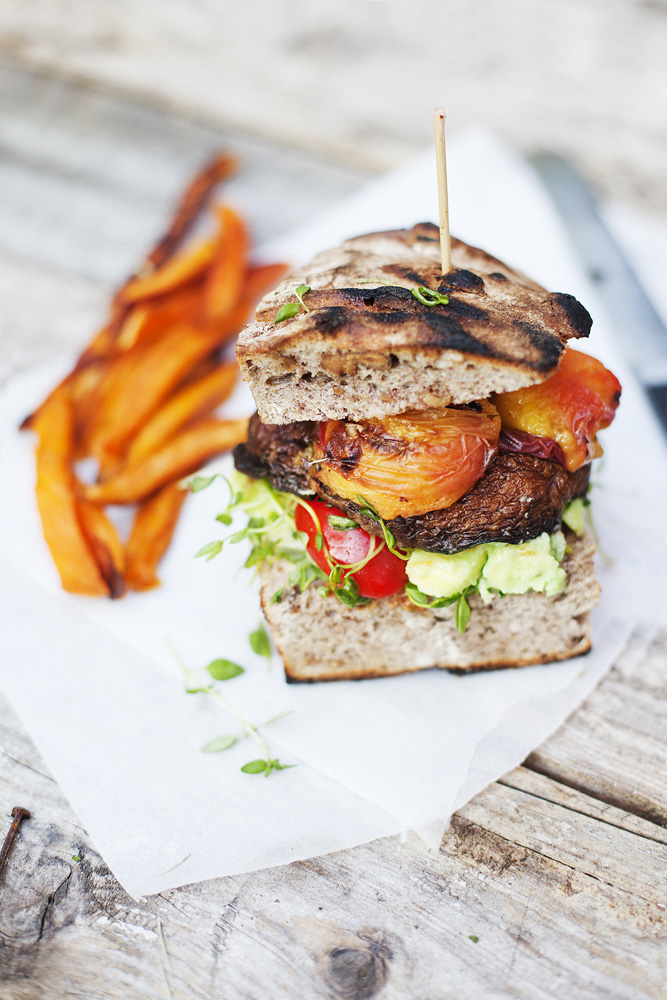 Photo: Green Kitchen Stories
Portobellos are a commonly used fresh alternative to hamburgers at cookouts. While veggie burger patties have come a long way, Portobello mushrooms are still a great way to give your vegetarian guests a filling and fresh meal option. This recipe from Green Kitchen Stories uses the staple Portobello base but adds a springy peach flavor.
What You Need:
6 Portobello mushrooms
6 peaches
6 sweet potatoes
6 burger buns
5 small Roma tomatoes, sliced
5 small spring onions, sliced
Fresh thyme
Olive oil
Salt and pepper
Marinade Ingredients
4tablespoons olive oil
2 fresh rosemary sprigs
1 tablespoon fresh thyme
2 garlic cloves
1/2 lemon
Salt and pepper
Guacamole Ingredients
4 avocados
5 small Roma tomatoes
1 garlic clove
1/4 cup parsley
1/2 lemon
1 tablespoon olive oil
What To Do:
Preparation: Clean the Portobello mushrooms by carefully removing any dirt from the caps with a kitchen towel or cloth; you can use a little water if needed. Pat dry. Cut the peaches in halves and remove the pits.
Making the sweet potato fries: Preheat the oven to 350°F. Cut the sweet potatoes in 1-inch thick, 5-inch long sticks. Place them on a parchment-covered baking sheet. Drizzle them with olive oil, salt and thyme and put into the oven. The fries need around 30 minutes before they are ready, but you need to turn them after 15 minutes.
Making the marinade: Pour the olive oil into a small bowl. Add one chopped rosemary sprig, chopped thyme, mashed garlic, freshly squeezed lemon juice and salt and pepper to taste. Mix well together. Use the other rosemary sprig to brush the mushrooms and peaches with the marinade. When the grill is ready, grill the Portobello and peaches for about 3–4 minutes on each side, while you use the rosemary stick to brush the marinade over them once more.
Making the guacamole: Roughly chop avocados, tomatoes and parsley. Add them to a small bowl with mashed garlic. Squeeze lemon juice over the mixture, and mash everything with a fork. It's okay if it stays a little chunky.
Assembling the burger: Slice the buns in halves. Let them get some color on the grill. When done, place a big dollop of guacamole on the bottom bun, and add pea sprouts, tomatoes, spring onion, one Portobello mushroom and two peach halves. Add the top of the bun, and insert a stick to hold it all together.
Grilled Summer Herb Garden Pizza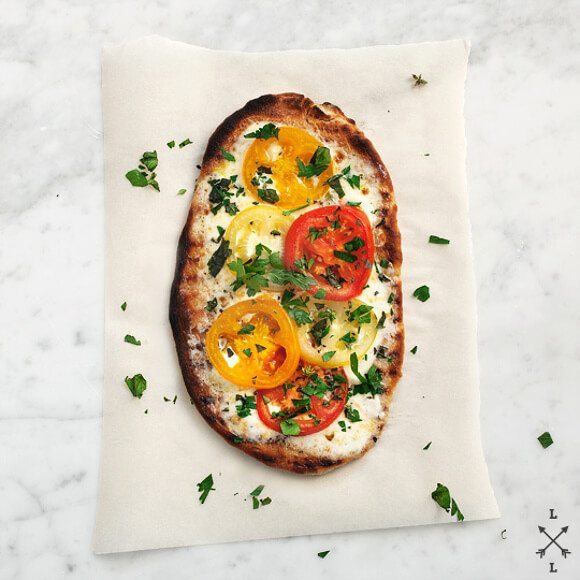 Photo: LoveandLemons
It's no secret that grilled pizzas are delicious. This easy recipe from Love and Lemons lets you get a healthy dinner together in just 30 minutes.
What You Need:
Pizza dough
Garlic oil, for brushing the dough (1 garlic clove + 1/4 cup olive oil)
Fresh mozzarella cheese, sliced
1–2 small tomatoes per pizza, sliced
Fresh herbs, chopped (thyme, sage, basil and parsley)
What To Do:
Heat your grill or grill pan to a medium-high heat.
Roll out your pizza dough with a bit of flour so that it's not super-sticky. Divide into four ovals for individual pizzas.
Brush the dough with a bit of the garlic oil and place on the hot grill. How long you will grill each side for will depend on how thinly you have rolled out your dough. Once the first side has nice black grill marks, flip it over. Cook until done.
Add cheese, tomatoes and herbs, and broil until the cheese is melted.
Get a fresh take on grilling with these tasty spring recipes before pulling up a chair and enjoying a healthy meal with friends and family. Need the perfect drink? Check out these floral spring cocktails: