If the name of October's Hardscape Hero sounds familiar to you, there's good reason: this is Donald Sherbeyn's record-setting seventh time winning the honor, along with two wins for Belgard Hardscape Hero of the Year. You might even say he's a hardscape legend.
And as his company, Sherbeyn's Landscape LLC, approaches its fourth decade as a go-to hardscape design and installation resource in Central Virginia, it's a name you'll be hearing for a long time to come. 
---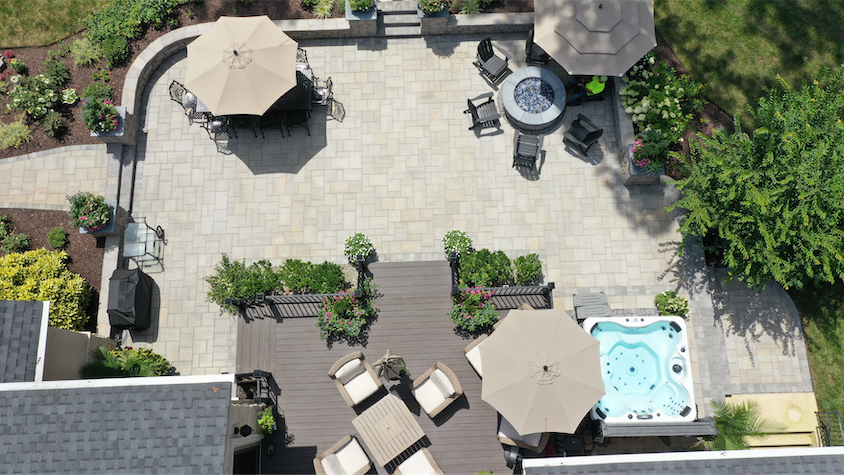 ---
So how does a regionally famous hardscape company continue to attract new business year after year? Exactly like you'd think: "It's word of mouth," says Sherbeyn. When asked how he got connected with the homeowners of this latest winning project, he says "As always, our reputation opened the door for us and got the opportunity."
---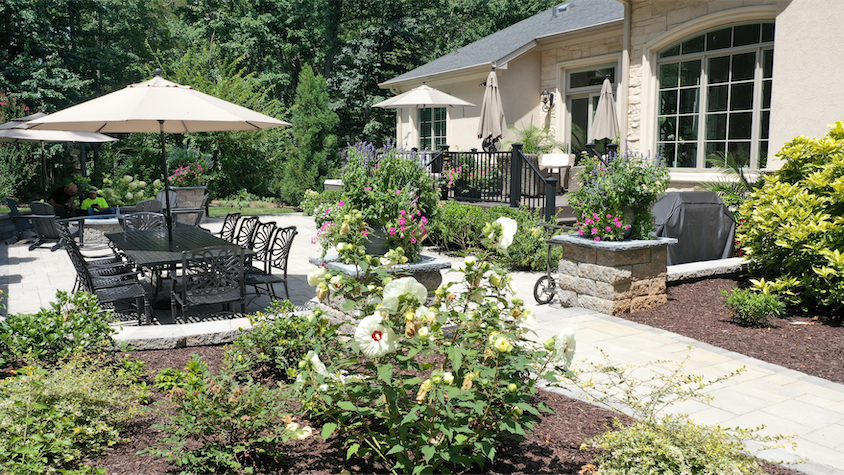 ---
The opportunity in this case was one that not even the homeowner anticipated. Their goal in contacting Sherbeyn was to find someone to carve out a little bit of usable space in their oddly segmented backyard; what they got was a visionary who saw beyond the existing obstacles and created a veritable oasis for them right outside their back door.
Of the yard, Sherbeyn explains: "It was a beautiful space, but they had this funky little wrought iron fence that cut it into strange angles right up against the deck." And the fence wasn't the only issue – the beautifully wooded lot also came with a number of inconveniently located trees. "So the yard looked tiny, and was essentially unusable," he says.
So he knew he needed to open up the space to prove to the homeowners that they did, in fact, have a lot of usable yard to work with. "I opened their eyes to the idea that we could push the fence out, we could push the trees out, we could get them the space they wanted." 
His first step was to address the oddly jumbled fence line: "We tore out the fence and painted some lines so that they could see what we were thinking," he says.
---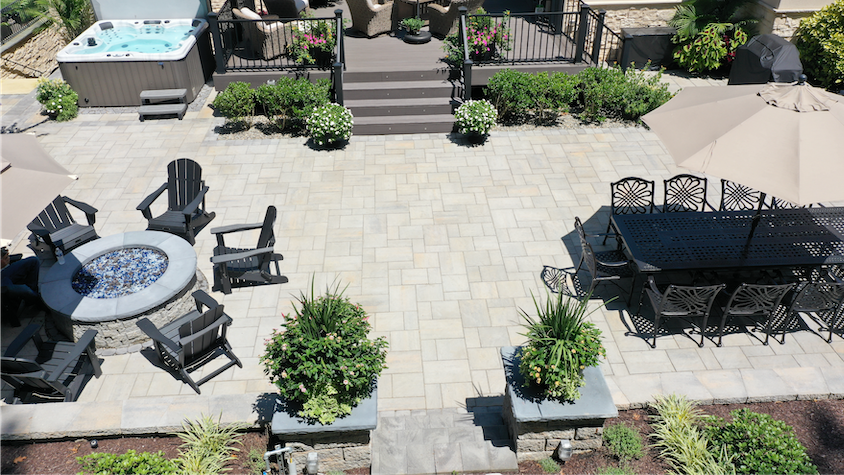 ---
Next up: the trees. Out of respect for the home's beautifully woodsy setting, Sherbeyn and his team relocated a number of trees rather than cutting them down. "We moved some trees around," he says, adding that "some of those mature trees had been planted in the yard, so we pulled the trees out and moved them out to the outskirts to make space."
The homeowners, to say the least, were blown away by the new possibilities Sherbeyn had literally opened up in their backyard. Where they had hoped to eke out enough space for a small patio, Sherbeyn was able to design a dream patio of almost 1,400 square feet that includes multiple sitting and dining zones, a hot tub, and a stone fire pit. 
---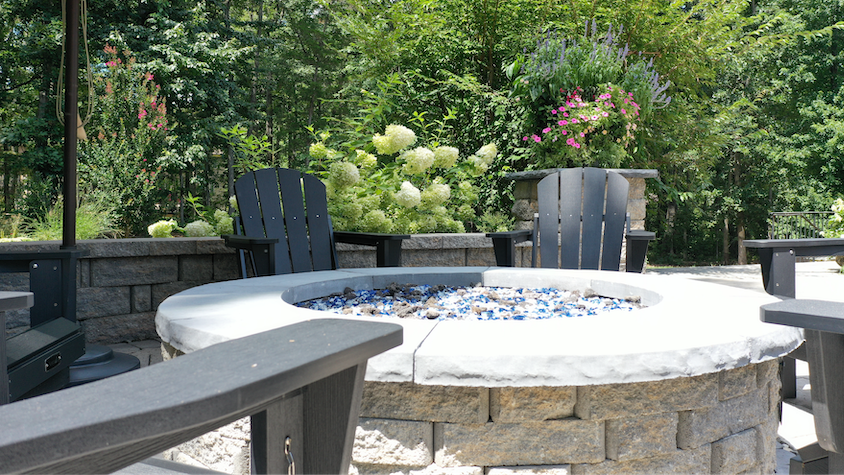 ---
And to make the area feel even bigger, Sherbeyn's team designed and installed a carefully curated collection of landscape lights to highlight the home's park-like setting. Sherbeyn likes to add the lighting in stages to make sure the homeowner gets the exact level of lightscaping that they want, which for this project ended up being a pretty extensive package. "You have the under-cap lights, column lights, uplighting in the front of the home and the back of the home," he says, continuing "We then went through the wood line at the outskirts of the yard and lit up all the specimen trees in the woodland. So yeah, basically the entire property."
---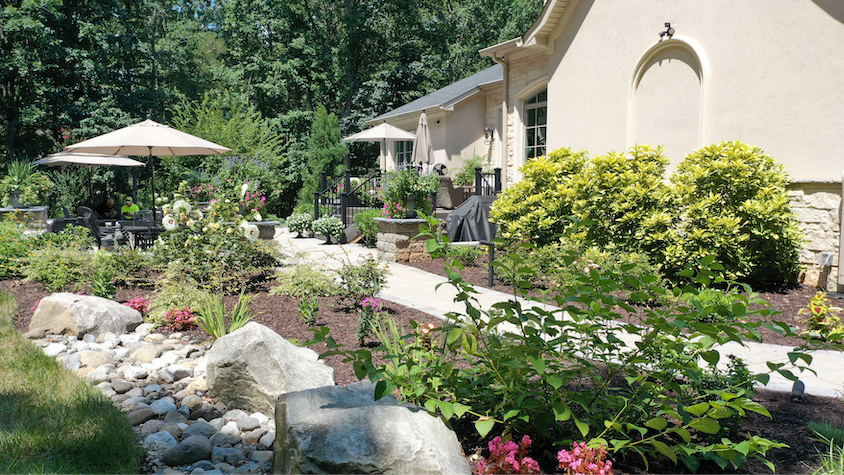 ---
The effect was magical, and really tied the hardscape elements into the more wild and undeveloped areas of the property. "There's this wonderful canopy of shadows and movement," says Sherbeyn, "when the wind is blowing through the crepe myrtles and birch trees and all other kinds of great textual trees – whether they're lit from below or above, the lights on all of those trees create some really nice shadows."
For this project, like all his previous winners, Sherbeyn stuck with tried-and-true Belgard products to bring his vision to life. Origins pavers make up the main expanse of the patio, with accents from the Highland collection for the walls, columns and caps, as well as the fire pit. He also used Belgard's Aqualine permeable pavers under the hot tub to ensure a level and watertight base, and then tied them in as an accent around the fire pit as well.
---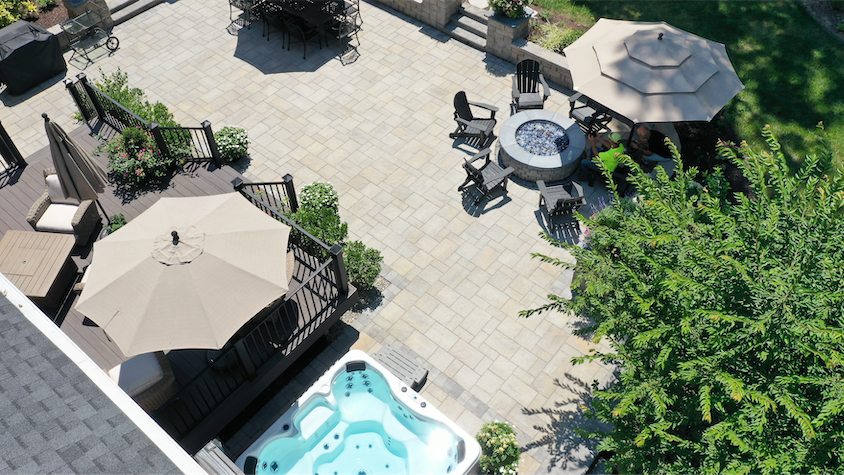 ---
Reliable products and great design may be two keys to Sherbeyn's success, but he gives much credit to his team for his almost 30 years at the top of the Virginia hardscape scene. He says of his crew, "If you treat your team with respect, if you teach them and train them, respect them, give them what they need – over time they may move in and out, but those that stick around, it's worth it."
And he feels the same about his dealer team at Belgard. "They're hard-working, they're attentive to our needs, they ask the questions that you don't even know need to be asked just to ensure that we have what we need," says Sherbeyn. 
With a solid catalog of products to work with, and dedicated teams both on his job sites and at his Belgard dealer, it's safe to say that this won't be the last time we'll see the name Donald Sherbeyn on the list of Hardscape Hero winners.
Want to be a Belgard Hardscape Hero? Submit your project here. Follow us on Facebook and Instagram to see more beautiful photos from Hardscape Hero winners.
The following Belgard products were used in this project:
Highland Stone retaining wall, column, XL cap and coping
Highland Stone firepit kit
Origins Pavers in 12" and 6×9"
AquaLine permeable pavers