All About Belgard's Free Contractor Club and Homeowner Packages
With the rising cost of, well, everything these days, it's nice to get a little something for free. It's even nicer to get a lot of something for free, which is exactly what you'll get when you join the Belgard Contractor Club, our preferred contractor program.
---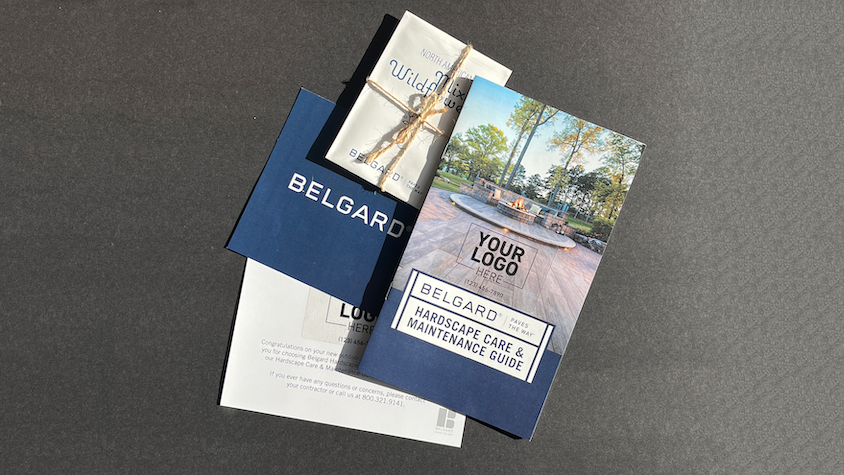 ---
One of the biggest perks of the free-to-join program is the Homeowner Package, which not only gives your business an easy and impactful way to thank a customer at the end of a build, it also helps you expand your client base by reaching out to your best source of potential new business: your client's neighbors!
First, to thank a customer whose project you just finished, Belgard Contractor Club will send a customized thank-you packet courtesy of your business, with your logo and contact information prominently featured. The packet includes practical items like a seasonal paver care guide as well as an added gift like wildflower seed packs. 
When you put in the request for Belgard to send the Homeowner Package to your customer, you'll also have the option to have co-branded postcards mailed to their neighbors, who watched eagerly as you built out a dream outdoor living space just down the street. Our team targets the addresses based on your input, then mails the postcards on your behalf for free – you don't even pay for the postage.
---
---
Ben Brudick of All Master Home Services knows the value of the Homeowner Package, which his company has returned to time and again both to thank existing customers and to acquire new ones. "We've sent over 100 homeowner packages in the last year and have certainly seen a benefit from it," says Brudick. "Homeowners appreciate the additional information, and we get the opportunity to get in front of more customers with the neighbor postcards – all for free!"
In addition to these direct-to-homeowner offerings, Belgard Contractor Club also offers a wide selection of co-branded merchandise to help your company put its best foot forward. Your business can choose from a variety of free marketing items like display banners, yard signs, door hangers, graph paper pads, etc., as well as our apparel collection that includes t-shirts, sweatshirts, raincoats, work gloves, and more. 
Co-branding ensures that both the Belgard logo and your company logo appear on every item, setting you up to look professional on the job site while also advertising your company. Brudick says that his company takes full advantage of the free logo merchandise, which his team proudly wears on job sites and beyond. "We have our own shirts," he says, "but our guys love having an item with both our logo and Belgard's – you know, just for something different."
And for Brudick, it's not just the shirts – his business happily reaps the benefits of everything Contractor Club has to offer. He says, "It's a great program, we love it and will absolutely continue to utilize it – yard signs, door hangers, all of it." Like Brudick, most Contractor Club members become our best ambassadors once they get to know the free perks and effective marketing tools of the program.
Learn more about the Belgard Authorized Contractor Program, and how to become a member and start seeing the benefits of our Homeowner Package and co-branded merchandise perks.