Micah Miller took a long and winding road to get his company where it is today, and while Easton Outdoors hasn't yet reached its ultimate destination, the latest leg of his journey has him at a pretty cool pit stop: as Belgard's Hardscape Hero for November 2022.
---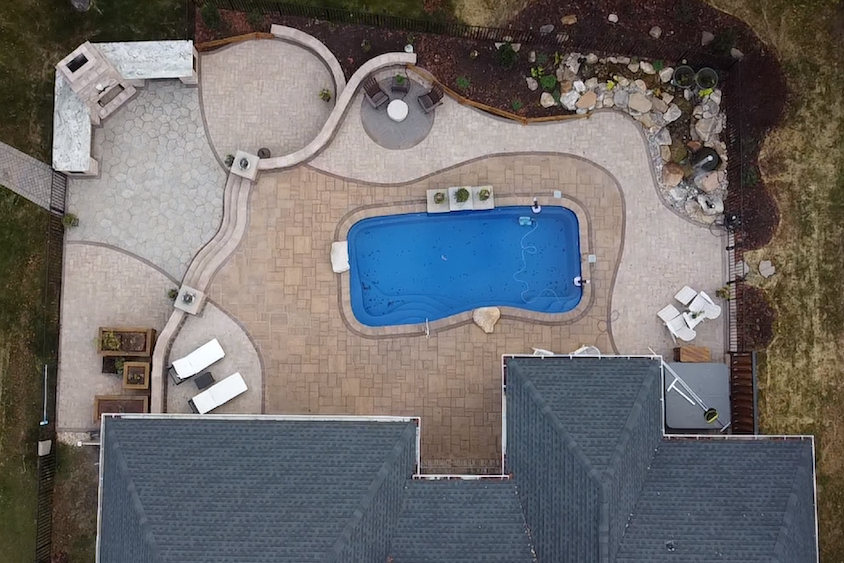 ---
Miller got into the outdoor design and installation business the way so many people do – with a lawnmower. "I started cutting grass in high school just as a way to make extra change here and there, and then I didn't really ever stop," he says. What started as a teenage side hustle quickly grew into a full-fledged landscape and maintenance business – and while quick growth is the dream of many small business owners, it does come with a downside. "I got to a point where I almost went bankrupt as I was growing my maintenance business," he remembers.
But Miller knew he wasn't the first small business to face these types of struggles, so he reached out for help. "I went to a business development group and I hired them as coach to help me understand what my numbers were and what was going on with the business," he says. "And I realized that I really couldn't make the business succeed just cutting grass anymore – I really needed to figure out a way to diversify."
---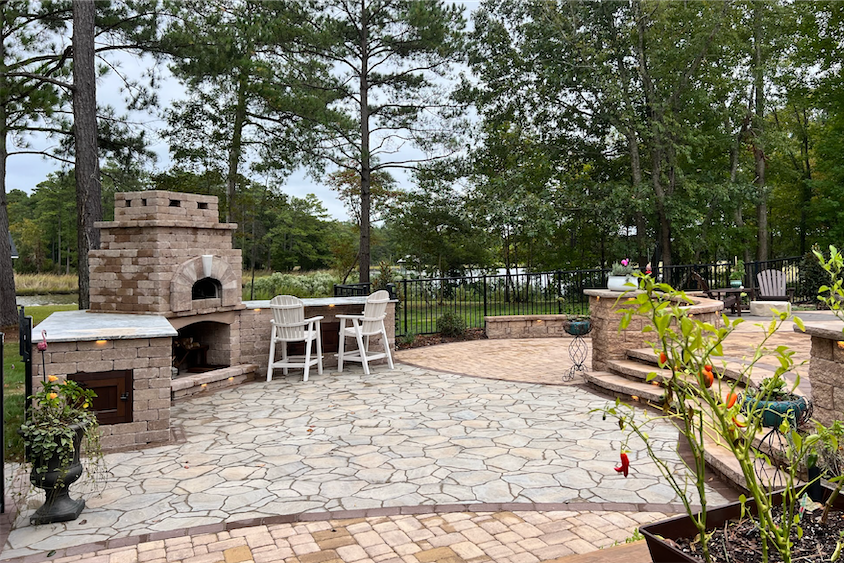 ---
That diversification came in the form of installing water features like fountains and ponds, which are still a mainstay of Easton Outdoors' portfolio. But Miller found that a water feature job often came along with another request: a patio to surround it. "We found that a lot of people need patios – and that a lot of people just aren't getting the customer service they want in the contracting world. People don't call them back, they don't get return texts, responses to emails, they don't get estimates for weeks."
That's when a light bulb went on for Miller. "I had an idea: what if I built a business that was focused on communication and on delivering an experience," he wondered, "instead of focusing so heavily only on the finished product." So he set out to build that business, "where we focus on the client experience from start to finish."
And that's just what Miller has built with Easton Outdoors, which has a stellar reputation in the Hampton Roads area – they're even building out a new turtle habitat at the Virginia Zoo in Norfolk. But that reputation still pulls in plenty of residential jobs too, like the home for which Miller won Hardscape Hero.
---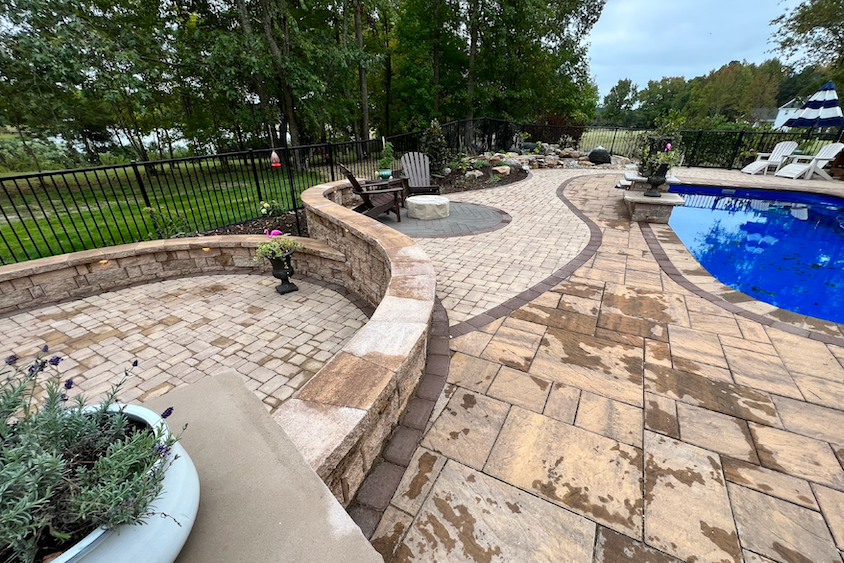 ---
"We've done a ton of work in that neighborhood," says Miller, "and had a good reputation, so the homeowner reached out to me to do a design." The home sits on the edge of a protected waterway, and the Army Corps of Engineers had recently assessed the property and redrawn its protective buffer (RPA), which happily gave the homeowner more usable space to work with. "So he called me to figure out how to rebuild the space because he didn't really know what he wanted – he just knew that he's got the extra space and he wanted to use it."
---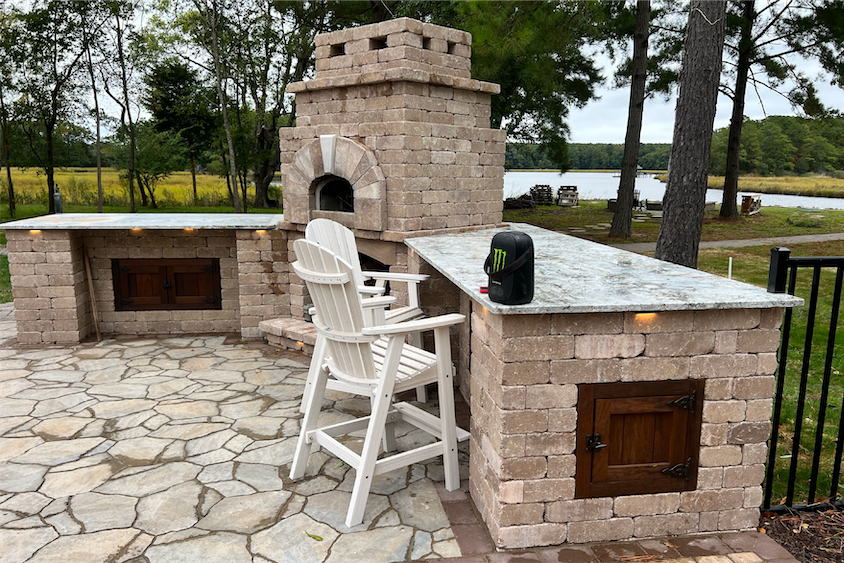 ---
The existing backyard design already featured a pool and a small patio, so Miller's mission was to reconfigure those features into a larger design complete with hot tub, pizza oven, kegerator, and – of course – a water feature. The former patio was carefully disassembled, and the durable Eagle Bay (now part of Belgard) pavers were incorporated into the new design.
But Miller's favorite part of the project (and also one of its greatest challenges) was that pizza oven, a custom-ordered piece shipped over from Italy that his team was charged with fitting into the patio buildout. "We took a Belgard Weston Stone fireplace kit and used the bottom of the fireplace as a wood box," he explains. "We actually framed out and poured a concrete slab on top of what would normally be the opening for the flue," he says, using the main components of the kit "and then stuck that Italian wood-burning pizza oven in the middle of it." The result is a high-end one-of-a-kind built-in pizza oven that positively thrilled the client.
---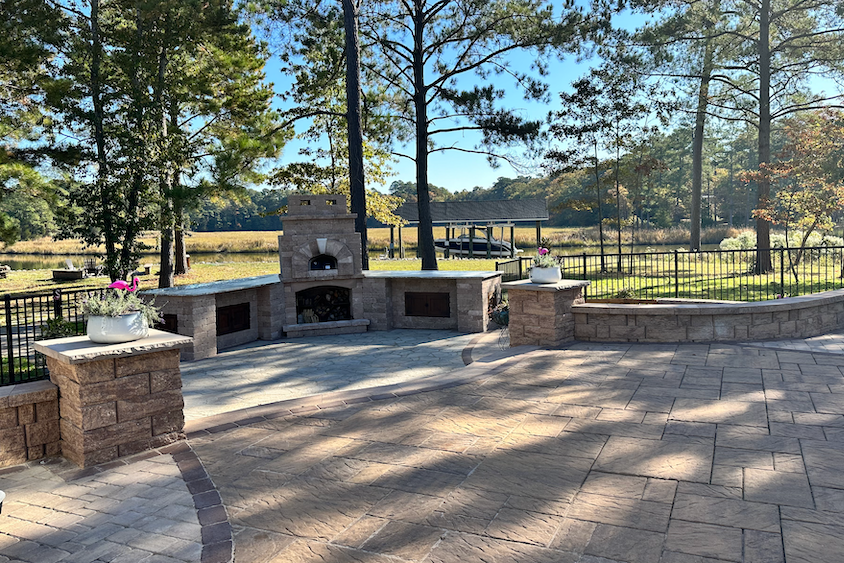 ---
Miller's other favorite element of the project are the curved walls that bisect the patio to establish separate seating zones for entertaining. The unusual design was a fun touch by Miller, who says, "I did something different that I hadn't done before, where I had two walls split off of each other." He further explains, "I kept one wall going around the curve and I had one curve in the opposite direction and open up. I really like how that turned out."
He also likes how his curved path to success has turned out, with his company considered a go-to resource for hardscaping and water features in Eastern Virginia. He's come a long way from his grass-cutting roots, and Miller has his eyes firmly set on the road ahead.
Want to be a Belgard Hardscape Hero? Submit your project here. Follow us on Facebook and Instagram to see more beautiful photos from Hardscape Hero winners.
The following Belgard products were used in this project: