Meet June's Hardscape Hero, JT Hale from Atlantis Patios.
JT lives and works in Newport News, Virginia and has three years of Hardscape experience. Though, as JT will point out, the number of projects he's completed in that three years have given him a great deal of experience.
JT and his team specialize in transforming residential outdoor living spaces with decorative walls, landings and steps, fire pits, and columns.
His most recent project involved creating a raised patio with a large landing and steps coming out of the house onto a space that included a seating wall, columns, and fire pit.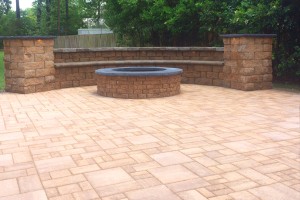 To complete this project, JT worked with his client to choose Eagle Bay products that would work together visually and functionally.
According to JT, his favorite part of the job is the before and after – building something a client truly loves and gets excited about. Making their vision become a reality is what I really enjoy.
JT's Hardscape Planning Tips
"The best time to start planning a patio is Winter because no one is rushed and everyone can take their time with design, and specs with plenty of time to choose options and features," advises JT.
He also recommends that homeowners approach a project with a reasonable budget and make sure they're ready to get everything they want. Don't make a patio too small, or decide against certain features based solely on a reduced budget if that's what you really want. A little planning and prioritizing can go a long way.
Contractors: Submit Your Project To Become A Hardscape Hero
Oops! We could not locate your form.