Winning has its perks–just ask Wayne Long of Albemarle Walls & Pavers. The two-time HARDSCAPE HERO, 2018 HARDSCAPE HERO of the YEAR and 2018 Anchor Wall of the Year winner secured his most recent winning project after the homeowner saw his feature in the Eagle Bay catalog.
"The homeowners saw our project in the Eagle Bay catalog and called Eagle Bay to get in touch with us. After talking with them, we decided our team would come up from North Carolina to install the patio," explains Long.
Using the winning project from 2018 as a reference for the design, Long created a version that would integrate into the new space.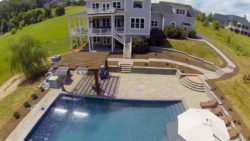 "It was a challenge. The homeowners essentially wanted a copy of the other project, but because they live in a mountainous region, we had to account for severe grading issues. We also wanted to be creative and give them what they wanted without copying the other project exactly," says Long.
To combat the grading issues, Long and his team designed and installed a tiered retaining wall system and walkway. They custom cut all of the stairs for a perfect fit and even re-graded the area under the deck of the house, so that the homeowner could install a hot tub.
"The toughest part of the grading was drainage. In order to prevent any pooling, we created a main channel drain around the whole retaining wall system. That way, any stormwater will run off into one designated area, keeping moisture from building up around the patio and preventing the homeowners from having to maintain several drains," Long explains.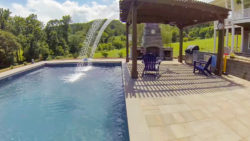 As a way to further customize the project, Long and his team custom cut a Dublin Traditional Fireplace to complement the outdoor kitchen. They also installed a hidden pool cover, integrated grill and mini-fridge.
"The homeowner was incredibly excited about the project. He flew his drone overhead every day and created a pretty cool time-lapse of the installation. His excitement wore off on the crew and we had a really fun time building out this patio," says Long.
As the project was wrapping up, the homeowner went so far as to let Long and his crew swim in the new pool and partake in nightly cookouts.
"I love building relationships with my clients. We make it our goal to provide exceptional service and I'm happy to say this project was a great experience," says the HARDSCAPE HERO.
The winning project includes a pergola with an attached water feature, outdoor kitchen, terraced patio, swimming pool and fireplace.
The winning project was completed using Chatham Natural, Belgard Belair Wall, Dublin Woodbox,  Dublin Traditional Fireplace Kit.
Want to be a HARDSCAPE HERO? Submit your project here. Follow us on Facebook and Instagram to see more beautiful photos from HARDSCAPE HERO winners.