For the Grays, winning is a family tradition. Jeff Gray and son Jeffrey are no strangers to winning the HARDSCAPE HERO award, and Jeff also claims the title of 2017 HARDSCAPE HERO OF THE YEAR. Their latest winning project shows the same exemplary craftsmanship and skilled design that continues to wow their clients and win awards.
"The homeowners lived down the street from another project we'd done," says Jeffrey Gray. "When they bought their new house, they called us to renovate the patio. The pool and some other structures were already there, but the whole area was very disjointed."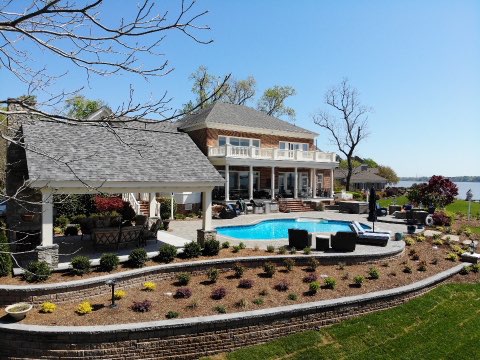 The team at Outdoor Visions had to deal with some significant elevation problems while finding a way to connect all of the existing outdoor features into one cohesive outdoor living space.
"There was a nearly eight-foot drop left by the diving board side of the pool," Jeffrey explains. We started there and worked the project out to connect the outdoor living room, fire pit and lower levels. We had to build the area up, so we created a terrace of landscaping and retaining walls."
The next step was combining all of the features. The outdoor living space includes a deck around the pool, a fire pit area, an outdoor living room, an integrated herb garden, walkways to the drive and to the lower patio area, with a second fire pit by the water.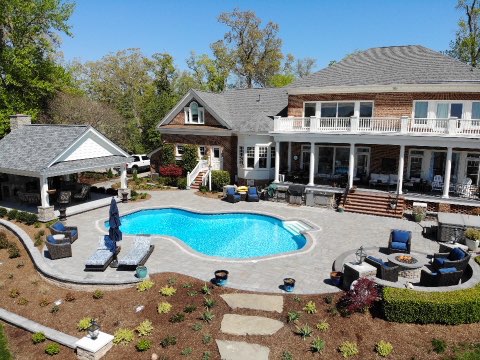 "It was a lot," Jeffrey says. "At first, the homeowners just wanted us to re-do the deck around the pool and add the fire pit area. But as we started really exploring the design, they saw the benefit of creating a cohesive outdoor living space. That gave us the freedom to design something incredible, and they were thrilled with the final product."
The custom fireplace attached to the outdoor living room pavilion took on added significance as the Grays finalized the designs. The team at Outdoor Visions enlisted the help of Sprinkle Masonry to create the custom fireplace.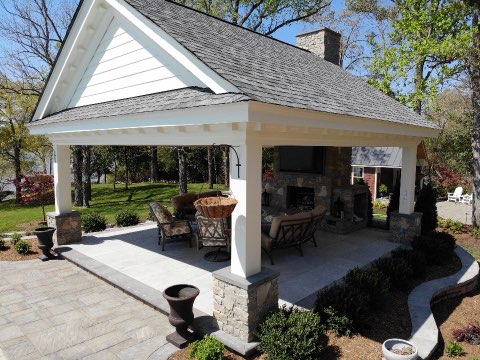 "This was really special," Jeffrey states. "Sprinkle Masonry was founded by the homeowner's late father, and their foreman for the job was one of his old crew members and friends. It was incredible to see the homeowners and foreman connect and share stories while he built this beautiful centerpiece for their outdoor space. It's great to know they'll be creating new memories there."
For the project that has everything, Outdoor Visions by Jeff Gray did an incredible job blending features and going above and beyond client expectations to create a truly special space.
The winning project was completed using HighlandStone Retaining Wall, Chatham Natural, CopingStone, and a HighlandStone Fire Pit Kit.
Want to be a HARDSCAPE HERO? Submit your project here. Follow us on Facebook and Instagram to see more beautiful photos from HARDSCAPE HERO winners.