If teamwork makes the dream work, then business partners Tyler Marshall and Bruce Clay are truly living the dream with their company, Oak Valley Landscape & Hardscape. And after working together for almost a decade, the pair has found the winning formula for making their clients' hardscape dreams come true.
---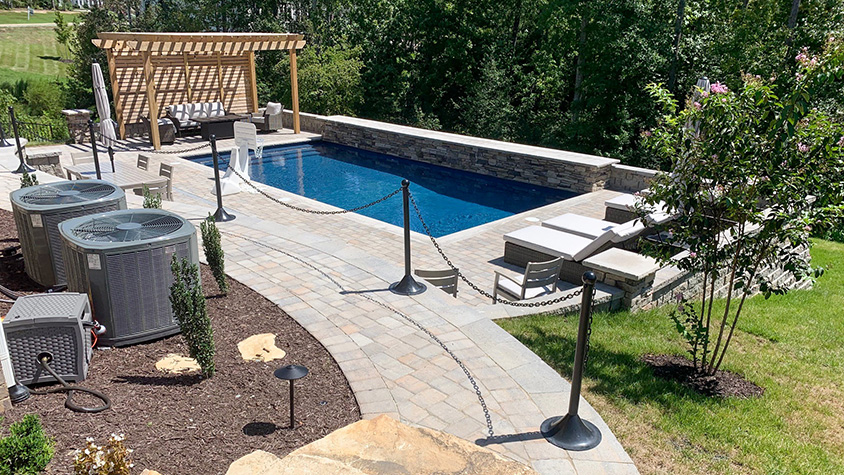 Marshall, the affable Director of Field Operations, gives all credit to his team when asked about Oak Valley's secret to success and the company's second Hardscape Hero win, humbly saying that "all I really do is manage crews, so I don't really want to steal the thunder of my guys out there doing the jobs."
And this job, in particular, required the expertise of his entire team to solve what was an almost impossible ask by the homeowners.
The property, perched on the edge of what can only be described as a cliff, had a backyard that was so sloped and graded that the homeowners had never figured out a way to enjoy the area. "It's really just a cliff when you walk out their back door," says Marshall. "It was pretty much unusable space."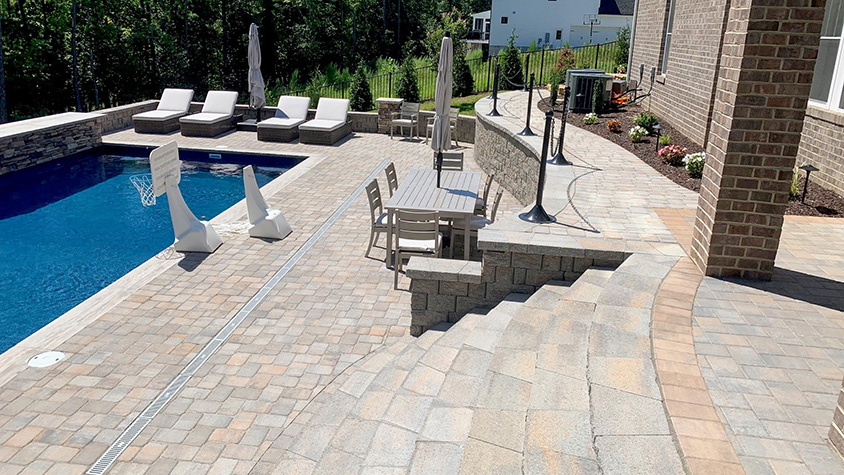 The homeowners had contacted several local contractors to see about solving their backyard puzzle, but none were up to the task – that is, until Oak Valley stepped in.
"I heard from the homeowners that there were other local companies that honestly weren't sure if their requests were even possible," says Marshall. "They didn't really know how to bid it; they were just putting Hail Mary numbers on their estimates, and the bids just weren't realistic."
But Marshall and his team – including Clay, who serves as Oak Valley's Director of Design – knew that there was a solution to the steep problem being presented. Marshall explains that "we had to reach out to the county and have a civil engineer come out, and together we came up with the concept." It was a plan that included a truly ambitious retaining wall: "Because the yard was on such a cliff, there's about a 12-foot geo-engineered wall holding up the pool and the entire patio."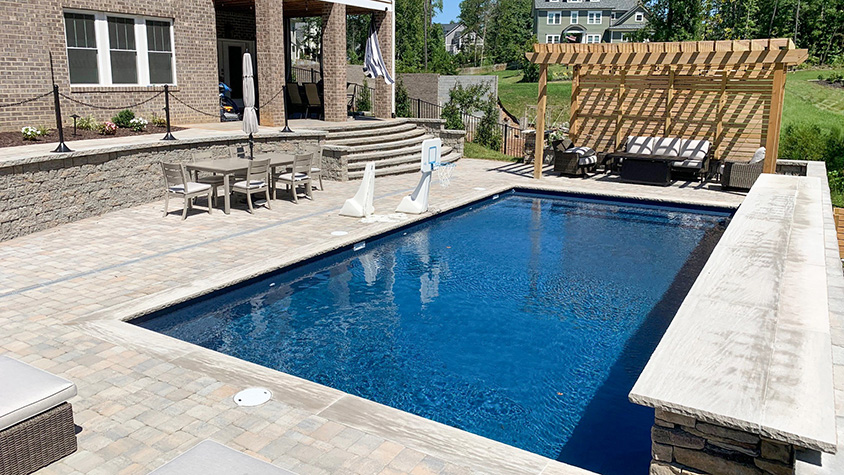 In true modest Marshall fashion, he gives most of the credit for the showstopping result to his team. "My business partner Bruce is a landscape architect, and he assessed the grade and elevation and created a proposal for the homeowners," says Marshall. "He put on paper what nobody else could visualize – to be honest, this whole project pretty much came from Bruce's mind."
But Marshall doesn't stop with the accolades for his designer; he knows that no project will succeed without a skilled team on the ground fulfilling the vision. In this case, that team was led by Oak Valley foreman, Jose Barrientos. "Jose pretty much ran this project — he's my eyes and ears for that crew," says Marshall, praising Barrientos' "attention to detail and the way he executed the whole job." And though Marshall may have been on-site managing big-picture items like the geo-engineering of the wall, he says "Jose pretty much brought that entire project to life."
Marshall also regards high-quality materials as part of his recipe for success, so he and Clay consider Belgard a go-to for any hardscape project. Pressed to choose a favorite product, he says, "I love the Highland freestanding wall," which was used in this build. "I'm just a sucker for that one. I'm also a big fan of the Dimensions 12" in the Cheswick color."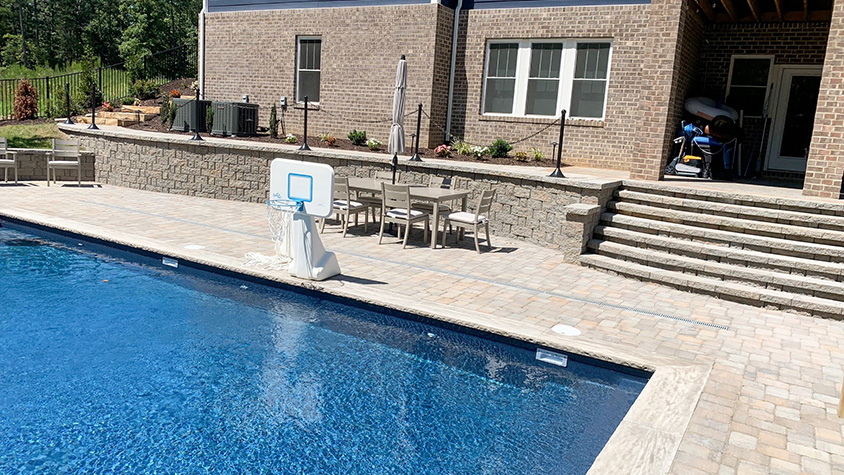 But whichever product Oak Valley chooses for an individual build, they know that their teamwork is the solid foundation on which they'll build their client's hardscape dreams. "Oak Valley wouldn't be Oak Valley," says Marshall, "without our talented crews and Bruce's designs. It's definitely a team effort to say the least."
Want to be a Belgard Hardscape Hero? Submit your project here. Follow us on Facebook and Instagram to see more beautiful photos from Hardscape Hero winners.
The following Belgard products were used in this project:
Highland Stone Freestanding Wall (Jefferson)
Highland Stone Retaining Wall (Jefferson)
Highland Stone XL Cap (Jefferson)
London Cobble (Jefferson)