Meet this month's Eagle Bay Hardscape Hero, Stevi Brockwell of Garden Sanctuaries Landscape and Design.
With over nine years' experience, Stevi has developed her skills in planning and installing patios and walkways. Her colleagues at Garden Sanctuary say some of her success comes from her ability to "read slopes like a golfer reads a putting green." It's probably a bit of both.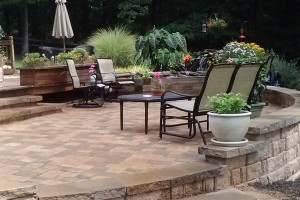 Stevi's clients were very pleased with the result. Working with the homeowners and applying her own expertise, Stevi was able to widen the usable outdoor space, fix some slope and drainage issues from the old sidewalk, and provide a much more attractive and functional entrance to their home.
Stevi's Hardscape Planning Tips
"Start planning your project during the winter to avoid the 'spring rush' of people motivated to start hardscape work when the weather starts to get nice." If you don't want to find yourself in line, "don't wait until spring fever hits."
Clients love Stevi because she tells it like it is. "Your yard will look worse before it gets better. This is landscaping, but also construction. It will end up pretty, but without the proper digging, grading and compacting the finished project will not last. It's messy work." Of course, as the pictures show, the end result is worth it!
Oops! We could not locate your form.