Congratulations to May's Hardscape Hero, Scott Prunty, owner of Solid Structures. Scott's been in the business for 10 years, and he specializes in creating outdoor kitchens, decks, fences, fire pits and pergolas.
Scott's winning project began when the homeowner finished putting in their new pool. "They had a worn-out patio and wanted to create a usable outdoor space." At first, the homeowners were a little shell-shocked by the installation cost, considering how much they had just spent for their brand new pool. After putting more thought into their decision, the clients decided to replace their entire patio. "I never put pressure on the homeowners. I gave them a few options and walked them through the catalog to show them which products I thought would work best with their style."
The biggest challenge that the Solid Structures team faced was incorporating a curved 6" Highland Freestanding wall with a water feature. The team had to work with the pool builder to set plumbing in place and insure that the water flowed properly. "We backfilled with a flowable fill so that the pavers on top wouldn't settle. The compaction would've cracked the plumbing. If that happens, it ruins the base and everything else." The new water feature adds a raised effect and is a beautiful aesthetic to the patio.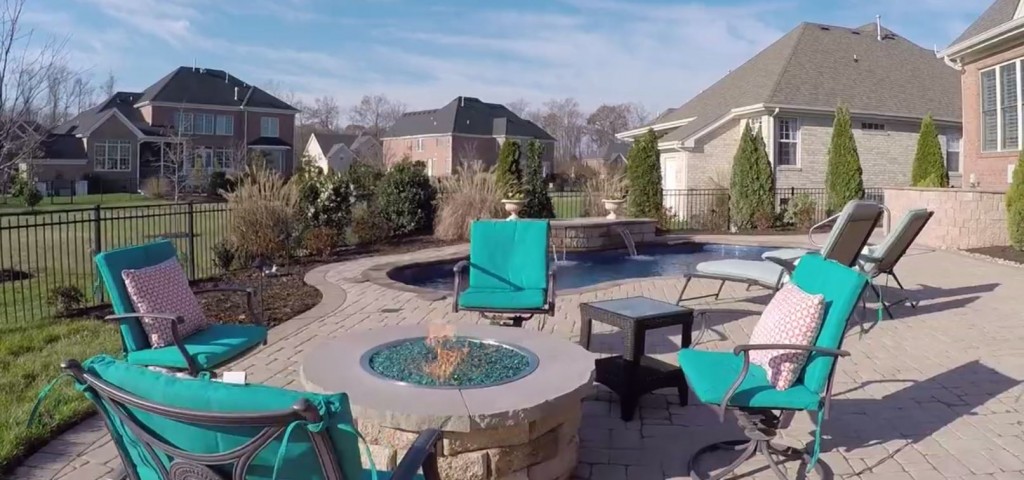 Before the homeowners contacted Scott, they just wanted to extend a weathered patio. After putting in Kingsland Traditional, CopingStone and an Aspen Fire Pit Kit, the space is completely transformed. "It was a huge decision to renovate the patio, but in the end, the homeowners were happy with their investment." Scott's recommendation to homeowners is to add a fire element to their outdoor space. "It's fun to hang out by the fire, and it gives people something to do instead of sitting in the dark." Although it's more expensive, he recommends installing a gas fire pit. "They're great because you don't need to chop wood, gather it and smell like fire. All you have to do is press an on and off button."
When asked about his source of inspiration, Scott tells us, "I enjoy the outdoors and am always looking for ways to make it more fun. Backyard pool parties and BBQ's bring friends and family together. It's all about having fun."
Want to be our next Hardscape Hero? Submit your project here.