The pandemic has disrupted business all over the world for the last two years, and hardscape design companies have been no exception. Our January Hardscape Hero, Lonny Arter, may still be feeling the ripple effects of pandemic-caused production and shipping delays, but he's also proof that perseverance pays off.
His Easton, MD company, Bryan & Sons, recently completed a job for a happy client in Ocean City, Delaware. "So that job was about a four-year process, believe it or not," he says, from the time that the homeowner first contacted him to when his team laid the final paver in her expansive outdoor living space.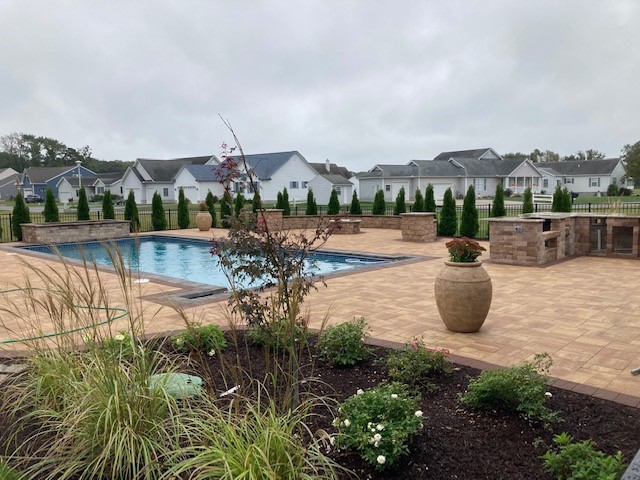 Fortunately, Belgard was able to deliver the pavers on schedule, but with a team of plumbers, electricians, and pool installers all needing various parts and materials, "basically the biggest challenge was the supply chain," says Arter. And the addition of a full-scale outdoor kitchen – although a welcome and functional upgrade to the space – didn't help the timeline. "When we went to order all of the kitchen appliances, everything was back-ordered," he says. "We ran into a lot of that. It's, it's very difficult doing business nowadays, compared to 3 years ago."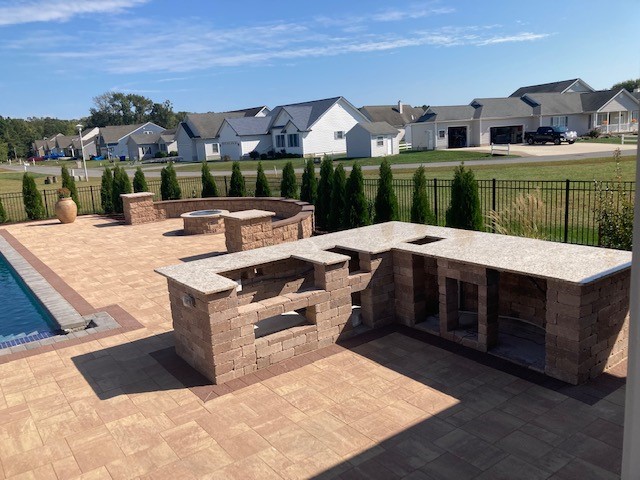 But eventually, with all necessary materials on-site, the build went smoothly and was completed in November 2021. The design incorporates every item from the client's wish list, along with some additional wow-factor features suggested by Arter and his team.
In addition to the pool, "We knew that we knew that she wanted to have a fire pit, a water feature, and an outdoor barbecue area", he says. Arter's team also built in a special landscaping feature behind the waterfall, so that the client "can have pretty flowers in there in the springtime – it's a planter bed with the waterfalls coming out of it into the pool. We also did all the landscaping around it."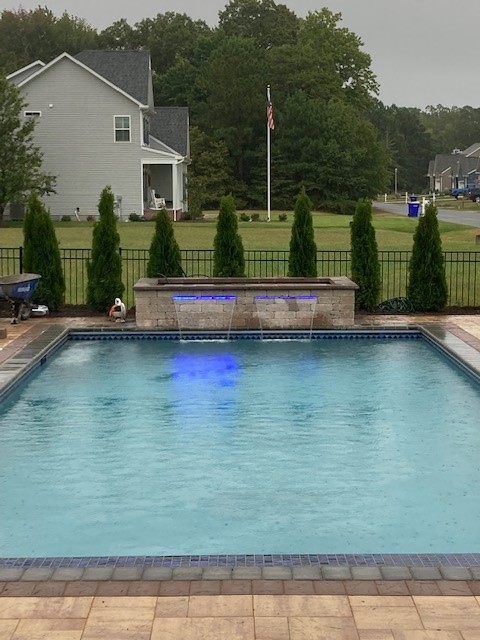 Another upgrade that will prove extremely useful at this vacation home is the built-in automatic pool cover. At the push of a button, the retractable cover rolls out of sight into a recessed groove along one short side of the pool, keeping the pool clean and the water at a steady temperature. Arter explains, "During the day it helps keep the sun from beating down on the pool, and also keeps debris out."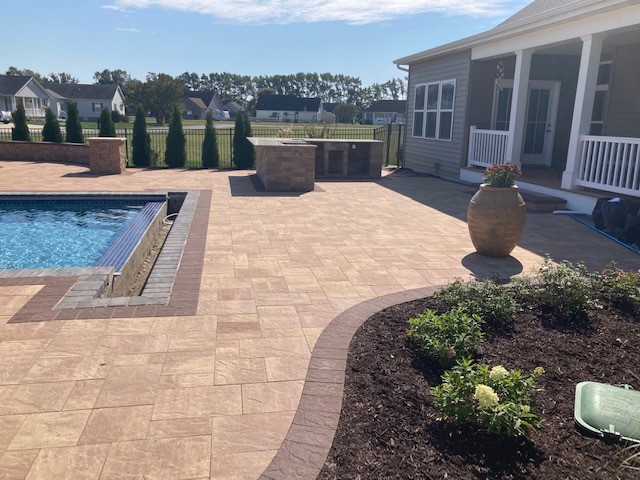 Arter prides himself on these extra touches that take a client's outdoor living space to the next level. "In every customer's house I go to, from the initial visit, I start to get a vision in my mind for what would look good," he says, "and I throw out some ideas that they might not even be thinking about." He was able to show the client how proposed add-ons like the poolside planter box would mesh with her initial wish list by creating realistic 3D renderings through Belgard Design Studio.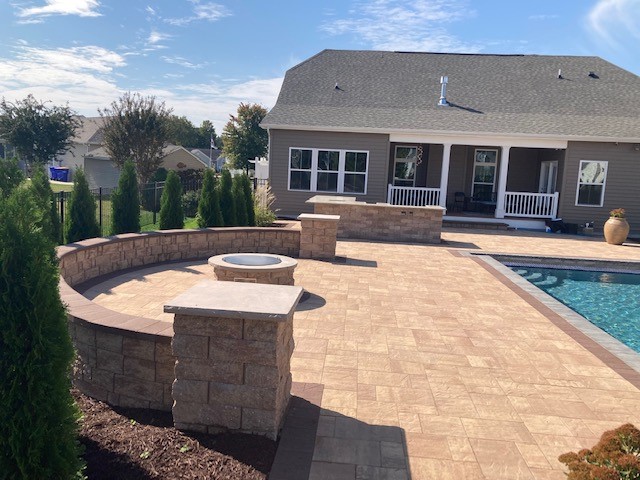 And the completion of that vision was worth the wait for the very happy client. Arter is happy too, as he envisions how much the homeowner will enjoy her new outdoor space. "She's got a great place to come to with family," he says. "They can hit the beach and then come back to enjoy the swimming pool, have a cocktail, and grill a steak."
Want to be a Belgard Hardscape Hero? Submit your project here. Follow us on Facebook and Instagram to see more beautiful photos from Hardscape Hero winners.
The following Belgard products were used in this project:
London Cobble Pavers in Chocolate
Origins Pavers in James River
Highland Stone Freestanding Wall in James River
Weston Stone Wall in James River
Coping in James River