As president of Osterhus Outdoors, Ken Osterhus constantly asks his employees, "How is this project going to look 50 years from now?" Their answer: "As good as the day it was installed."
The latest winning project from these two-time HARDSCAPE HERO winners is a perfect example of the kind of thoroughness Osterhus Outdoors puts into all their work. "The pool is a premium fiberglass, and the pavers were laid on top of four inches of concrete, which was poured on top of compacted stone. The whole thing is bomb proof," Osterhus says.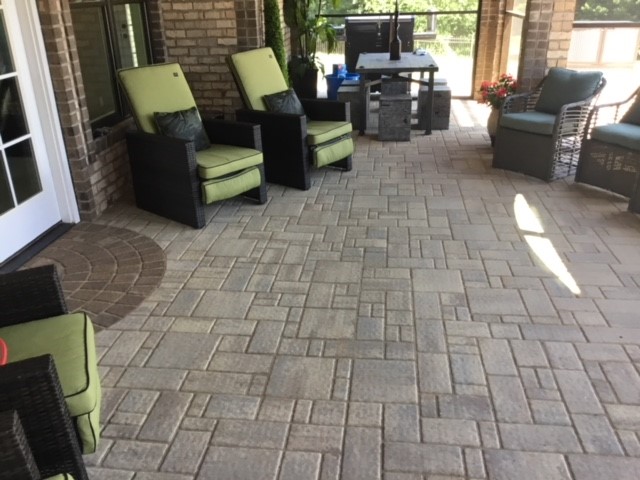 Osterhus' dedication to durability starts in the planning phases. "This project was unique because the homeowner gave me total creative control. They knew they wanted a pool, a Jacuzzi, and an outdoor shower, but beyond that, I was able to select the pavers we used and determine the final design," Osterhus says.
While Osterhus says this kind of freedom is rare, it did give him the opportunity to try some new things and put more time into the planning stages of the project. "We intentionally laid different sections of Circlestone to add more aesthetic accents to the project, and I chose the Eagle Bay GrandCay pavers because the five-piece paver set would look phenomenal over such a large area," he explains.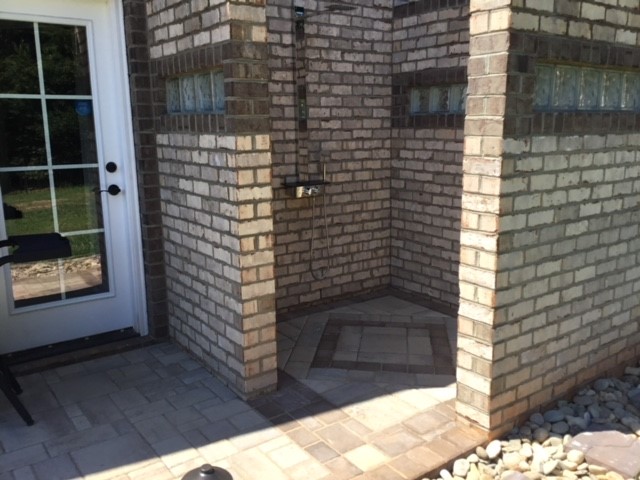 The outdoor shower was custom built to fit against the new pool house. "There's a massive amount of plumbing on this project. The pool has two water pumps and 10 jets, plus there are jets in the Jacuzzi, fountains on the tanning platform, and a line running to the shower," Osterhus says. When planning the project, the team decided to lay compacted stone, then concrete, and finally pavers to protect the plumbing elements and help with drainage. "The homeowner should never have an issue with the plumbing. We built it to last," he says.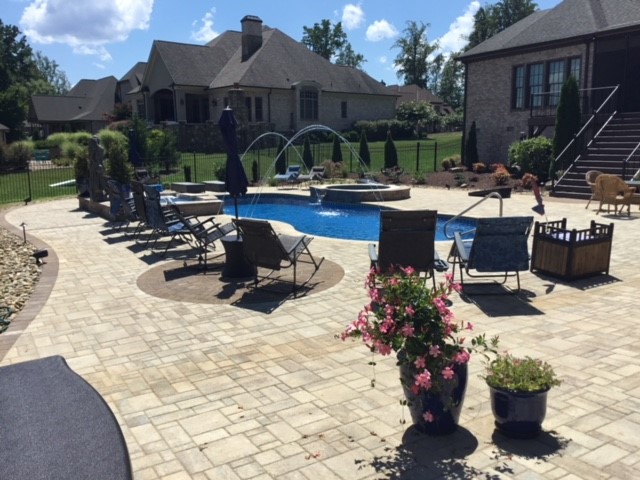 "We wanted to make this outdoor living space as comfortable as possible," Osterhus says. To do this, the Osterhus team connected the temperature-controlled pool and state-of-the-art sound system via Bluetooth, allowing the homeowner to monitor and control the elements of his patio from his phone. They also installed LED lighting in the pool, the Jacuzzi, and around the patio.
The final product is an outdoor living space built with ease of use in mind. The temperature-controlled pool and Jacuzzi mean the space can be used year-round, and the attention to detail ensures that the homeowner will enjoy the space for years to come.
This winning project was completed using GrandCay Textured, Circle Stone Textured, and CopingStone.
Want to be a HARDSCAPE HERO? Submit your project here. Follow us on Facebook and Instagram to see more beautiful photos from winning HARDSCAPE HERO jobs.