Sometimes a little friendly competition is all you need to elevate your work. When Howard Rose's client told him they wanted a patio to rival the neighbor's, he literally rose to the challenge and created a space he was so proud of that he submitted it as his first Hardscape Hero project. The difficulty here was that not all yards are created equal, and the natural landscape created roadblocks for their original design. Despite all this, Howard's 15 years of experience allowed him to zig when nature zagged, and he was able to realize his client's dream patio.
After working with a national retailer for over a decade, Howard was looking to make a career change and purchased a small landscaping company at the age of 35. A few years later, they were acquired by BCLS and Howard became CEO where he oversees all of their landscaping operations.
Howard says his favorite part of any job is the initial consultation. "That's when I'm really at my best and I connect well with the client." He loves giving the homeowners those "AHA moments" where everything clicks and they realize he's the guy for the job. 
"The challenge, and I say this halfway joking, but the challenge was that their next door neighbor has an incredible outdoor living space that our client really liked. So we had really tough competition. We wanted to give them something very special." The homeowners knew they wanted a pergola, fire pit, seat wall opportunities, and lighting, but didn't realize how the slope of their yard would create problems for their vision. 
---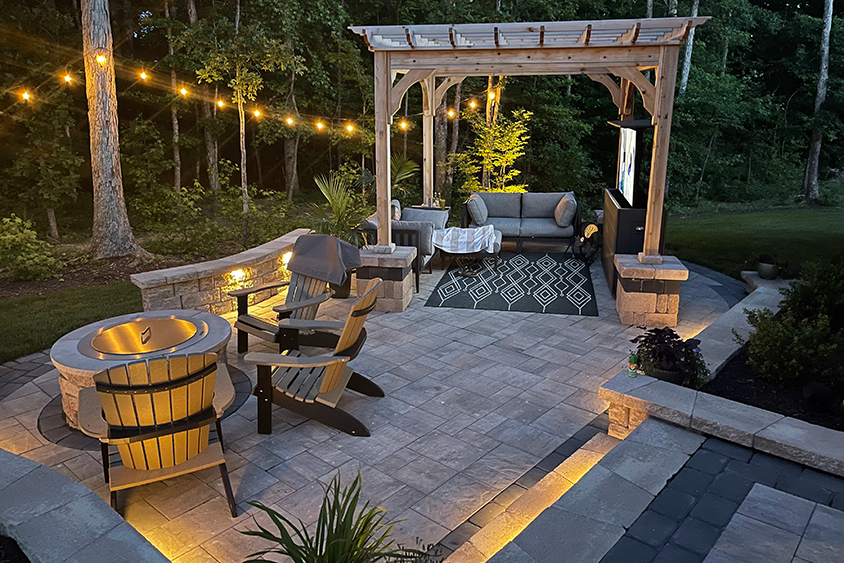 ---
"The original drawing and the vision they had would not work with this slope, so we had to take all of their thoughts and put together something that worked with that yard. We had to sell them on a different design that would work within the parameters of the space." This is where Howard's initial consultation came into play. At that point, he had built enough trust with the client that they felt comfortable letting him take the wheel. Howard still wanted to demonstrate his thought process and ran a string line to show the homeowners how the slope of the yard would affect their original design. 
Howard was able to re-envision their dream patio to create a beautiful outdoor retreat that worked with the landscape. His experience, along with the hard work of the BCLS crew showed as the pieces fell into place and the client was left with an outdoor living space to rival the neighbor's. The grilling area, fire pit and patio all blend together perfectly.
---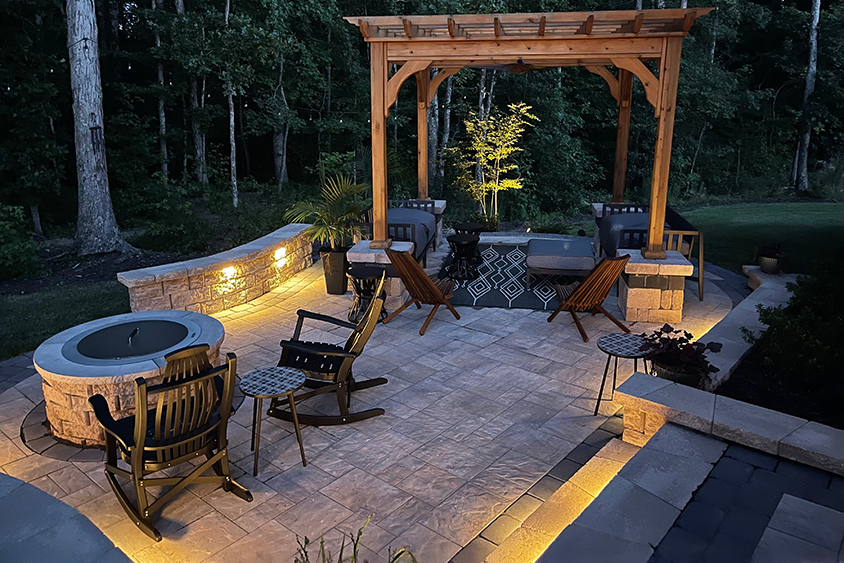 ---
"For me, the best thing about the patio business is not necessarily seeing the finished product the day we leave, it's coming back six months later and seeing all the details that the clients put into your work to make it their own. When you go to a site like this, and it's full of love and it's full of color and it's full of life, only the client can really do that. We build things for them and we love the Belgard product, but the client is the one that really brings it to life." 
That may be true, but the fantastic work from Howard and BCLS created a strong foundation for the homeowner to breathe life into the space. Having secured a Hardscape Hero win on his first submission, we look forward to seeing what Howard does next.
Want to be a Belgard Hardscape Hero? Submit your project here. Follow us on Facebook and Instagram to see more beautiful photos from Hardscape Hero winners.
The following Belgard products were used in this project: