When Daniel Bradshaw started a landscaping company while still in high school, he had no idea that mowing lawns and planting perennials would someday lead to him making homeowners' wildest outdoor dreams come true. But that's just what he's doing with his Amelia Courthouse, VA business, Riverside Custom Hardscapes.
---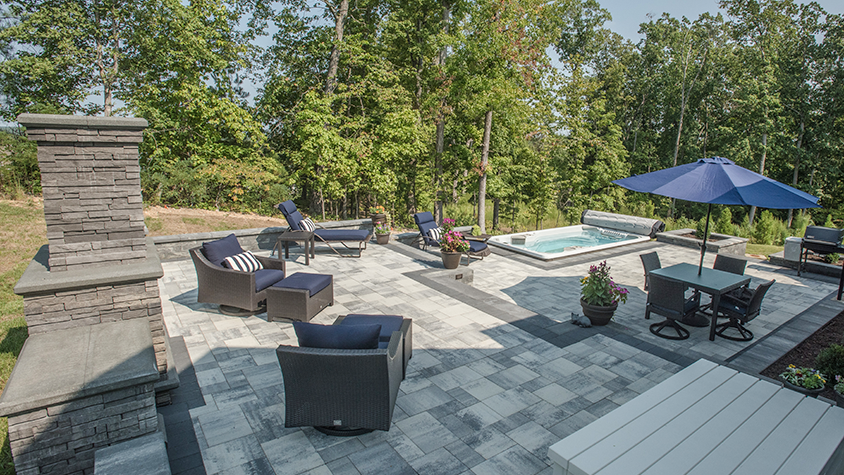 Bradshaw prides himself on taking those client dreams and turning them into hardscape realities. "We're not just building patios," he says. "We're not just giving you a place to set your grill or something – we're building you an outdoor living space."
The company moved from outdoor maintenance to outdoor living at the perfect moment in time: late 2019, just months before the start of the pandemic. With demand for home hardscape projects like patios and firepits suddenly through the roof, Bradshaw and his team hit the ground running with their newly refocused and rebranded business.
And now, just a few years later, he estimates they've installed more than 50,000sf of pavers over 100+ jobs – almost exclusively using Belgard products. And with the entire Belgard catalog to choose from, he adds, "No two of our projects look alike. Every project is completely unique."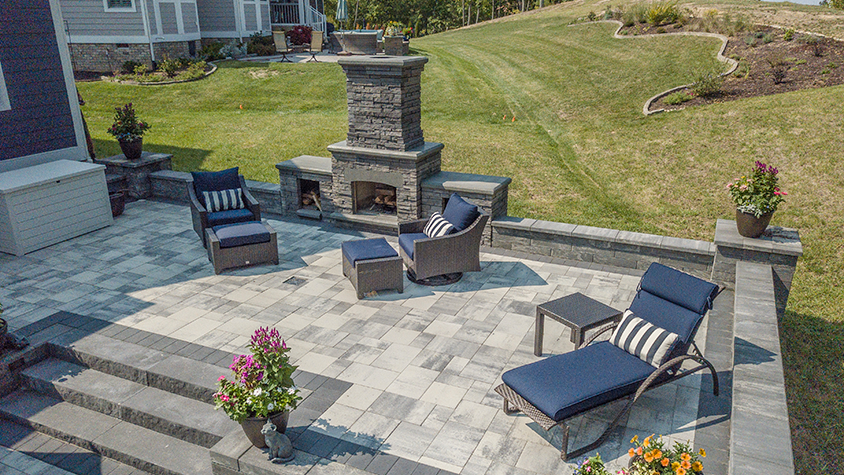 Bradshaw makes sure that each project stands out by matching his design to the style and needs of his clients. "Every time I go meet with a customer," he says, "I give them the entire Belgard catalog. I go through it with them, walk them through it." He then asks them questions like "What's your style? What look do you love the most?" and makes tailored suggestions. "I will make recommendations based on what I'm seeing in the home and outside the home: this is what I think flows best, this is what's going to complement your home well."
And the Midlothian, VA project that helped him win September Hardscape Hero was no exception. When he first met with the homeowners, "I started talking with them about what style they wanted and they showed me some pictures, so I recommended the Dimensions paver and the Melville wall for that very clean, crisp, modern look that they were going for." And with the style decided on, Bradshaw designed a color palette to further tie the project into the existing style of the home. "The kitchen has a lot of the same colors that are in the patio, so that's why I steered them towards the cooler gray toned pavers."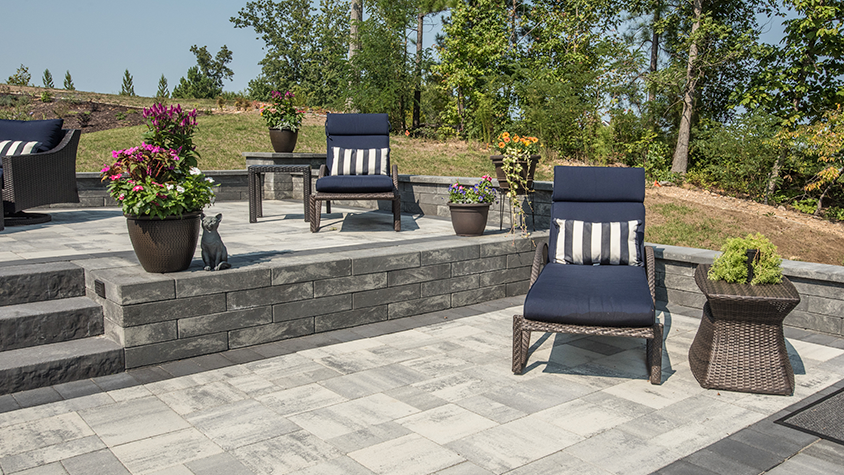 Those pavers became part of the patio built to surround the homeowners' new pool, which was unlike any that Bradshaw had encountered over the course of his many builds. "It's one of those really fancy small pools," he says, "about 15 feet long by eight feet wide, with more settings than you can shake a stick at!" He continues, amazed: "You can turn on a current so that you can swim laps without actually going anywhere, or turn it into a Jacuzzi, all kinds of features."
But don't be fooled that the small, rectangular pool made for an easy build – this project, like most, came with its own share of challenges. "The backyard is on quite a slope," says Bradshaw. "There was not a level square foot in that backyard, so almost all of our challenges on that project were terrain related. The amount of calculation to get all the levels right was the most complicated math I've ever had to do on a project!" But in the end, "the finished product was something that everybody was really thrilled with."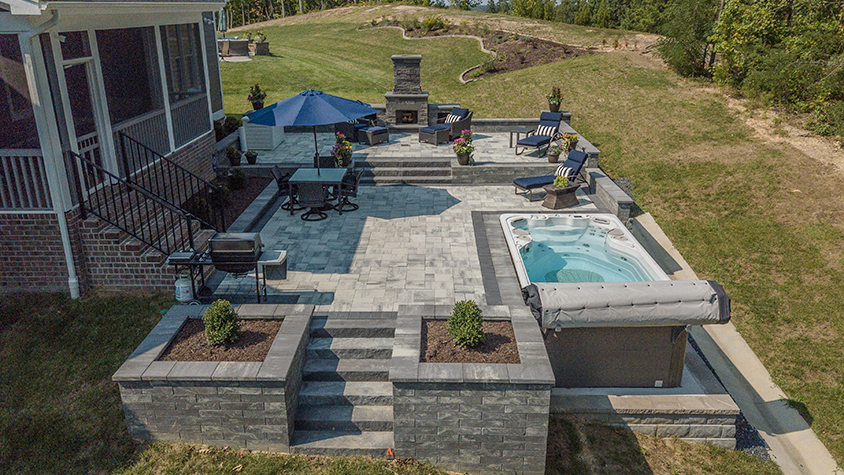 To ensure that thrilling end result, Bradshaw begins his process by showing clients detailed 3D renderings of his design to make sure that everyone is aligned on the look and functionality of the space. Belgard offers this service for free to members of our Belgard Authorized Contractor program, and it can truly revolutionize a hardscape business.
Bradshaw began offering 3D renderings in 2019 and saw an immediate boost in closed sales. "Sales went way up," he says, "because it's one thing to show a homeowner a sheet of paper with lines on it and give them a price; it's another thing to show them their backyard transformed, where they can almost feel like they're walking on their new patio, and give that same price. They're like, where do I sign?"
And once a customer signs with Bradshaw, they can be sure that he's going to give his all to make their hardscape dreams come true. "Our slogan is 'Designing Outdoor Memories,'" he says. "It's more than just pavers, it's putting an extension on your home to create a space that you can enjoy with friends and family."
Want to be a Belgard Hardscape Hero? Submit your project here. Follow us on Facebook and Instagram to see more beautiful photos from Hardscape Hero winners.
The following Belgard products were used in this project:
Melville Wall & Cap in Cheswick
Bordeaux Fireplace & Wood Boxes
Landings Step in Gray