We're heading into fall, which means sweater weather, colorful leaves… and outdoor fire season!
If you're thinking about upgrading your outdoor space with a permanent stone fire feature, we've got you covered. In addition to Belgard's wide variety of pavers that your hardscape designer can use to fabricate a custom fire feature, we offer a range of modular components and prefab kits that make it easy to get the fire pit or fireplace of your dreams.
Here are a few questions to ask yourself as you decide between a fire pit and a fireplace: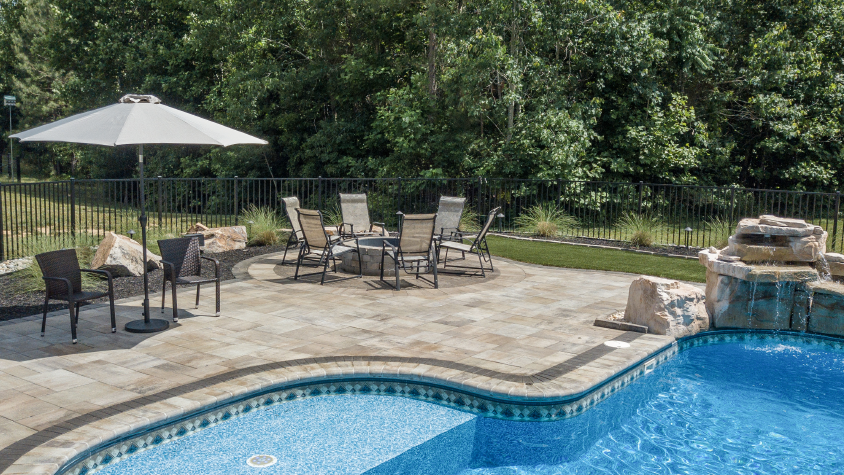 What's your entertaining style?
---
This is an important question when deciding between a fire pit and a fireplace, as they do typically lend themselves to different styles of entertaining. If you plan to have lots of guests gathered around, the 360° of a fire pit gives more access for more people; whereas the one-sided layout of a fireplace may be more suited to smaller groups.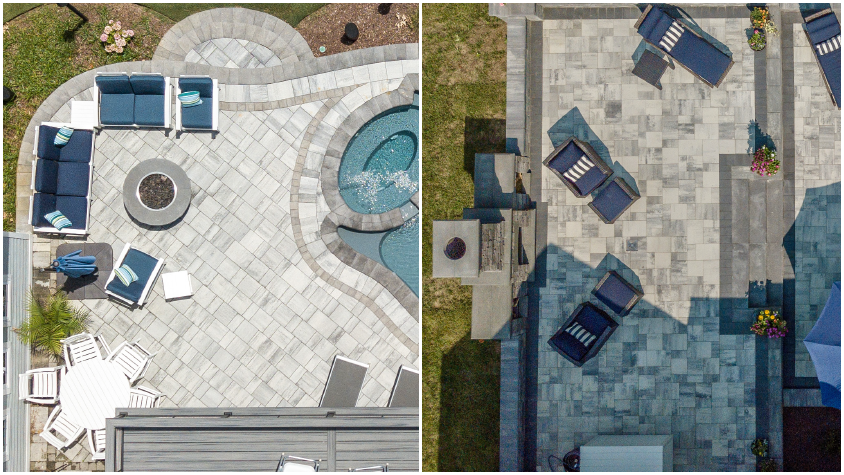 What's your space layout?
---
Although a fireplace typically has a larger footprint and vertical rise than a fire pit, it can often take up less overall patio space since it can be built along an edge. Fire pits, on the other hand, tend to be set more in the middle of a space to maximize access to all sides. Belgard fire pit kits come in a range of sizes to accommodate a variety of layouts, from the 42" diameter Aspen Stone kit to the 63" Highland Stone kit.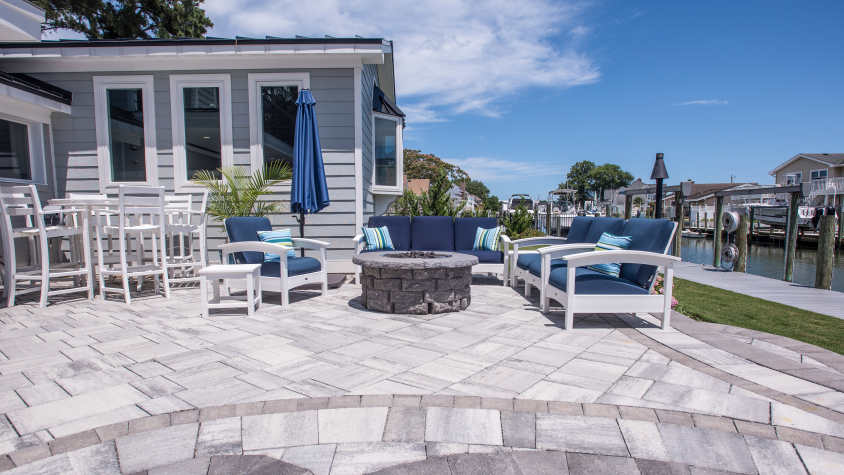 What's the overall style of your house?
---
Your outdoor space should, ideally, carry a visual connection to the style of your home. This extends to your choice of fire feature, with the fire pit generally establishing a more casual mood and the fireplace a slightly more formal one. Belgard offers a variety of styles and colorways to make sure your fire feature synchs with your style – such as the rustic stacked-stone look of our Bordeaux fireplace and the crisp, modern lines of the Melville fireplace.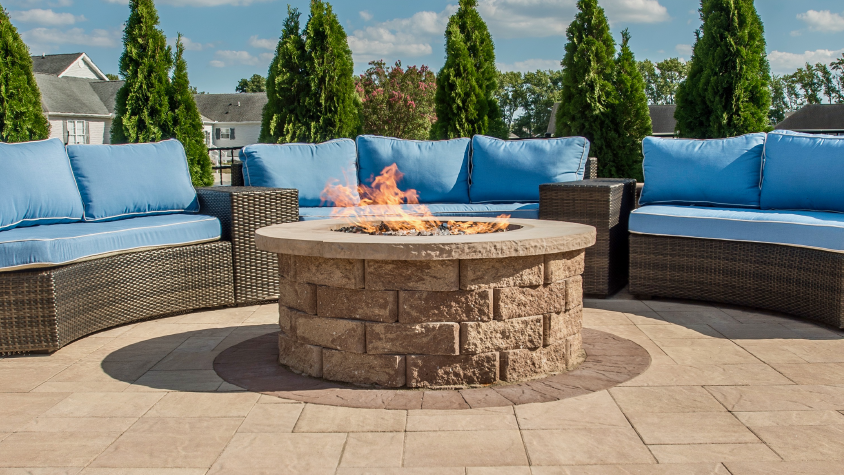 How much heat do you want?
---
The open flame of a fire pit can put off a good amount of heat, but with 360° of exposure the wind will always play a factor in how much of that heat reaches your guests. A fireplace will typically be designed to protect against a prevailing wind, and the stone firebox will radiate the heat for a steadier temperature.
What's your tolerance for wood smoke?
---
Just as with the amount of heat your fire feature puts off, the wind will also play a factor in how much smoke it creates – and we've all been that person around a fire pit that seems to be followed by the smoke! A fireplace will have a chimney that redirects any smoke up and away from guests.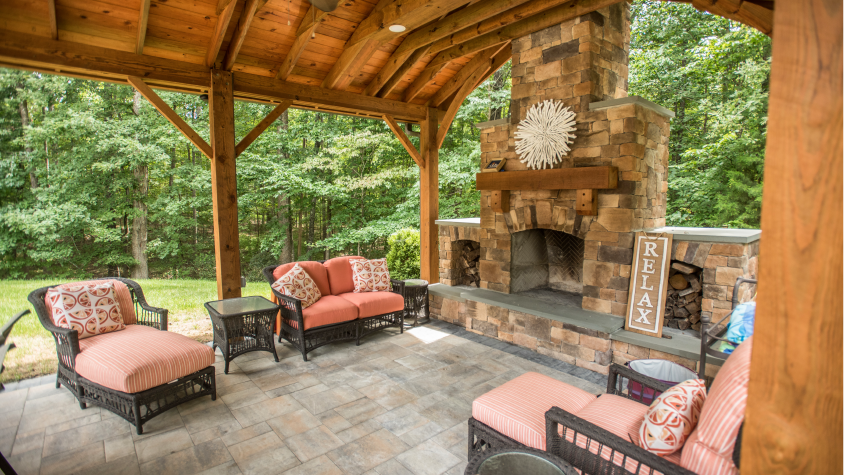 What's the weather like in your area?
---
If your weather during the prime fire season in fall and winter tends to be extremely cold or extremely wet, you might not get maximum use out of a fully exposed fire pit. The ability for a fireplace to be set into a covered pavilion or protected corner can make it a more useful choice for areas with unpredictable weather.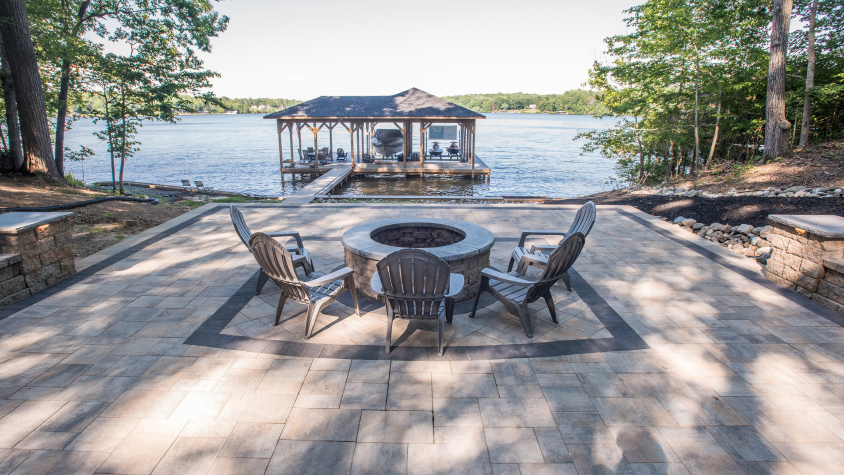 What's your furnishing style?
---
Do you prefer cozy, overstuffed furniture like sofas and armchairs (fireplace), or do you envision your guests sitting on all-weather Adirondack chairs or built-in stone benches (fire pit)?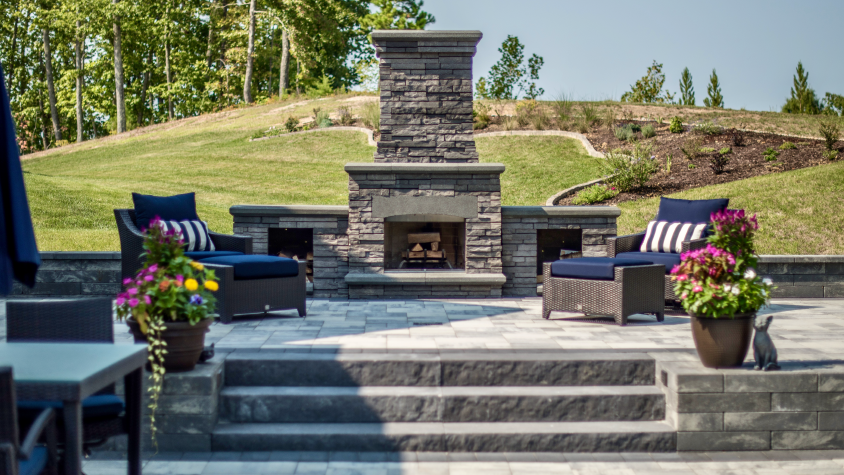 What's your budget?
---
Costs for any fire feature will vary depending on the exact design and materials used, but in general a fire pit will come in at a lower initial cost than a fireplace. However, it's worth weighing that against the use that you and your family will get out of choosing the feature most suited to your needs, as well as any resale value should you ever sell your home.
Whether you're having it custom-built or enjoying the convenience of our kits, you're sure to get years of enjoyment from your new fire feature. Now go get out the marshmallows – it's fire season!