When March Hardscape Hero Bill Banford realized that his company's name was keeping his business from growing to the next level, he took a hard look at what he wanted his brand to convey to potential customers. And the lifestyle that Banford wanted to provide for his clients could be boiled down to a pretty simple phrase: LiveWell Outdoors.
---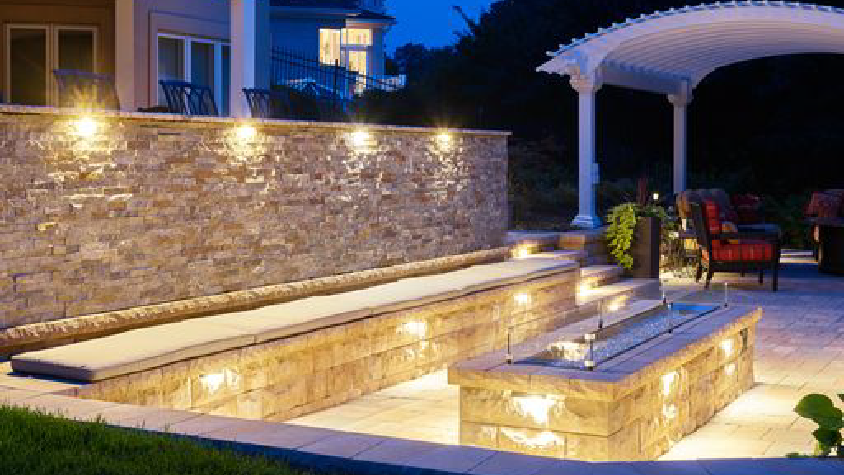 ---
Banford reflects, "Like a lot of guys in our industry, I started cutting grass as a kid, then just started working my way up the ladder." Along the way, he incorporated his growing business as The Sharper Cut – which worked well for a landscape company, but became limiting once he branched into hardscaping. "Folks thought we just did simple landscaping or maintenance or grass cutting," says Banford, "so our re-brand was aimed not just at communicating all of the things we do in the outdoor living space, but also to attract the kind of clients we want."
So he hired a branding consultant that helped him settle on the aspirational LiveWell Outdoors, and re-launched the company… just in time for the Covid shutdown. "So our updated branding has only been around for a few years," says Banford, "but we've been doing this for 25 years."
And with a quarter century of experience, there's not much that LiveWell can't do in the outdoor space. Pools, patios, decks, outdoor kitchens, gardens, fireplaces – "We do it all," says Banford. "We're a single source for just about everything you could dream up for your outdoor living space."
So it was a pretty routine job (routinely complex, that is) that led to Banford's Hardscape Hero Win, with a client who wanted multiple hardscape features spread over multiple levels on their steeply sloped lakefront property. "The goal was to create three distinctive outdoor living spaces," explains Banford. "They have their kitchen area including some nice bar seating, a fire pit area, and a pergola – three distinct spaces for entertaining, that all really capitalize on the property."
---
---
The property, while beautiful, came with its share of difficulties for the LiveWell team. "The slope and the site access were our biggest challenges on this job," explains Banford, who always keeps an eye on the budget even while using his incredible eye for design. "We could still get small equipment to the back yard, but complex site access can drive costs significantly, so we didn't want to create any unintentional cost."
---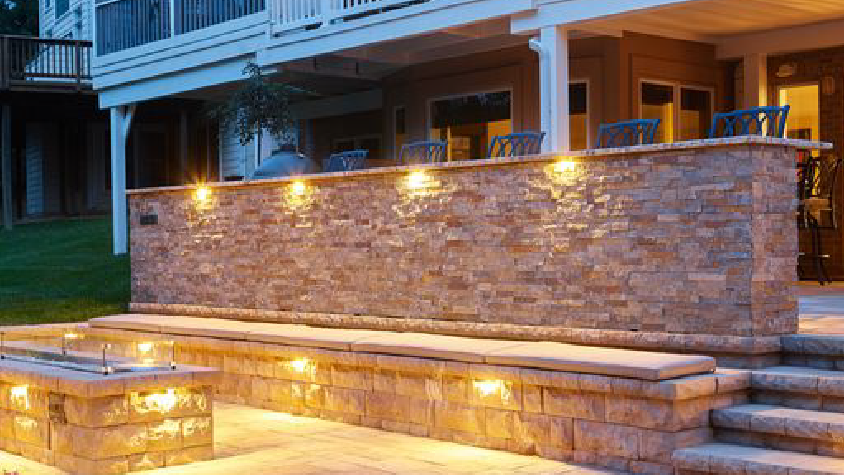 ---
But LiveWell's design team was able to work with the site maps and elevations to come up with a plan, a vision that the client happily signed off on. Of the process – which included 3D renderings made by the LiveWell team – Banford says "we just put together the ideas and maximize the look, then kind of let the customer test drive the car."
The final plan was designed to highlight the home's stunning lake views, which can be enjoyed from any of the multiple entertainment zones. But Banford's favorite area? "I would probably say the outdoor kitchen, because it creates a nice view from the back area that you really can't capture in photos – you have to really be there to believe this view!"
---
---
With his clients heading into retirement, that view will bring years of enjoyment to the family and friends who gather at this special lakefront retreat. And as for Banford's wish for his happy homeowners? Well, it's right there in his company name.
Want to be a Belgard Hardscape Hero? Submit your project here. Follow us on Facebook and Instagram to see more beautiful photos from Hardscape Hero winners.
The following Belgard products were used in this project:
Belair Wall
Origins Pavers
Dimensions Pavers