Managing the logistics of a well-planned outdoor living space can be an incredible feat. Most spaces require meticulous planning to accommodate various features and associated infrastructure. December's HARDSCAPE HERO, Chris Rupp of Dominion Pavers, is a master planner, and his winning project shows how thoroughness can result in an incredible finished project.
"I spend a lot of time at the beginning of a project creating to-scale designs based on extensive field measurement," says Rupp of his planning process. When coordinating between multiple crews and installing several utilities, he knows that planning can be the difference between success and a difficult installation.
"This project was tricky for a few reasons. It's located in a rural area several hours from our location, plus we were working around a previously installed pool and deck. We had to plan everything to make sure materials arrived on time and to integrate the existing pool and deck space into the overall design. There wasn't a lot of room for error," he explains.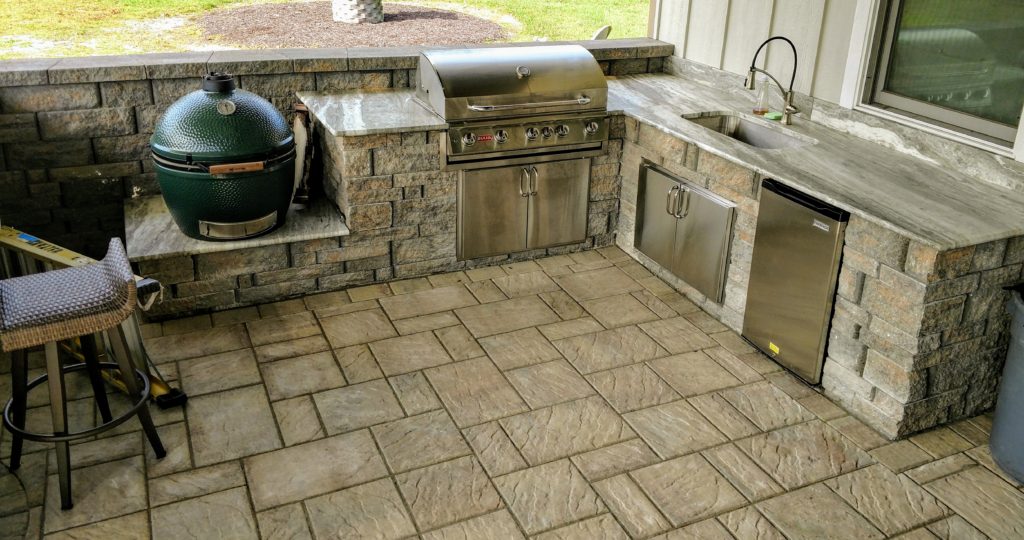 The project began when the homeowner decided to remove the stamped concrete from the pool area and replace it with pavers. They also planned to install an outdoor kitchen and renovate the deck area.
"When we started, the homeowners gave us a wish list that included the outdoor kitchen, renovated deck and pool areas and a few other things. We worked around that when planning and spent a lot of time thinking about how traffic would flow through the space. Once we landed on a spot for the outdoor kitchen, everything else fell into place," Rupp says.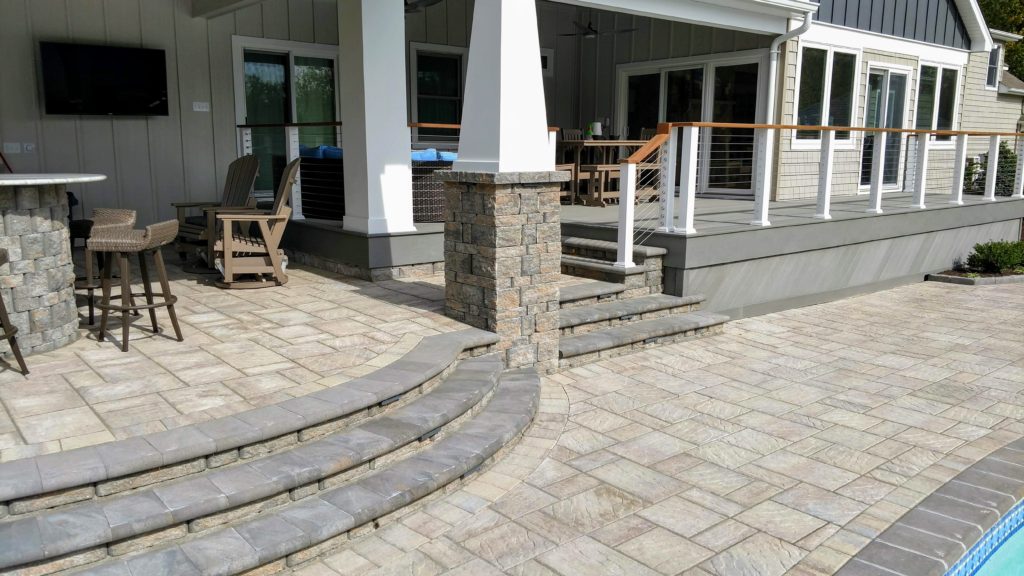 The final installation is a truly multifunctional, multi-seasonal space. Complete with a fire pit, pool, outdoor kitchen and custom built cornhole court, it's the perfect outdoor hangout spot. "We installed integrated lighting in the treads, pool, backsplash, under the columns and around the cornhole court," says Rupp. The result of Rupp's meticulous attention to detail when planning the lighting is that the outdoor living space is completely illuminated, so the darker months stand no chance of deterring outdoor fun.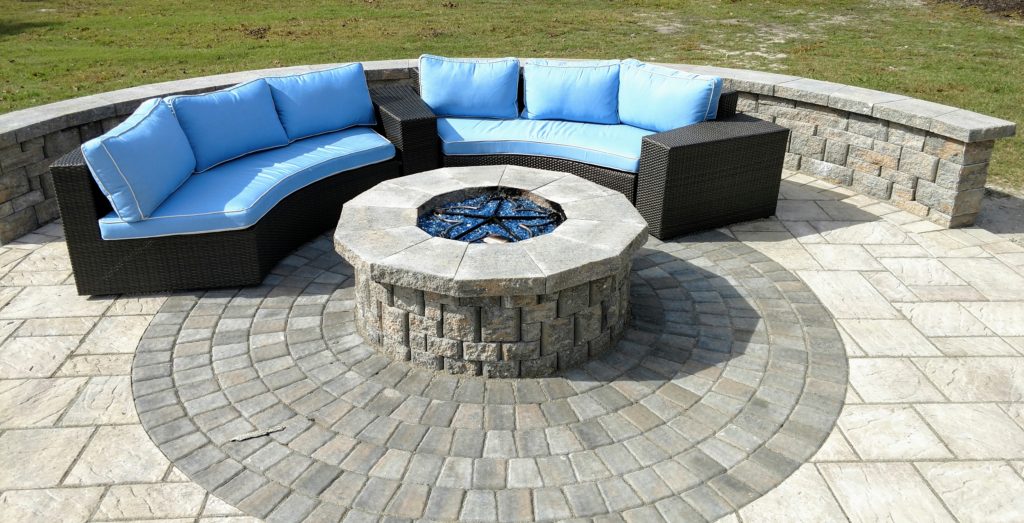 "The homeowners were very happy with it. They participated in the whole planning process and did some of the building on the deck area themselves. It was great to be able to work in unison with them to make this elaborate project come together," he says.
When planning an outdoor living project, it's best to frontload the process with measurement and brainstorming. "We always start by drawing the project out. It saves on cost and actually allows us to be more flexible later if we want to make a change," says Rupp.
A great outdoor living space comes from a partnership between a contractor and a homeowner. HARDSCAPE HERO winners bring a wealth of creativity and experience to every project. When working together with a homeowner, they can create a space that takes on almost limitless possibilities.
This winning project was completed using Chatham Natural, CottageStone, CopingStone and Highland Freestanding Wall.
Want to be a HARDSCAPE HERO? Submit your project here. Follow us on Facebook and Instagram to see more beautiful photos from winning HARDSCAPE HERO jobs.