July is National Grilling Month, and if you're ready for an upgrade from your freestanding bbq grill, now might be the time to think about an outdoor kitchen. Check out a few of our ideas for planning out the perfect addition to your summer entertaining style.
Next-Level Outdoor Entertaining
Belgard wrote the book (and the blog!) on outdoor kitchens. In the years since they first started trending, we've rounded up tons of ideas and inspiration about every element of outdoor kitchen design: building materials, lighting, seating, weatherproof appliances and cabinetry, grill style, and even recipes. Some of our best tips: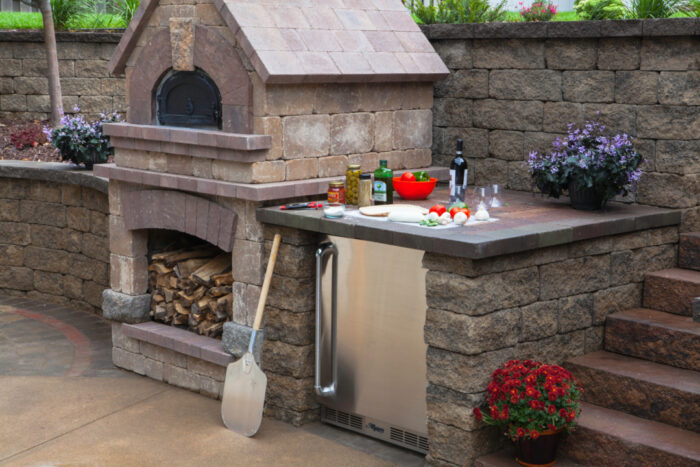 Did you know that Belgard sells beautifully designed modular outdoor kitchen units? These factory-built kits ship in sections and arrive ready to install, at a fraction of the cost and installation time of a custom design. The Belgard Elements offer the ability to have your kitchen installed and ready to go in a matter of hours.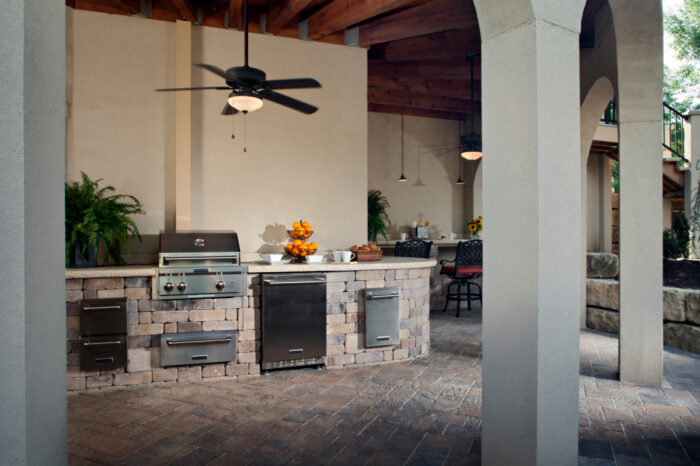 It's no longer just a choice between charcoal and propane: today's grill offerings include everything from rustic log-fired ovens to modern pellet-burning smokers. Decide what style of cooking you want to do, and then do your research to choose the best setup.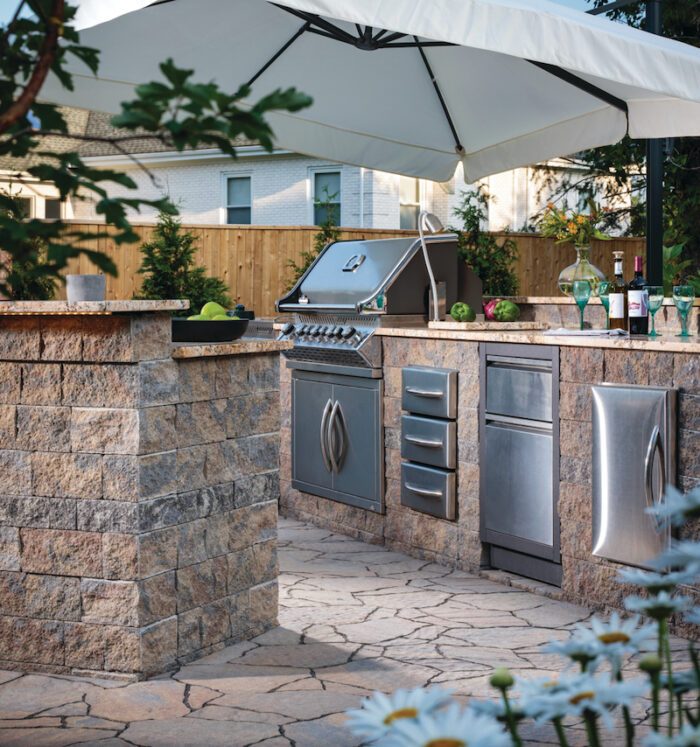 It's easy to get carried away dreaming up the overall look of your outdoor kitchen design, but it's attention to the details that will make or break the space when it comes down to functionality. See why we suggest putting in the time to plan key elements like lighting, appliances, materials, electrical, plumbing, seating, and more.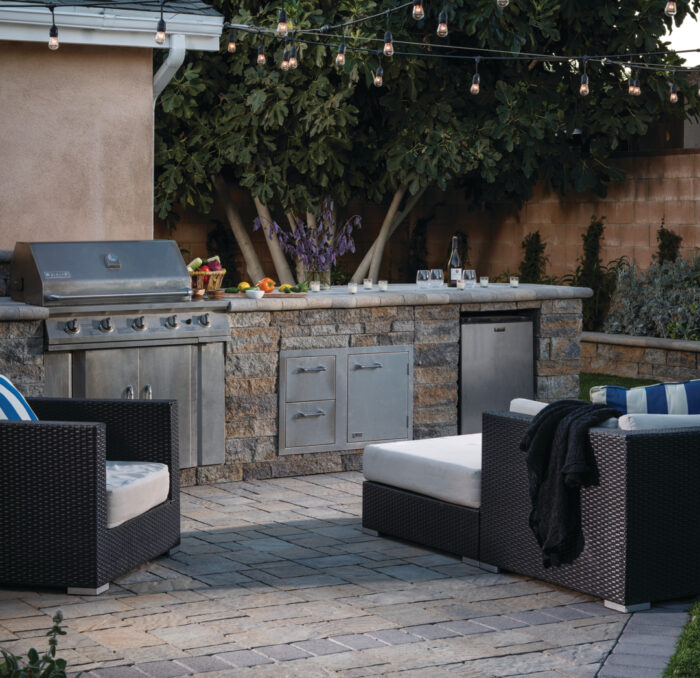 You already have a standard indoor kitchen—have fun with your outdoor kitchen by adding features you don't have inside. Consider a wood-burning oven, ceramic grill, gas burners, and even fun extras like an ice maker for blender drinks or a keg cooler for on-demand suds.
Go go, gadgets!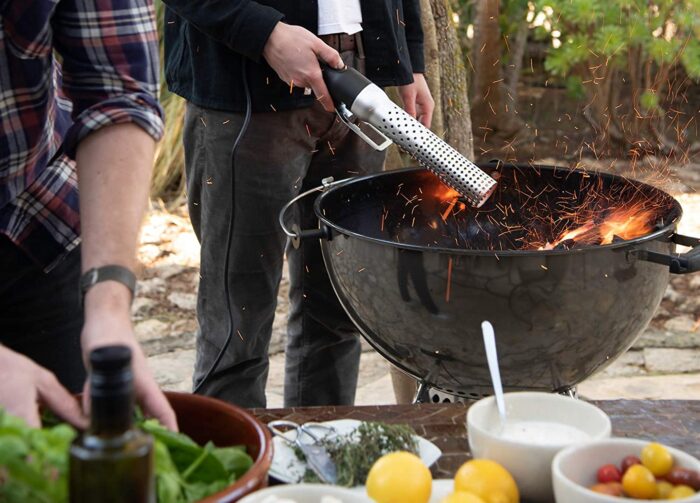 You've got the outdoor kitchen of your dreams, now up your grilling game with a few tech-driven accessories. Some of our favorites:
A Bluetooth thermometer for keeping an eye on your grill temperature with a quick glance at your smartphone

A set of flexible, battery-operated LED grill lights to help you achieve perfect grill lines even after the sun sets

A heavy-duty electric grill lighter that quickly fires up your charcoal without the use (or taste!) of chemical accelerants

A literal "smoking gun" for imparting smoke flavor to grilled foods even if you don't have a smoker

A grill-cleaning robot that lets you sit back and enjoy your outdoor living space while someone else cleans up
Focus on the food.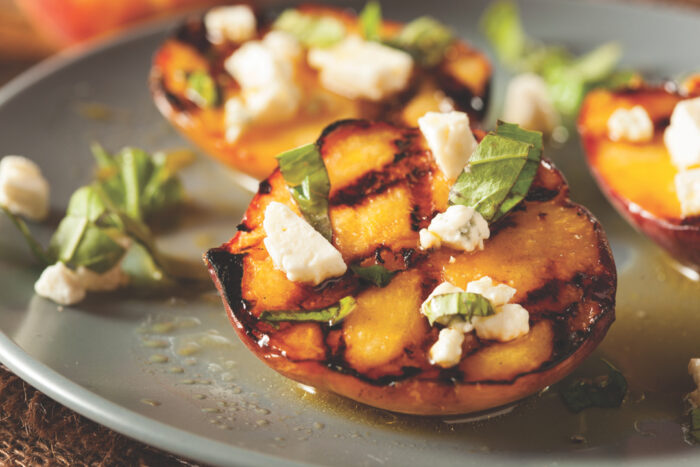 You didn't build the Taj Mahal of outdoor kitchens just to serve up the same old burgers and dogs. Get creative with our tips and recipes for specialties like next-level steak, gourmet s'mores, salmon, wings, pizza, ribs, and even soup! Here are a few more to get your creative juices flowing: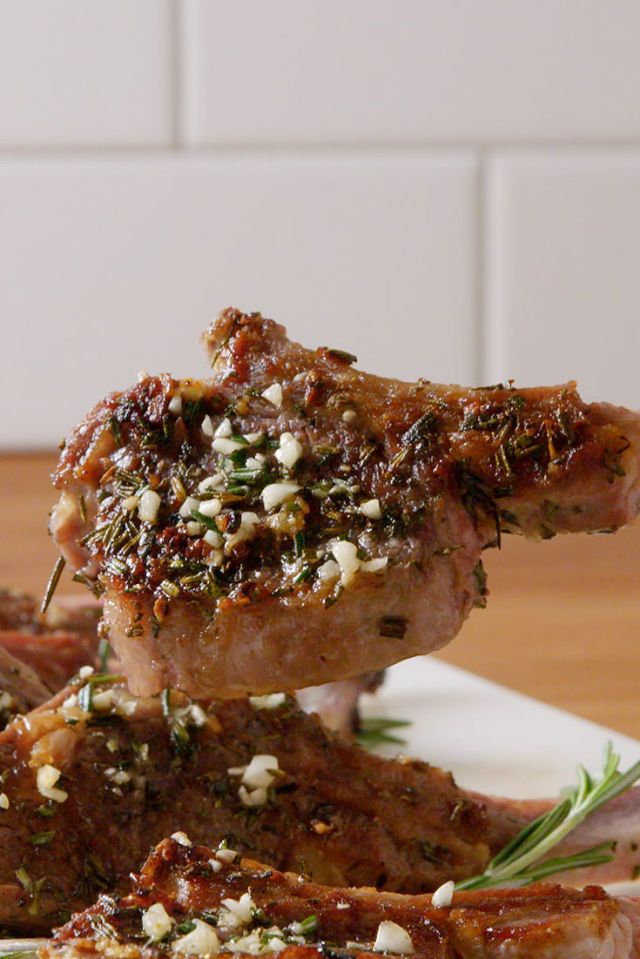 INGREDIENTS
1/4 c. freshly chopped rosemary
5 cloves garlic, minced
kosher salt
Freshly ground black pepper
2 lb. small lamb chops, trimmed of fat
1 tbsp. extra-virgin olive oil
DIRECTIONS
On a large plate, combine rosemary and garlic and season with salt and pepper. Press lamb chops into mixture and set aside.
In a large skillet over medium heat, heat oil. Working in batches, cook lamb until nicely browned, about 3 to 4 minutes per side. Let rest 5 minutes before serving.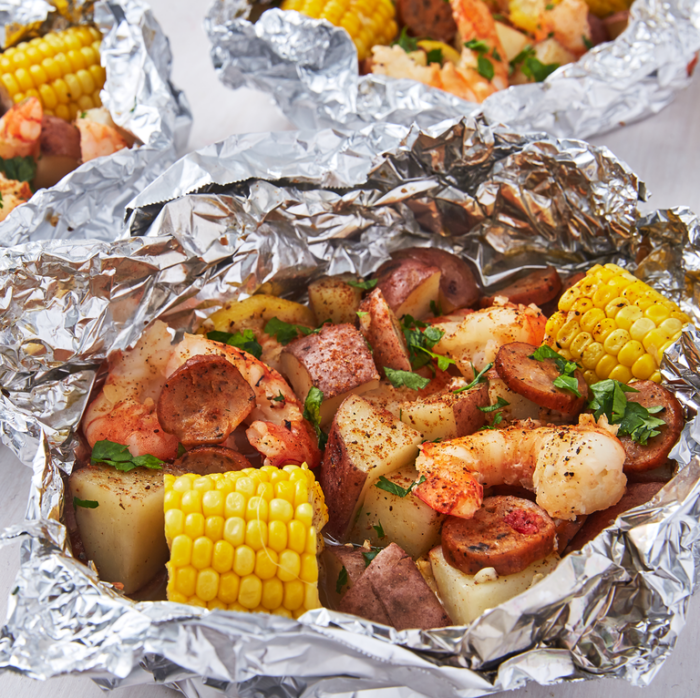 INGREDIENTS
1 1/2 lb. large shrimp, peeled and deveined
2 cloves garlic, minced
2 smoked andouille sausages, thinly sliced
2 ears corn, each cut crosswise into 4 pieces
1 lb. red bliss potatoes, chopped into 1-in pieces
2 tbsp. extra-virgin olive oil
1 tbsp. Old Bay seasoning
Kosher salt
Freshly ground black pepper
2 tbsp. freshly chopped parsley
1 lemon, sliced into thin wedges
4 tbsp. butter
DIRECTIONS
Preheat grill over high heat, or preheat oven to 425°. Cut 4 sheets of foil about 12 inches long. Divide shrimp, garlic, sausage, corn, and potatoes evenly over the foil sheets. Drizzle with oil, then add Old Bay seasoning and season to taste with salt and pepper. Toss gently to combine. Top each mixture with parsley, lemon and a tablespoon of butter each.
Fold foil packets crosswise over the shrimp boil mixture to completely cover the food. Roll top and bottom edges to seal them closed.
Place foil packets on grill and cook until just cooked through, about 15 to 20 minutes (or transfer to oven and bake for 20 minutes).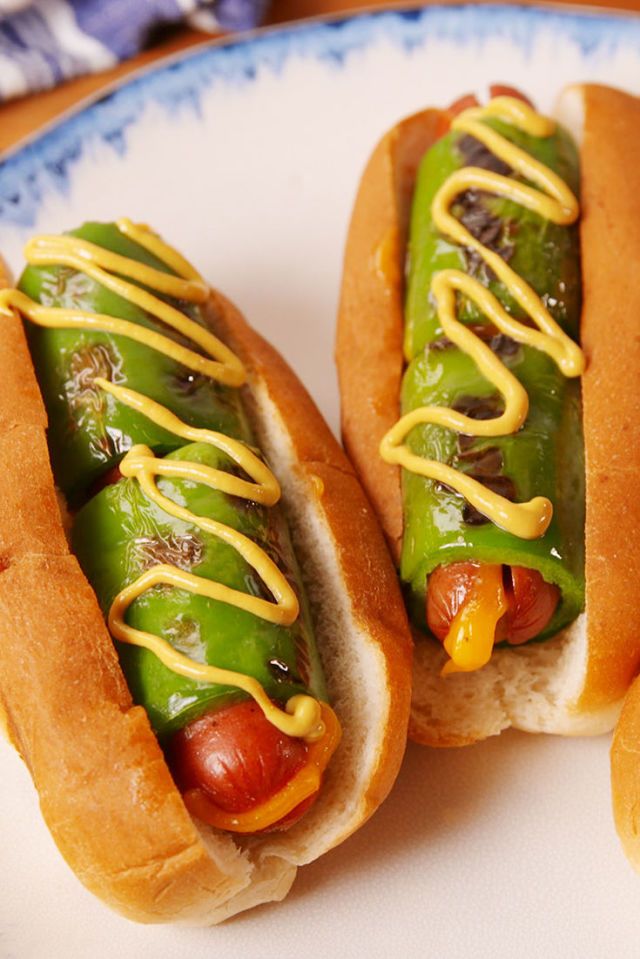 INGREDIENTS
12 extra large jalapeños
8 slices American cheese
4 thin hot dogs, halved lengthwise
4 hot dog buns
Mustard, for serving
DIRECTIONS
Heat grill to high. Slice tops off jalapeños, then cut off bottoms where it starts to narrow. Using a paring knife, dig out seeds and ribs of each pepper to form a hollow tube.
Break cheese into rectangles the same width as hot dogs. Place a few pieces on a halved hot dog, then place the other half of the dog on top to re-form the hot dog with cheese in the center.
Stuff hot dogs into jalapeño tubes. (Depending on how big the jalapeños are, you should be able to put 2 or 3 around each hot dog.)
Grill, charring jalapeños on all sides and warming the dogs, but remove from heat before too much cheese spills out. Serve on hot dog buns with mustard.
Belgard Grilling Month Lookbook