There's no doubt that adding hardscape elements to the outside of your home adds value to your lifestyle. Whether it's a patio and outdoor kitchen for entertaining guests, a walkway or wall, or a fire pit or pool for seasonal enjoyment, hardscape projects can make your outdoor space more fun and functional.
The question then becomes: will the money that I spend on a hardscape project actually add value to my home? It's a question worth asking before you lay out what can be a substantial amount of money for a new outdoor living feature, but one that doesn't necessarily come with a definitive answer. See our thoughts on how to determine "value" when it comes to various hardscaping projects.
Patios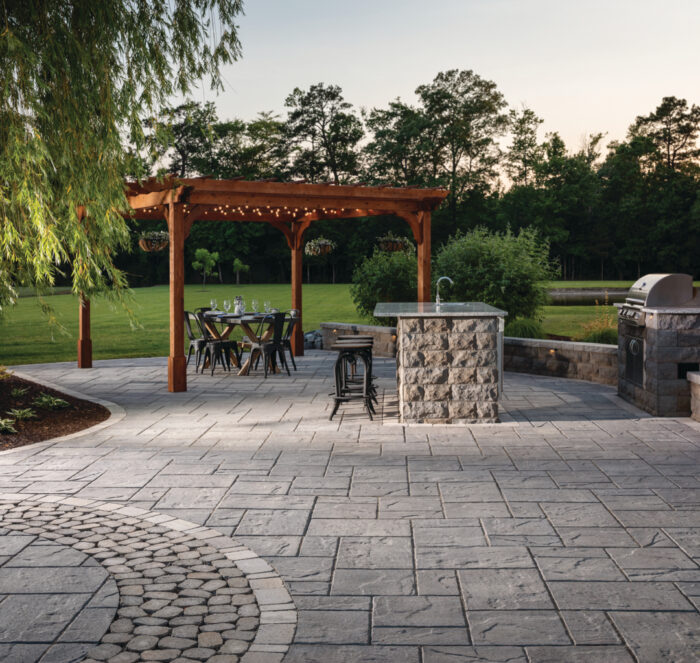 As an example of how to think through value when contemplating a hardscape project, consider a patio build.
Patios are perhaps the most popular trend in hardscaping in recent years, in part due to the COVID-19 pandemic, which has seen many people spending more time at home and entertaining outdoors on occasions that they do have guests. But patios were trending even before the pandemic began, part of an "outdoor living" movement that has homeowners seeking to extend their living space beyond their home's walls.
According to Larry Zacharias, Associate Broker at RE/MAX Commonwealth in Richmond, VA, "an old grassy backyard with a few plants just isn't exciting to people these days." He continues, "you're almost bringing the indoors outdoors – so people consider a patio as additional living area. It can tremendously increase value."
But, when installing a patio – or any other hardscape feature – it's important to note that the increase in your home's value won't necessarily cover the costs of your project. In fact, the National Association of REALTORS (NAR), says that you can expect to recover approximately 69% of the cost of a new patio when you go to sell.
That said, an investment in hardscaping is also an investment in your enjoyment of your home. You might not recoup 100% of the financial commitment, but the time you spend having fun and making memories with your family and friends is the true value.
And when it comes time to sell, there are a number of factors that will play into how you price your home, and whether you'll see enough of a price increase to cover the cost of your improvements. Some of these factors are the market value of your house and of the houses in your immediate neighborhood, how the housing market is currently performing where you live, how long ago you made your improvements, and, of course, the quality of the improvement.
In short, it's not as simple as comparing the cost of a project against the increase in selling price. Read on for thoughts on other types of hardscape projects.
Fire Features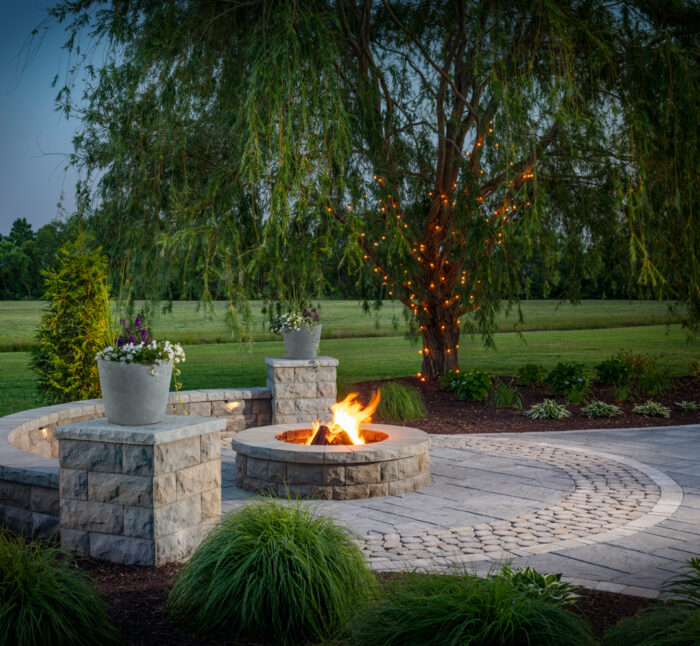 Whether you choose a simple firepit or a more elaborate fireplace with a chimney (a Belgard fireplace kit can make the job easier) a fire feature can become a real focal point for your backyard design. The feature will extend the usable months of your outdoor living space, and you can expect a quality build to last for years to come.
The NAR estimates that you can expect to recover approximately 67% of the cost of installing a fire feature as part of your hardscape plan.
Outdoor Kitchens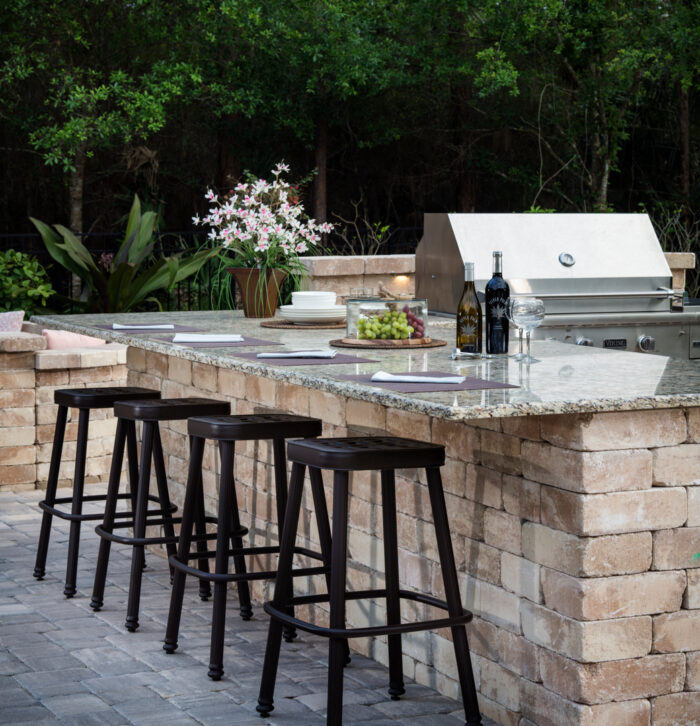 As with patios, outdoor kitchens have soared in popularity in recent years, allowing hosts to spend time with guests outdoors rather than running back and forth to an indoor kitchen. With endlessly customizable elements like refrigerators, coolers, grills, side burners, vent hoods, sinks, pizza ovens, and more, there's an outdoor kitchen for every style (if not every budget). Our modular outdoor kitchen kits are a great starting point.
For purposes of their report, the NAR spec'ed out a fairly basic kitchen with a grill, ice chest, and sink (no electrics), for which they estimate you'd recoup 71% of the cost at resale.
Pools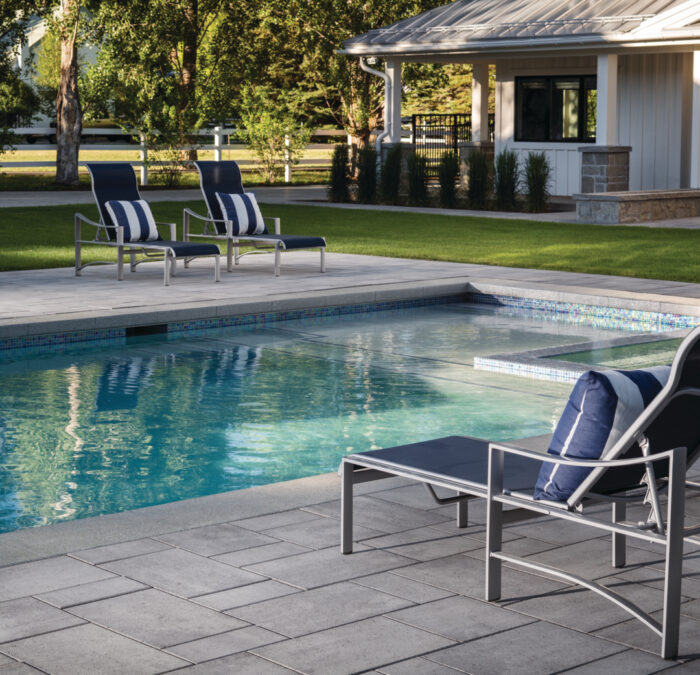 A backyard pool may be the ultimate hardscape project, but a number of factors play into deciding whether it's a good investment. Do you live in a warm climate where you can use the pool for most of the year? Do you live in a neighborhood where pools are common? Does the style of the pool fit your home and neighborhood? Is your yard large enough that the pool doesn't take up too much space? Are you willing to take on the time and expense of maintaining the pool?
If you can answer yes to all of those questions, then a pool might be a good fit for your home and your lifestyle. As for it being an "investment", the NAR estimates that you can recoup approximately 43% of the money you put into a pool when it comes time to sell.
But remember when considering any hardscape upgrade to your outdoor living space, that "value" is subjective and determined by more than cost alone. Virginia-based Home Appraiser Betsy Horne sums it up like this: "If it's as an investment to make money, then I wouldn't recommend dumping a ton of money into [a hardscaping project]. But if you're planning on staying there a while and it would provide a lot of enjoyment for your family, that's a great reason."
Whatever hardscape project you install, protect your investment with periodic maintenance with a sealer and color rejuvenator to keep your pavers and stones protected against the elements and looking their best.